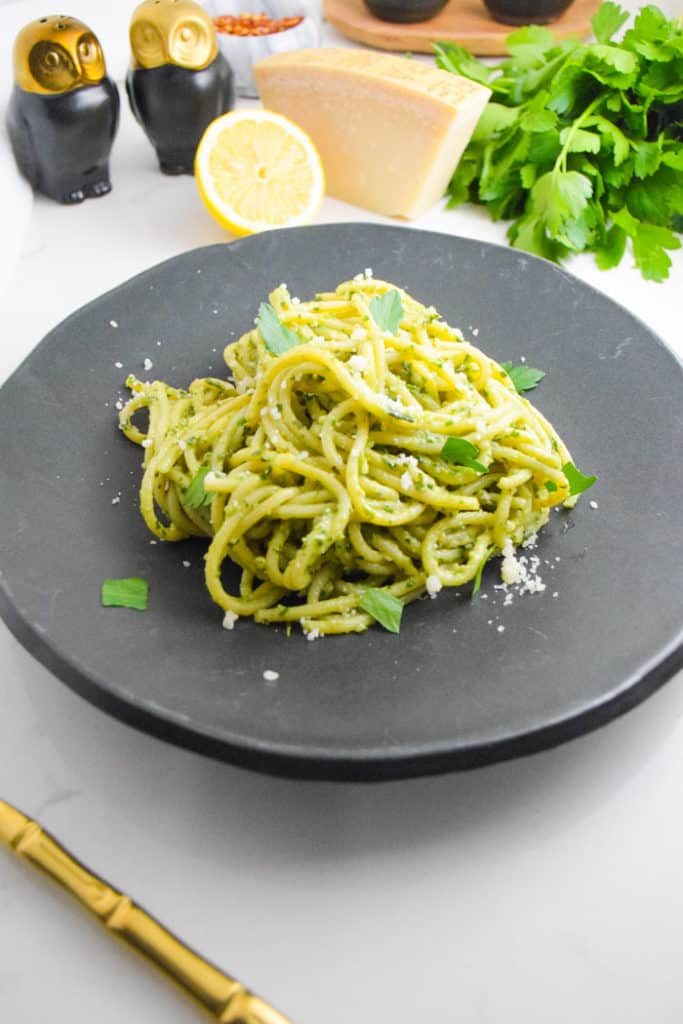 Hello creamy alfredo pesto pasta of my dreams! Spring is in full swing and that means it's time to add all the fresh herbs we can to everything. Well, at least that's what I do anyways. I've been a big pesto fan as long as I can remember and often make lots of different variations on this wonderous green sauce. I just can't get over the punch of herby goodness that pesto packs. It keeps me coming back for more! This creamy, rich, decadent alfredo sauce comes together in minutes and the whole dish gets an herby, bright lift from this basil pesto.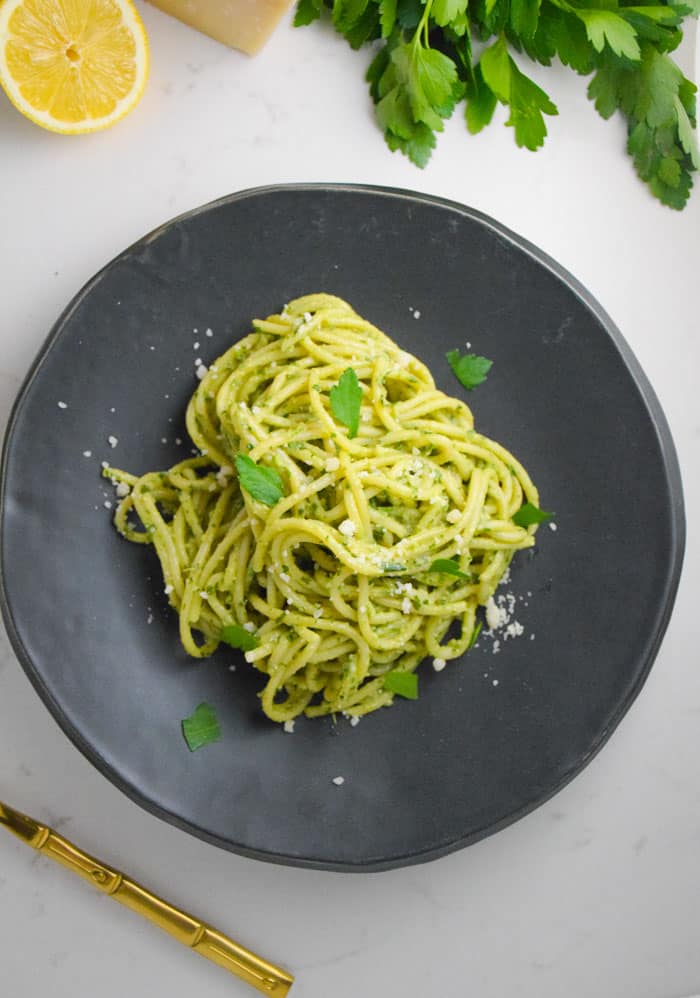 Spring means green! As in all the herbs. I'm so excited to get my herbs planted this season. They are such a quick and easy way to add flavor, not to mention tons of micronutrients, to almost any dish. Parsley and basil are pretty easy to grow, even in the Texas heat, so try growing your own this year!
This recipe makes quite a bit of pesto, but you'll love it so much that you'll be happy to use the extra in salads, soups and even add it to eggs, toast or tossed with olive oil and pasta! It freezes well too.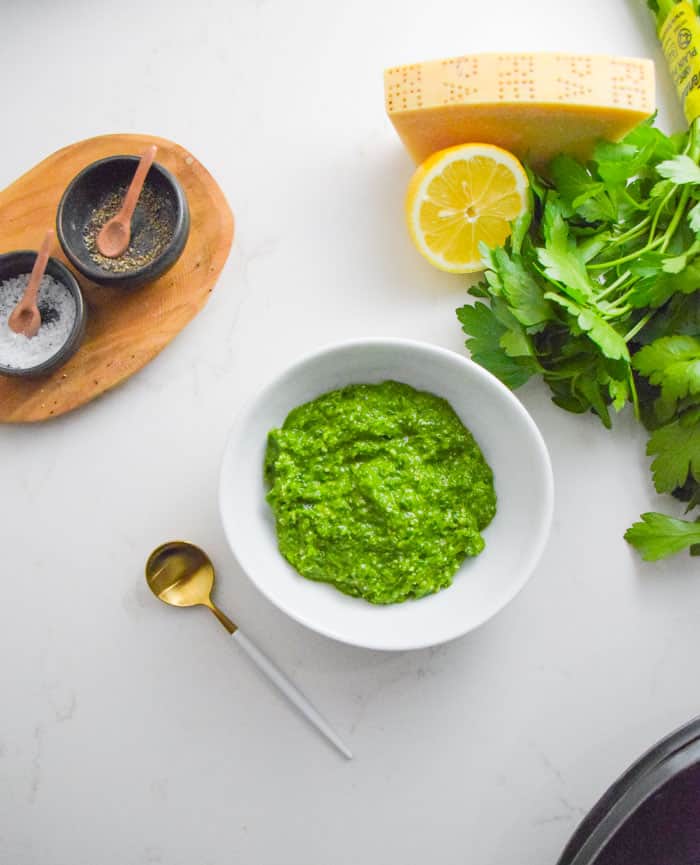 When I made this sauce, I literally had to stop shooting this recipe and eat a big bowl of pasta because I couldn't wait! I usually take all the photos and then reward myself with a well plated meal but not this time. BMW loved it too and keeps asking when we are going to make it again. It's hearty enough to be a meal on it's own (even for "it's not a meal without meat" BMW) but you could add some grilled chicken breast or meatballs to the mix if you must. Or possibly a poached egg for extra protein. I like to portion some out and have ready to go lunches and dinners for the rest of the week too!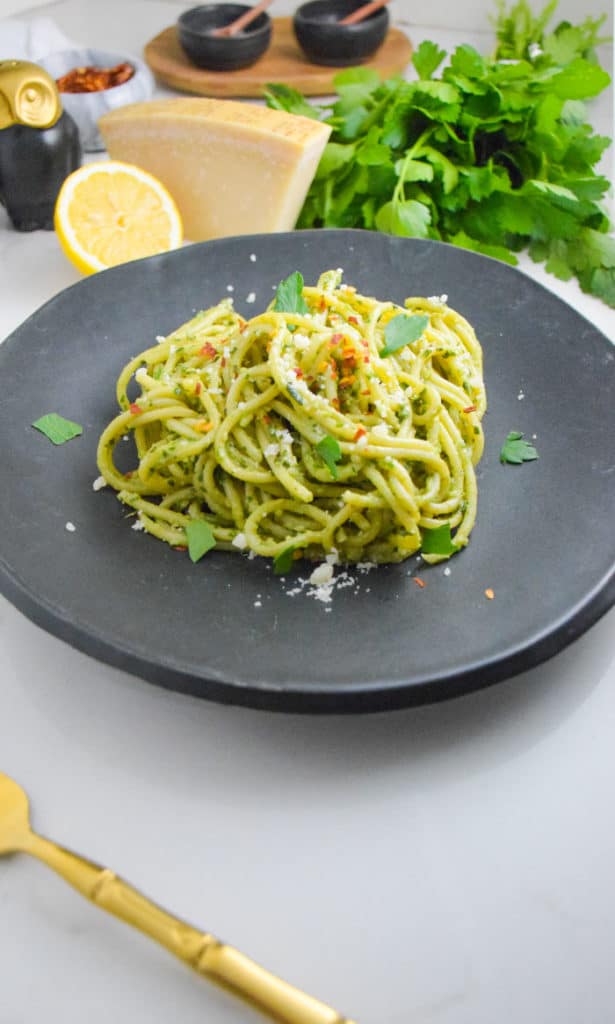 Creamy Alfredo Pesto Pasta
Make about 4 servings, keeps well for leftovers!
Ingredients: 
Pesto: 
3 large garlic cloves
2 cups of fresh basil, packed
1/2 cup of flat leaf parsley, packed
1/4 cup parmesan
1/4 cup olive oil
1 tablespoon of salt
2 tablespoons of fresh lemon juice
Alfredo:
1.5 cups whole milk
1/2 cup parmesan, grated + extra for topping
3 tablespoons of butter
3 tablespoons of flour
1 teaspoon each of salt and black pepper
1 lb of favorite pasta shape, I used spaghetti and it works really well with this recipe
Directions: 
Begin by making the pesto. Pulse all ingredients in a food processor until paste forms, should be slightly chunky and not completely smooth. Can be made ahead of time and stored in the fridge.
Next, cook pasta until almost al dente. Pull off the heat about one minute before it's done cooking. You will finish cooking the pasta in the sauce, reserve a few tablespoons of pasta water.
Make the alfredo sauce by melting butter in a large pan over medium heat, once it's melted, add flour, stirring until paste forms.
Add milk, one third at a time, stirring each time until combined.
Next, add parmesan, heavy cream and salt and pepper. Stirring until sauce comes together.
Now add one cup of pesto to alfredo sauce and mix well.
Pour sauce over pasta in a large pot or bowl. Toss together. Add one tablespoon of pasta water at time, if needed, to achieve the sauce consistency you like. Taste and add more salt or pepper if needed
Serve hot! Top with more parmesan and crushed red pepper if you like a little kick!