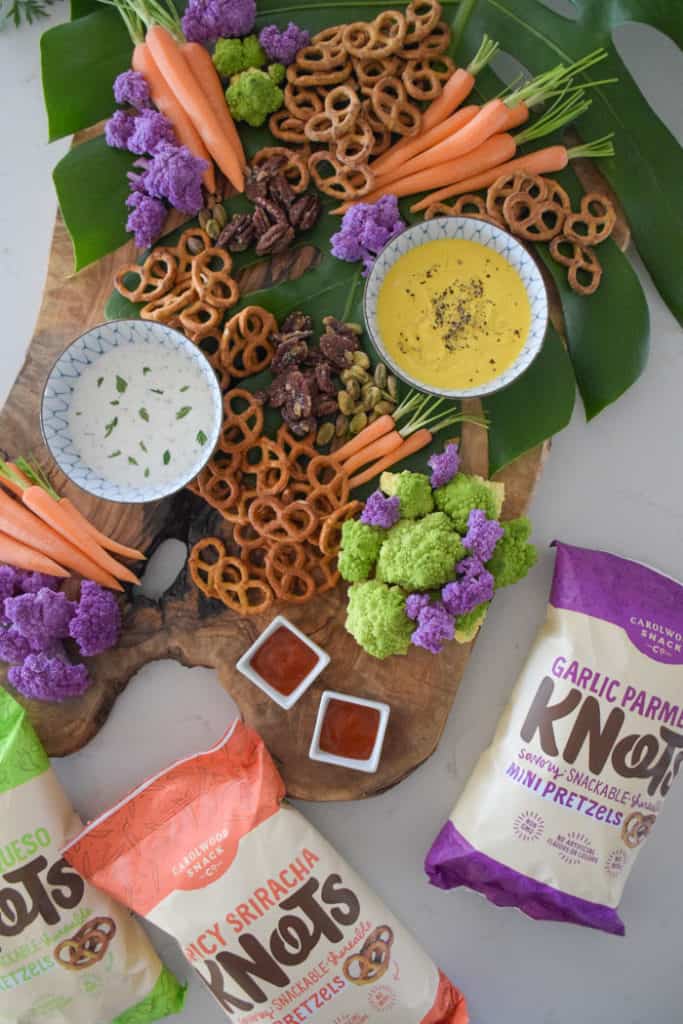 I love entertaining and having friends over! I can think of a zillion excuses to invite my girlfriends over so we can sit around and chit chat. I love a good cheese board but these days it seems like everyone is wanting something a little healthier, even when it comes to girls night! Enter this colorful veggie and pretzel board. It's a stunner for sure and best of all, it comes together super quick so you can spend more time with friends and less time prepping!
This post is sponsored by Carolwood Snack Co. Thank you for supporting the companies that keep this blog going!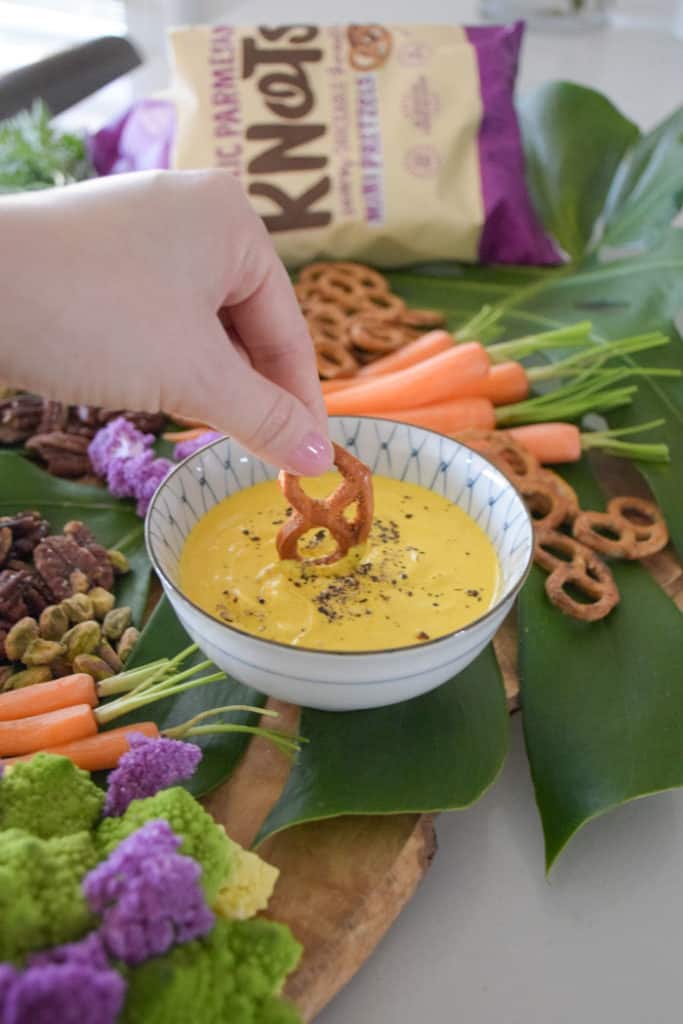 I'm a sucker anytime I can make a huge board or spread and call it dinner, ha! Seriously, though. It's always so pretty and I love grazing at parties. This way I can try lots of different flavors and I'm not tied down to a seat trying to carve up a big piece of meat. I like to be free to socialize!
A few months ago, a local Austin company sent me their mini pretzels. I finally got around to trying them over our New Year's getaway with friends. We all brought lots of snacks and these Knots were a huge hit! So crunchy, salty and the perfect amount of flavor that kept us all grabbing for more.
After that, I was excited to team up with Knots to share about this easy entertaining idea! Grab your favorite veggies, nuts and of course Knots mini pretzels and you've got yourself a dang good start to any get together!

Colorful Veggie and Pretzel Board
Serves a lot of people!
How- To:
I like to peruse Whole Foods and Central Market to see what colorful produce they have in season. This purple cauliflower and bright green romanesco really add huge pops of color! Baby carrots with stems just look (and taste!) so fresh and are a great addition to any board.
For nuts, I like a mix of roasted + salt variations with regular ones. Think pistachios (already out of the shell or otherwise they're too difficult to eat), pecans, walnuts or cashews.
Grab your favorite flavor, or in this case one of each, of Knots Mini Pretzels! They are made without MSG or any artificial colors or flavors. Making them a delicious choice for your spread.
Dips are always a hit! Try a ranch but add in some fresh herbs for an extra punch like dill or parsley. This Turmeric Yogurt Dip is always a hit around our house and it's easy peasy!
Turmeric Yogurt Dip
Ingredients: 
1 cup plain yogurt (either Green or thick coconut-based yogurt)
1 heaping teaspoon turmeric powder
1/2 teaspoon garlic powder
1/2 teaspoon salt
1/2 teaspoon black pepper
Directions: 
Mix all ingredients together and smooth the top and sprinkle a little extra black pepper for a finished look!