Shivers and sniffles be gone! I've been loading up on antioxidants and healthy veggies leading up to the wedding to try and give my immune system a little boost. I like to slide a little turmeric into lots of my dishes, like soups and even my eggs in the morning. Every little bit helps, right? This Cold Fighting Hearty Turmeric Soup is my answer to cold and flu season. It's warm, bright and brings me all the comfort of good ol' chicken noodle soup but with a little extra flavor and little extra boost from the turmeric!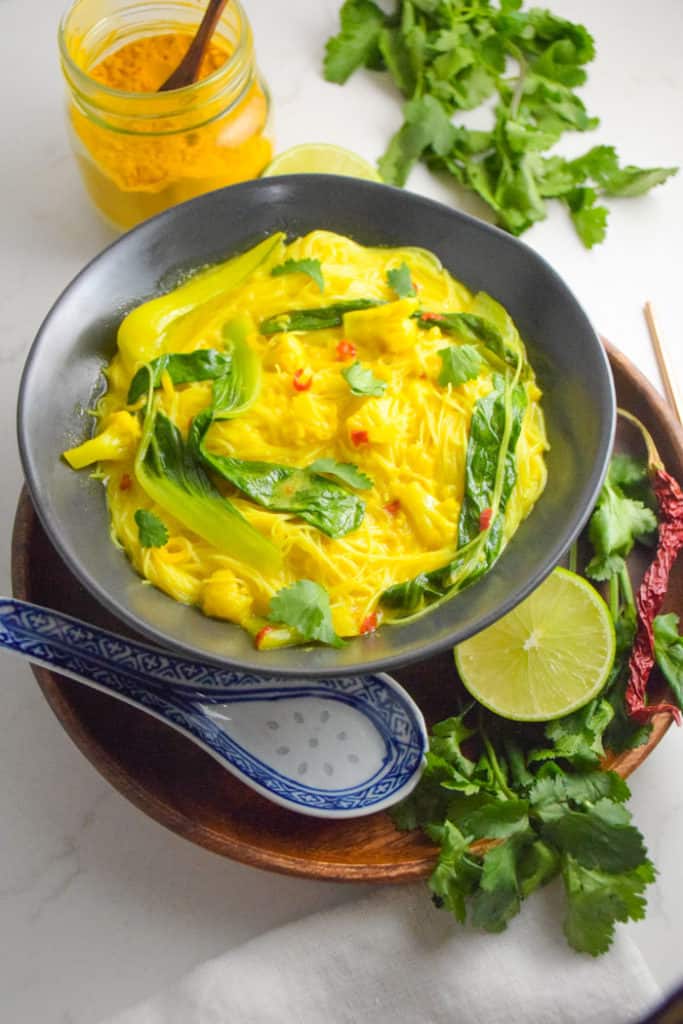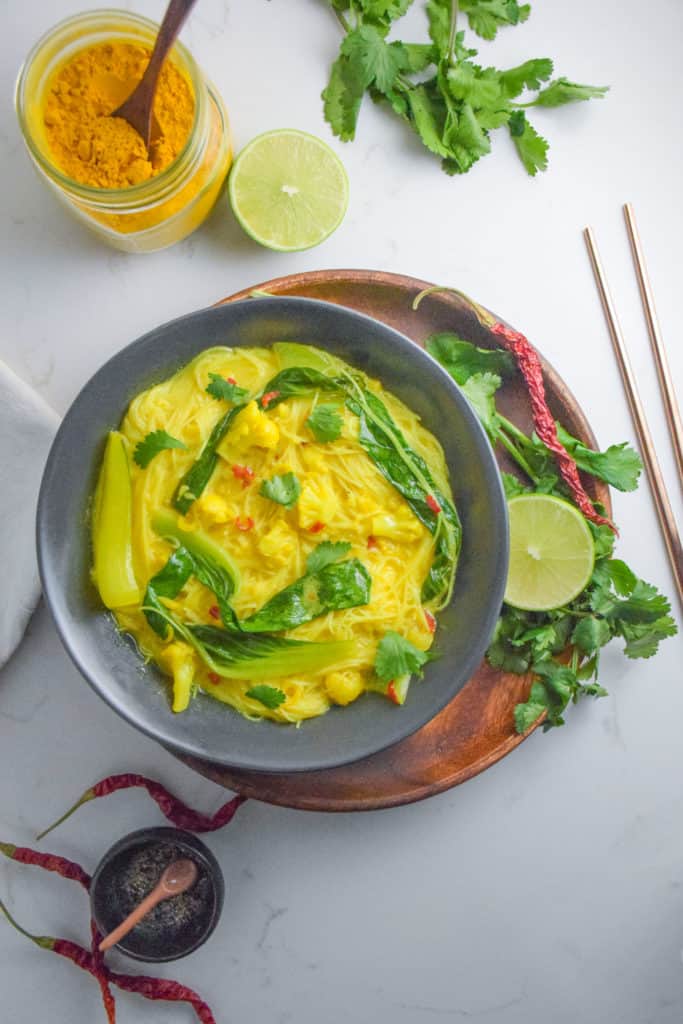 Cold Fighting Hearty Turmeric Soup
I love how pretty this soup turned out! Just look at that gorgeous color! If you want to lighten it up, skip the noodles. I like them because they make the dish a little more filling. If you want to make this vegan, sub chicken broth for veggie and trade soy sauce for the fish sauce. And don't leave out the fish or soy sauce. They give the soup a magic umami bomb that really makes all the aromatics come together! Not to mention this soup pulls together in way less than an hour depending on how fast you can chop and mince!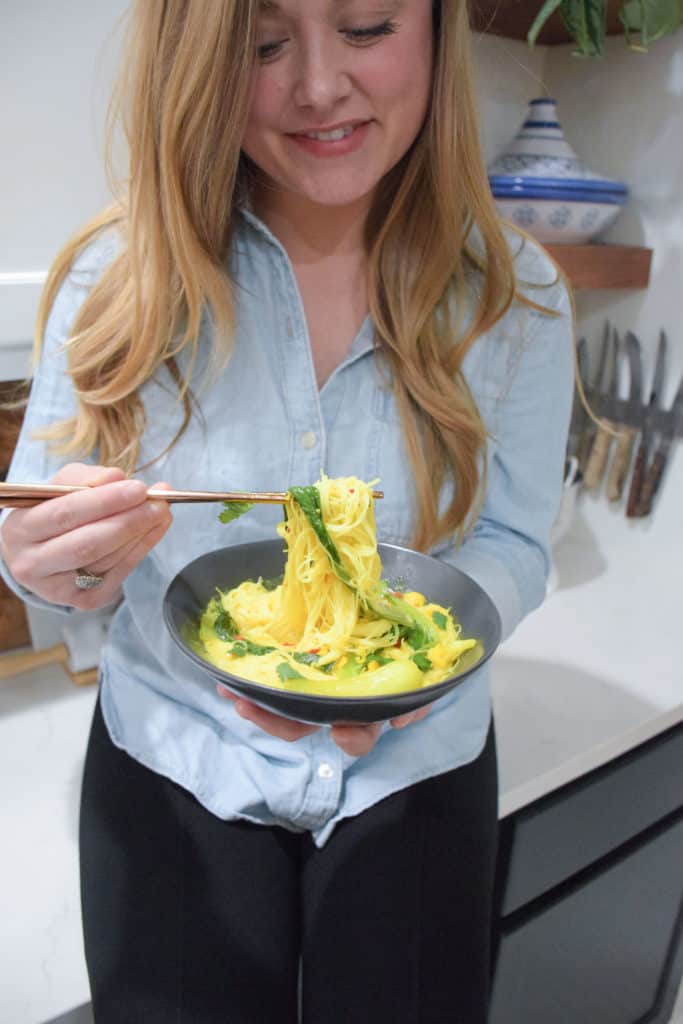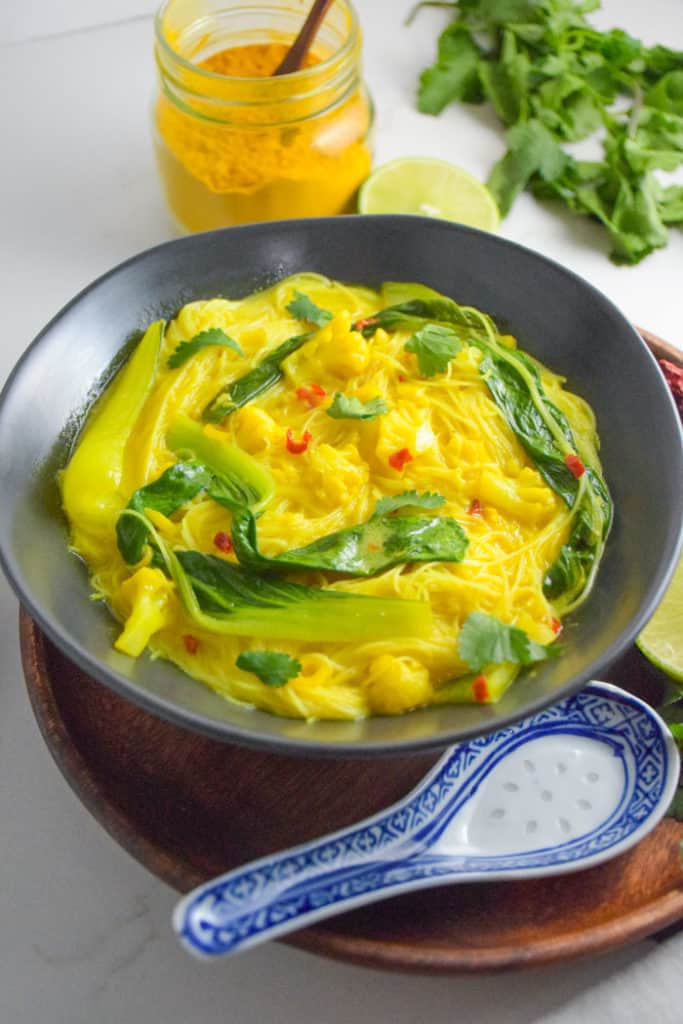 Turmeric Noodle Soup Recipe
Makes about 4 servings
Ingredients: 
4 cups of low sodium chicken broth
1 can or 13.5 oz full fat coconut milk
2 small baby book choy, separate stems and leaves slicing leaves lengthwise
2 cups of chopped cauliflower florets
4 tablespoons ginger, minced,
3 tablespoons powered turmeric
3 tablespoons garlic, minced
2 tablespoons shallot, minced
1 stalk lemongrass, very thinly sliced
1 tablespoon fish sauce, more to taste
1 teaspoon each kosher salt and black pepper, more to taste
1 teaspoon olive oil
1 teaspoon torn cilantro leaves per serving
2 Thai red long peppers, minced
2 limes
1/2 package of thin rice noodles
Sriracha if desired
Directions: 
Heat olive oil in a large heavy bottomed pot with garlic, ginger, shallot and lemongrass over medium high heat. Stirring frequently for 1-2 minutes until slightly softened and fragrant.
Stir in turmeric, pepper and salt until sticky and clumpy, a few seconds.
Add bok choy stalks and cauliflower to pot with chicken broth. Heat until boiling then reduce to simmer and cook for 5 minutes until stalks and cauliflower are tender.
Add coconut milk and bok choy leaves. Stir well then add fish sauce and coconut milk.
Put noodles into pot and simmer until softened, 4 more minutes.
Taste broth and add lime juice, salt and fish sauce to taste.
Pour noodles and soup into bowls, top with cilantro, red chili, and squeeze of lime. Add sriracha for more heat if desired.