Austin is a town that draws a crowd, what can I say, we like to have fun! Here are the Best Restaurants for Group Dinners in Austin!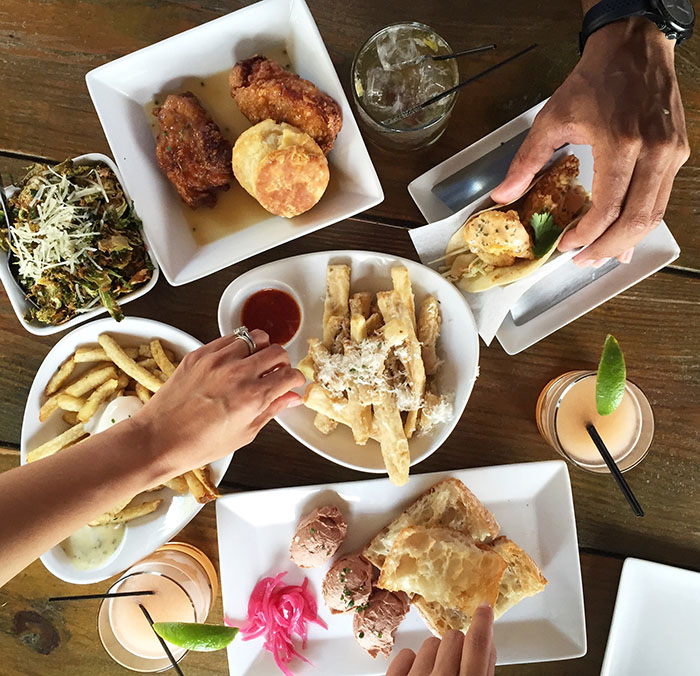 Salty Sow
Every day I feel like I run into someone who is here in Austin for a bachelorette party or conference or one of our 82,459 festivals we host a year. So that means lots and lots of friends who need plenty of restaurants to chow down together at. Finding the perfect group dinner spot can be, um, how do I say this politely, very tricky. You've got to find the right mix of something everyone will eat with the right price and of course drinks. So here is my handy list of great restaurants in Austin for group dinners!
Planning a group dinner in Austin is no easy task! There are so many choices and it's hard to know exactly which place will be the right vibe for your group. I get asked so much on Instagram where people should go for their group dinner while they are in Austin, so I decided it would be best to round up the restaurants in this blog post!
From fancy, to the best happy hours to more casual, I've got something for everyone! And if you're looking for good breakfast food in Austin, check out my list here!

Prickly Pear Margarita at Matt's El Rancho
Matt's El Rancho– Pretty often when folks head out to dinner in Austin, there is a healthy mix of queso and margaritas and Matt's El Rancho has been delivering that to Austinites for like at least 50 years or something. Big tables, big patio, and big parking lot. Head here for fajitas, margaritas, and that famous Bob Armstrong dip.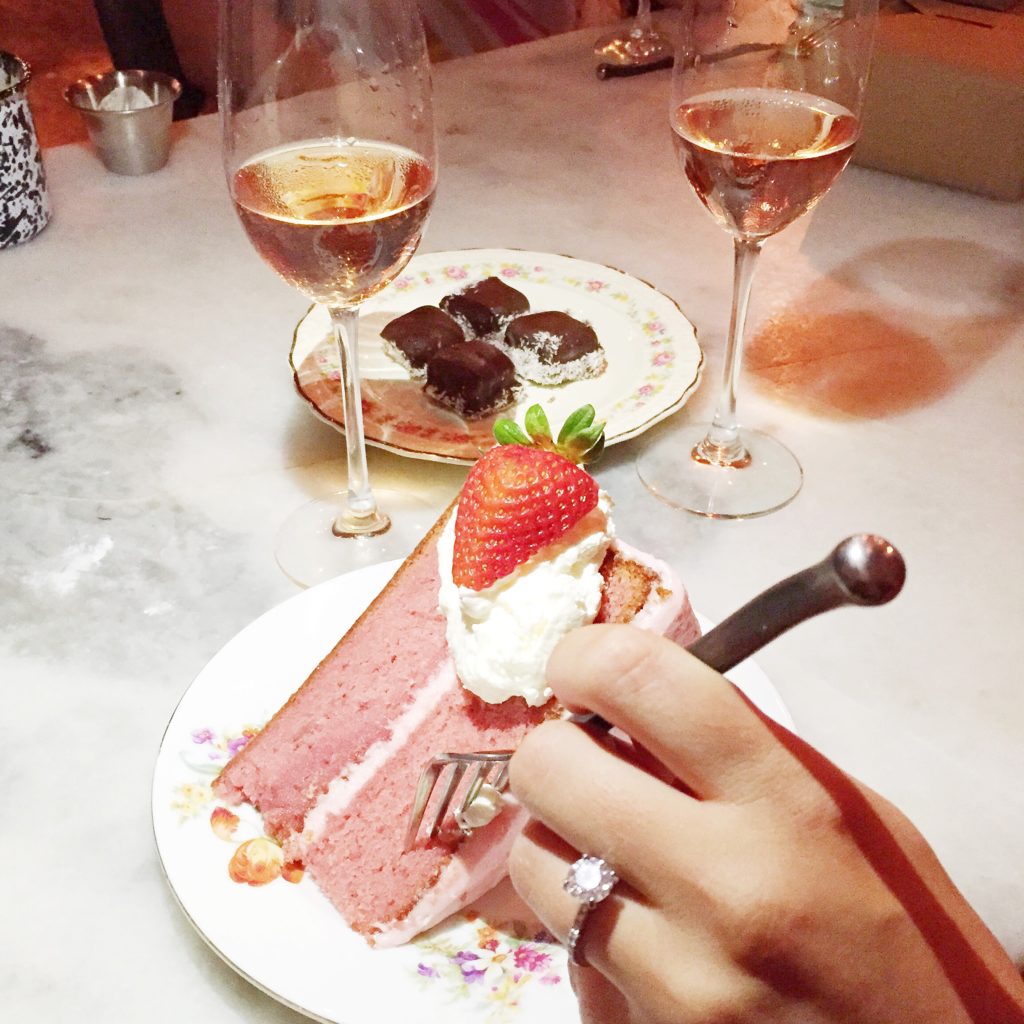 Jacoby's
Jacoby's– I love bringing people from out of town here. The backyard at Jacoby's just screams, "This is Texas," in the best way possible. You literally feel transported. The restaurant backs up to the river with sweeping views and big picnic tables. Jacoby's is a family run restaurant that serves true Texas food. Think burgers, chicken fried steak, onion rings and oh be sure to save room for their strawberry cake for dessert. They also have a beautiful private dining room if you want a more intimate experience.
Ranch 616– If you and your friends will be hitting up West 6th street, then Ranch 616 is a must. They've got strong drinks, which always makes for a rowdy time. I suggest a fire-in-the-hole. The food here is less important than the atmosphere but you certainly won't leave hungry. This is a great place to get the party started if that is what you're going for!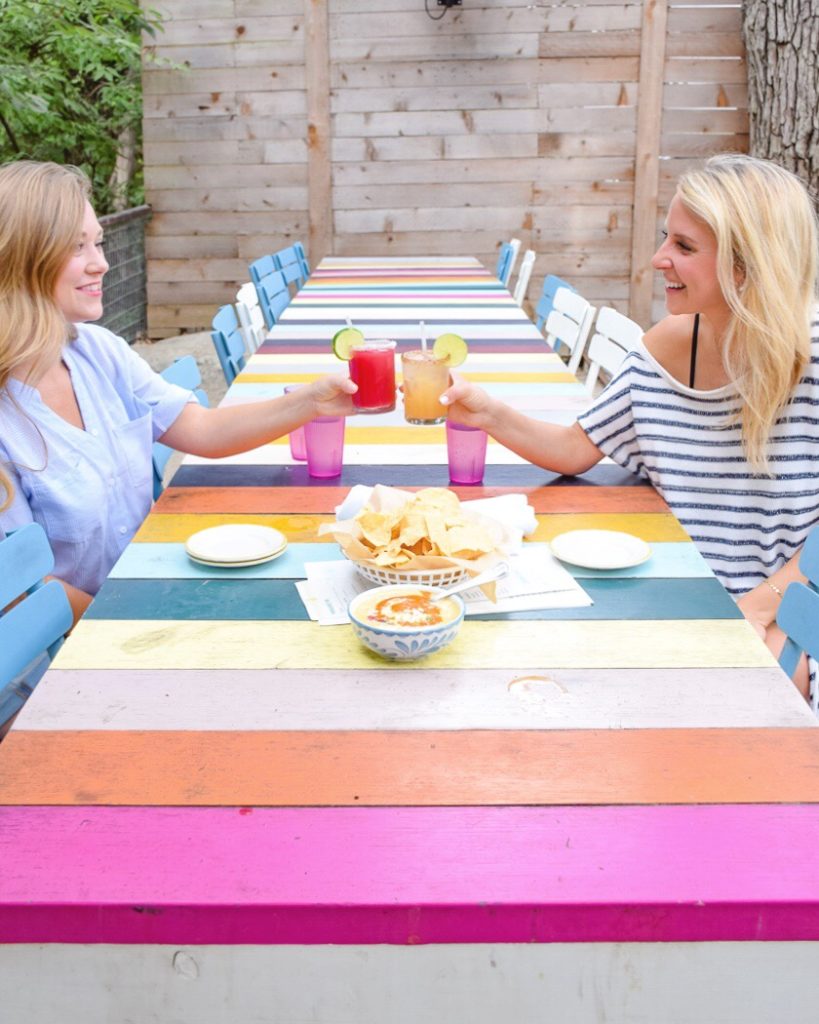 Fresa's
Fresa's– Queso, patios, guacamole, and oh tacos. I love Fresa's because it really embodies everything Austin. You'll want to stay here and chill a while. Perfect place for starting the night or an easy, long brunch. They have big tables where you and your crew can spread out. There is a huge, gorgeous oak tree and the outside is dog-friendly. Save room for dessert because the churros and ice cream here are legit.
Sway
Sway– Spice, sake, and community dining all meet under one roof at Sway. If you're group isn't super large, there's a chance you  might get sat next to some other friendly folks. The dishes are all shared and I recommend the green curry, son-in-law, and blue crab fried rice. The banana split is NOT to be missed.
Via 313 at Craft Pride– Beer and pizza. That's it. That's all you need. Via 313's Detroit style pizza might be one of my favorite types of pizzas in all the land. I just can't get enough of those crispy edges, fluffy dough, and oh dat cheese. Order in the back at the trailer and sip on some of Craft Pride's ginormous selection of beers.
G'raj Mahal– I like this place so much I had my 28th birthday here! Their tented back patio has lots of low bright pink lounges that make every moment Instagrammable. They have all different types of curries and naans that pair really well with their selection of wine.
Lambert's Downtown Barbecue– You can't come to Austin and not have barbecue but seriously who has time to stand in line for Franklin for 6 hours? Lambert's also has live music upstairs so you can get your barbecue and show all in one place.
Wu Chow– Come here when you are ready to chow down in style. The soup dumplings are the main attraction here but the mapo tofu, spicy fried chicken, and green beans are some of my favorites. All the plates are shared, making it great to try lots of different things. And then there are the tiki drinks. It is always a hit with friends and perfect place to share lots of different dishes.
Salty Sow– Probably one of the best happy hours in Austin, TX! Lots of bites and sips under $5. Be sure to make a reservation since this place gets packed. The truffled deviled eggs, duck fat fries, and margaritas are delightful. This can make it really easy to turn happy hour into dinner, which is a great decision.
L'Estelle House– If you need to refuel while you are on Rainey Street, do it at L'Estelle House. Think burgers, frites, and grilled cheese. You can order at the window which makes dealing with the check non-existent. It's also worth noting they have bubbles on tap.
Eastside Tavern– Barbecue meet bar. Piles of brisket on everything from baked potatoes to burgers, nobody is leaving this place hungry. There is also some great mac 'n cheese and oh yes, they have frosé. #winning. Be sure to venture to their rooftop deck to hang out as well.
Central Standard– When you and your posse are feeling like splurging, head over to Central Standard. It's South Congress Hotel's modern answer to the steakhouse. You'll want to stare at their gorgeous bar all night long but make sure you order the bread and butter, pork chop, and mac 'n cheese. Do you see a pattern here? I'm really into mac 'n cheese. Central Standard also has a great brunch and happy hour if that is more your style.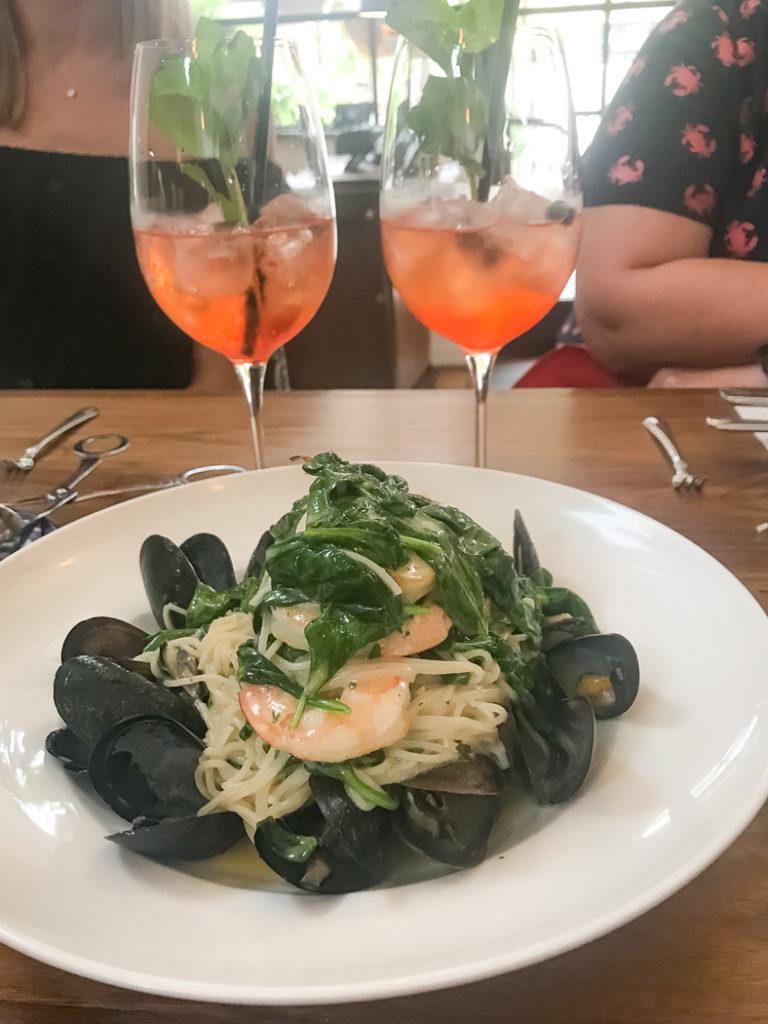 Juliet Italian Kitchen – BMW and I love this place for happy hour! They have my fav, Aperol Spritz, for only $5 during happy hour. The food is always delicious, we love the salmon crudo, and any of the pasta dishes! Juliet has great spaces from groups inside and if the weather is nice, their patio can't be beat. I suggest to make a reservation ahead of time if you plan to go on Friday or Saturday evening.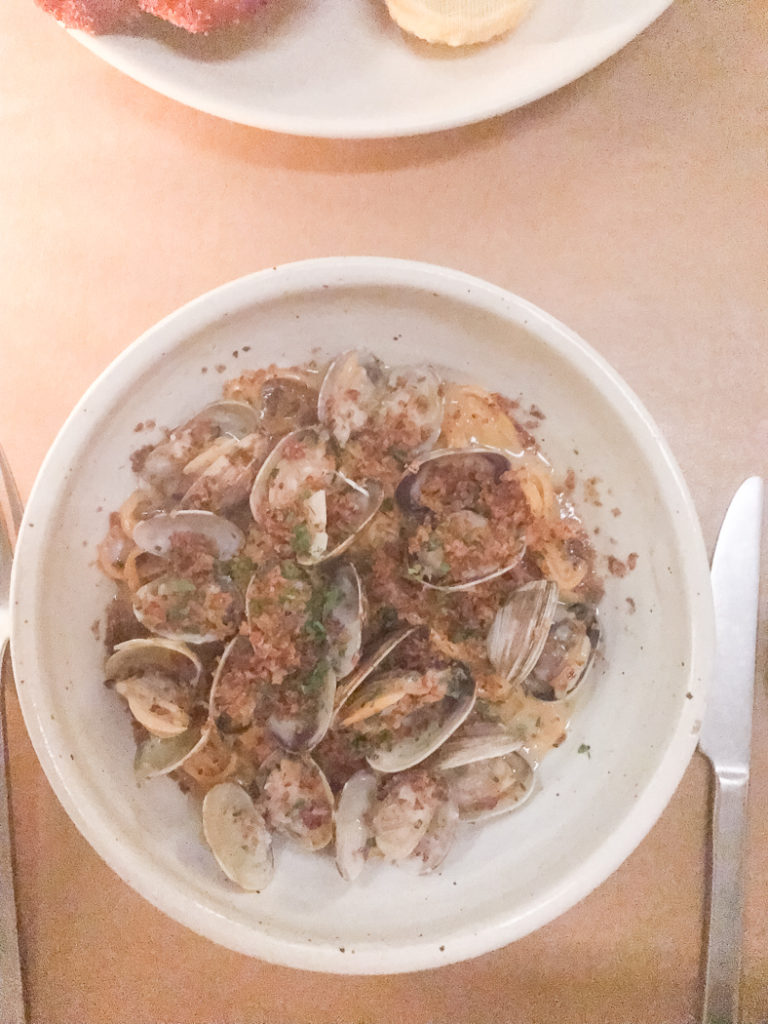 Carpenter's Hall – You might miss it if you don't know where to look! Located inside the Carpenter Hotel, Carpenter's Hall has true old school vibes with new school food. If you're going for breakfast, lunch or late night, you can get the burger. Their schnitzel is huge and I'm always a fan of whatever housemade pasta they are serving. This is great place to grab a bite before or after your adventures at Zilker Park.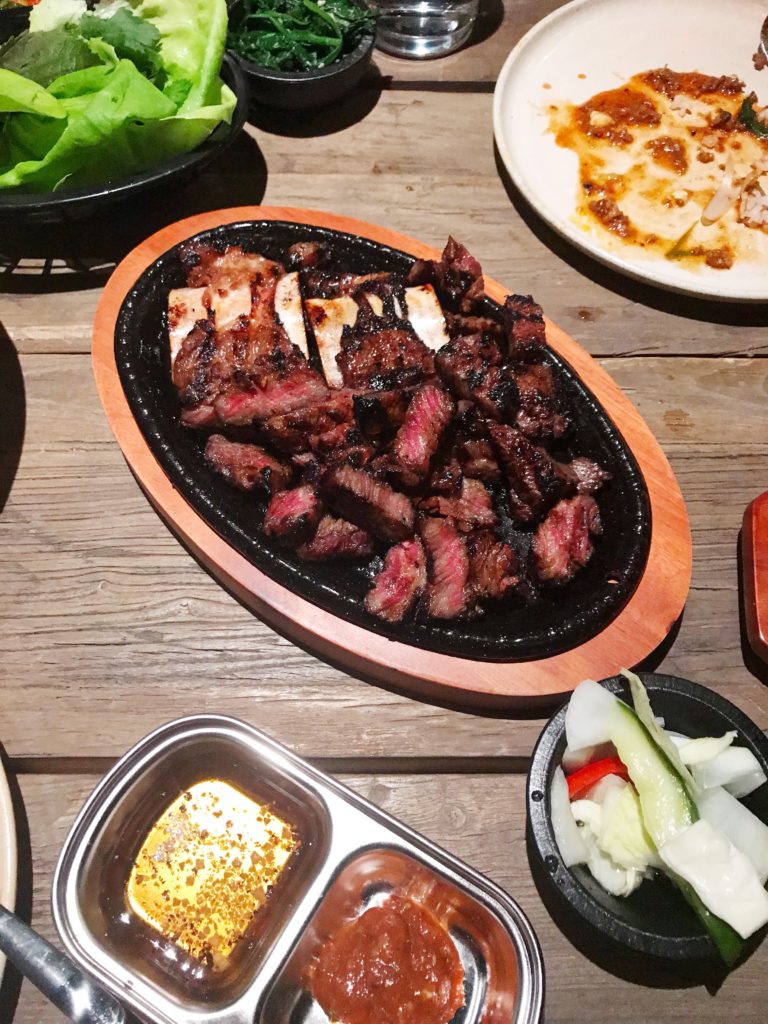 Oseyo – This Korean newcomer is a welcome addition to the Eastside. The minimalist decor and easy vibes make it the perfect place for a group dinner. The space isn't huge but the tables are accommodating and the plates are sharable. I'm a personal fan of their drink program as well. If you're looking for a refined, yet Austin-casual place, this is the spot. There is a mix of Korean-style dishes on the menu and it's really hard to go wrong here. The are also lots of options for gluten-free, dairy-free and vegan as well.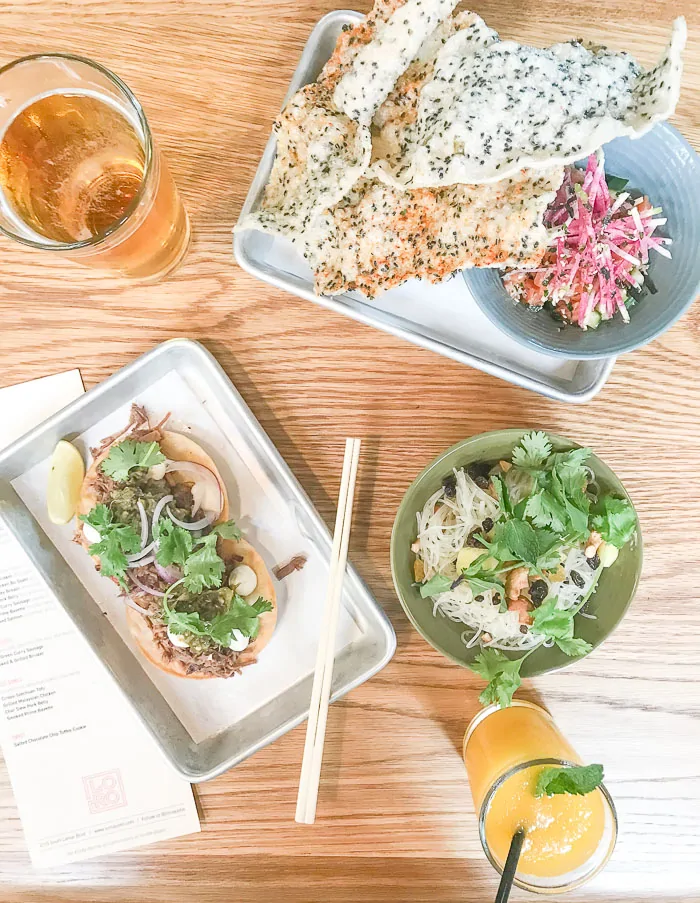 Loro– Where sushi meets barbecue. The brainchild of Aaron Franklin and Tyson Cole, is a great place to just hang. It kind of reminds me of an old Texas dance hall in a weird way. There is a long bar, where you can belly up or just order some drinks. The tables are first come, first serve and there is a huge patio with lots of mister fans. What I love about Loro is that you can grab a table and stay as long as you like. Since you don't need a reservation, it's easy to come early and grab a table and wait for your friends. And none of that wait until your whole party is present business. Because we all have that one friend who is perpetually late, so now you won't be held back by that!
The food is delicious, from brisket to smoked fish, and even gourmet popcorn. One other thing you don't have to worry about at Loro is splitting the check. It's like a bar in that everyone can have their own tab and close out whenever they need. Easy peasy. Oh and PS- happy hour here is a real steal!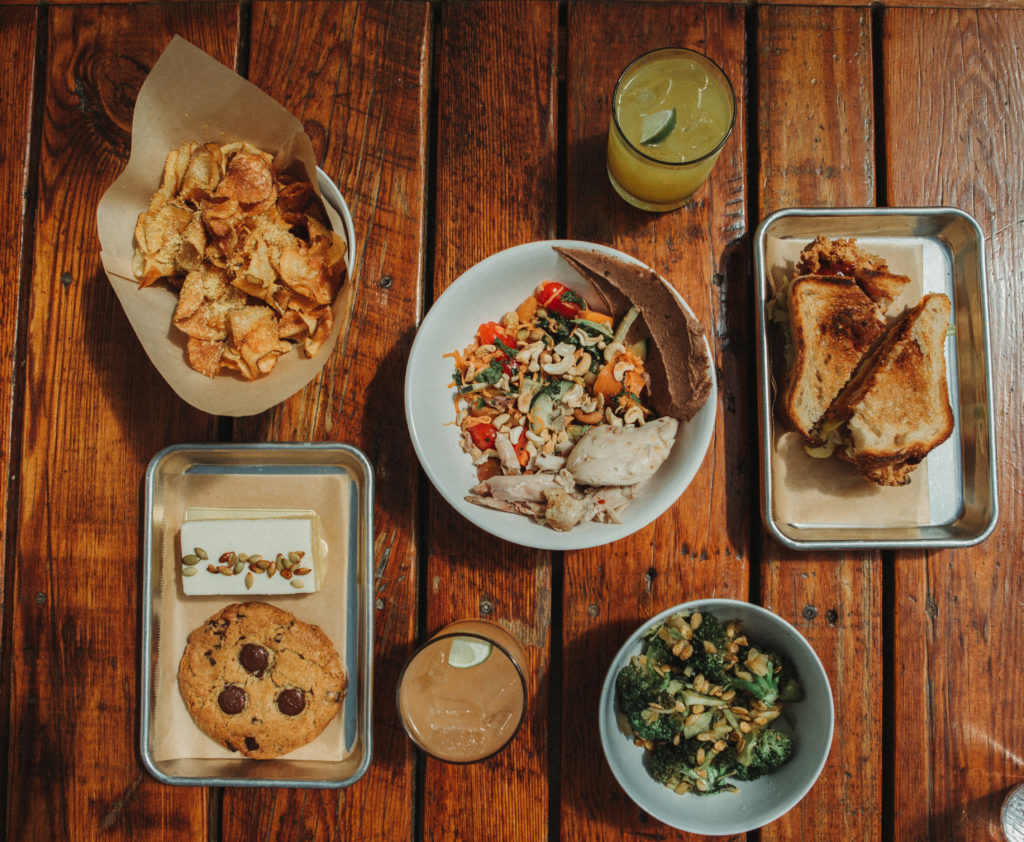 Sour Duck Market– This is the casual version of Odd Duck but the food is just as stellar. There is a counter where you place your order and you can get anything from frozen drinks to draft cocktails to burgers to some delicious pastries from the case. Sour Duck Market is also a great place with lots of huge tables and plenty of places to spread out with your crew. Like Loro, you can also each have a separate tab, making it super easy for people to come and go or just take the headache out of splitting the check. On Wednesdays, they host a farmer's market and there is often live music.
And there you have it folks, the best restaurants for group dinners in Austin! Got anymore questions for me? Drop them in the comments and I'd be happy to give you some more suggestions!