Breakfast at Elizabeth Street Cafe
Breakfast is hands down my favorite meal of the day! Ok maybe brunch is also up there because I'll put an egg on just about anything, let's be honest. When you're running on empty after a crazy night out at SXSW or ACL or you know just a normal Tuesday in Austin, then you're going to need a lot more than a green juice to get you up and at 'em. These are all of my favorite places for eggs, spicy noodles, and those things they call breakfast tacos!
Elizabeth Street Cafe– First up is Elizabeth Street Cafe! I would honestly recommend this colorful spot anytime of day but breakfast is an especially delicious time. Think Vietnamese Iced Coffee, an Everything Cream Cheese Stuffed Croissant, and those Spicy Singapore Noodles.
Taco Deli
Taco Deli– My personal favorite spot for breakfast tacos is Taco Deli! Lucky for you, they have several locations around town. Not to mention a host of other spots that sell their delicious tortilla wrapped goodies. I definitely recommend getting the papas (Mashed potatoes) on just about any taco. And if you're into spice, the Doña sauce is quite literally life changing.
Jo's– Ever heard of that famous "I Love You So Much" sign? Well, Jo's on South Congress is home to that lovely piece of art as well as some bomb coffee. The Belgian Bomber that is. Their signature drink is half iced coffee and half sweet, chocolatey, deliciousness is just what you'll need to pair with their fresh baked pastries and oh yeah, did I mention they sell Taco Deli breakfast tacos?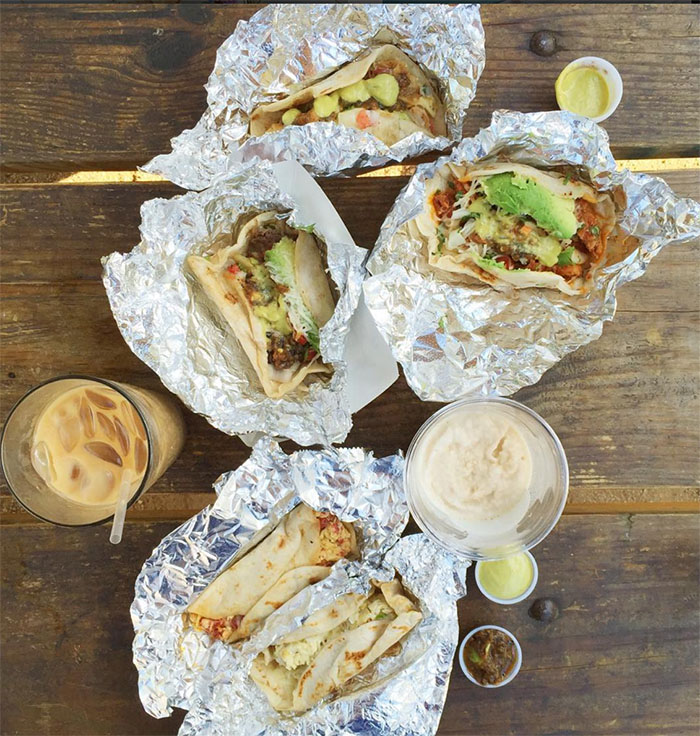 Veracruz All Natural
Veracruz All Natural– You can't seem to make your way through an article about Austin without a mention of Veracruz All Natural. And that is for a very good reason. They are most famous for their agua frescas and migas tacos.
épicerie
épicerie– This adorable neighborhood spot is home to one of my favorite lady boss chefs in Austin, Sarah McIntosh. It is also home to my most favorite shortbread that I've ever eaten in life. That is a statement I stand by. épicerie's breakfast is also legend.
Josephine House
Josephine House– You just really cannot go wrong with anything at Josephine House. From the the decor, to the food, to the way the sunshine trickles in through the windows, this place was made for daytime noshing. Go with the breakfast bowl if you're feeling healthy or indulge in the burger. I like to split the pancakes here for dessert. Because breakfast should have dessert too, am I right? PS- trend alert: they also have Golden Milk Lattes.
Café No Sé– I love this light filled spot because it has something for everyone. Bowls, juices, pastries and oh yeah, burgers, all grace the menu. And you'll feel extra posh hanging out at South Congress Hotel because it is honestly everything. I live around the corner so text me and I'll awkwardly come join you anytime. Serious.
Dai Due– Dai Due is super famous for it's local sourcing and meaty dinners but they are also home to hearty breakfast. Not to mention they have some serious pastry chefs who will satisfy any sweet tooth.
Paperboy
Paperboy– This place wins the award for the most Austin-y spot. This super trendy trailer has newspapers as fresh as the coffee, which give the succulent laden picnic tables an extra touch of charm. Come early as they tend to run out of the most popular dishes.
Joe's Bakery and Coffee Shop– If you want to scratch your Tex-Mex itch and nothing besides a greasy plate of chorizo con huevos will cure what ails ya, then Joe's is your place. This eastside joint is only open to 3pm on weekends but will give you a true taste of old east Austin.
Forthright
Forthright– When you're in the middle of the downtown hustle, Forthright is a welcome oasis of caffeination and respite. They are not messing around with their croque monsieur but also have a healthy mess of chia seed pudding, matcha lattes, and fancy toasts to get your day started right.