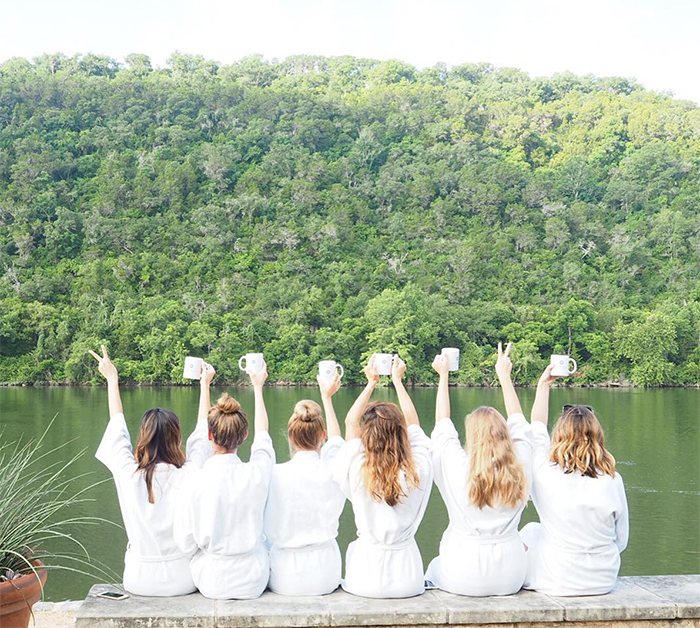 Y'all, if you've been following me on Instagram, then you know I've visited Lake Austin Spa Resort a few times this year! I was treated to a spacation this past summer and a girls day getaway a few weeks ago with my friend Jane from A Taste of Koko. Needless to say, I have been blown away every time I have visited! I can't believe this wellness spa is only 30 minutes outside of Austin. The river retreat really transports you to somewhere so lush and green and tranquil. Which is probably why Lake Austin Spa Resort has been #1 in Texas & the Southwest by Conde Nast Traveler Reader's Choice.
From a boat taxi that will whisk you away to the spa from 360 Bridge to a luxury car service to and from downtown, Lake Austin Spa is an easy daycation from downtown Austin or a luxury all-inclusive getaway for a weekend or longer if you're lucky!
A Girl's Weekend Getaway to Lake Austin Spa
A Taste of Koko hosted us girls for a getaway wellness retreat this summer complete with spa treatments, water meditation and gourmet meals that are artfully prepared by their chef. All meals are included with overnight stays and delicious bites are offered for purchase at The Aster Cafe at the spa for those indulging in treatments. We spent the night in the comfortable deluxe rooms which are a great for staying with a girlfriend or a couple. Some of my favorite activities at Lake Austin Spa were exploring the organic gardens on the property (who knew there were so many kinds of mint!), achieving ultimate relaxation during the guided water meditation which I highly recommend, riding the water bikes in coordination with my gal pals and of course exploring the healthy menu options.
Lake Austin Spa often hosts chefs and cookbook authors in their kitchens for events that are open to the public! Such a treat to be able to explore the resort and learn a little bit about healthy and healing food. Lake Austin Spa also offers a full array of active classes like Paddleboard Yoga, Bosu, Nature Hikes and Mindful Meditations for those staying at the resort. Scroll on for some gorgeous peaks into the spa and resort! The pictures don't even begin to do it justice!
Living Room at Lake Austin Spa & Resort
Healthy, calorie controlled, gourmet food at Lake Austin Spa 
Tranquil and relaxing Blue Room at Lake Austin Spa
Relaxing in the sauna at Lake Austin Spa
One of the pools at Lake Austin Spa where they also offer water meditation
Cooling off at the outdoor shower at Lake Austin Spa
Selfie Station at Lake Austin Spa Pool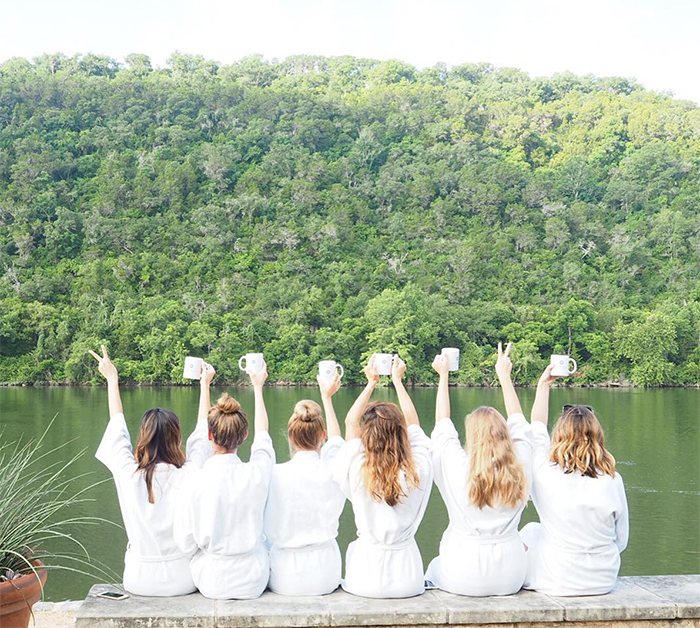 Lake Austin Spa & Resort is the perfect place to unplug and chill out for a hours or a few days! Plus, did I mention there is a Froyo doorbell? Simply press and outcomes the seasonal soft serve of the day! Heaven does exist! It's these simple touches along with the relaxed yet professional Austin staff that will make your getaway truly memorable!