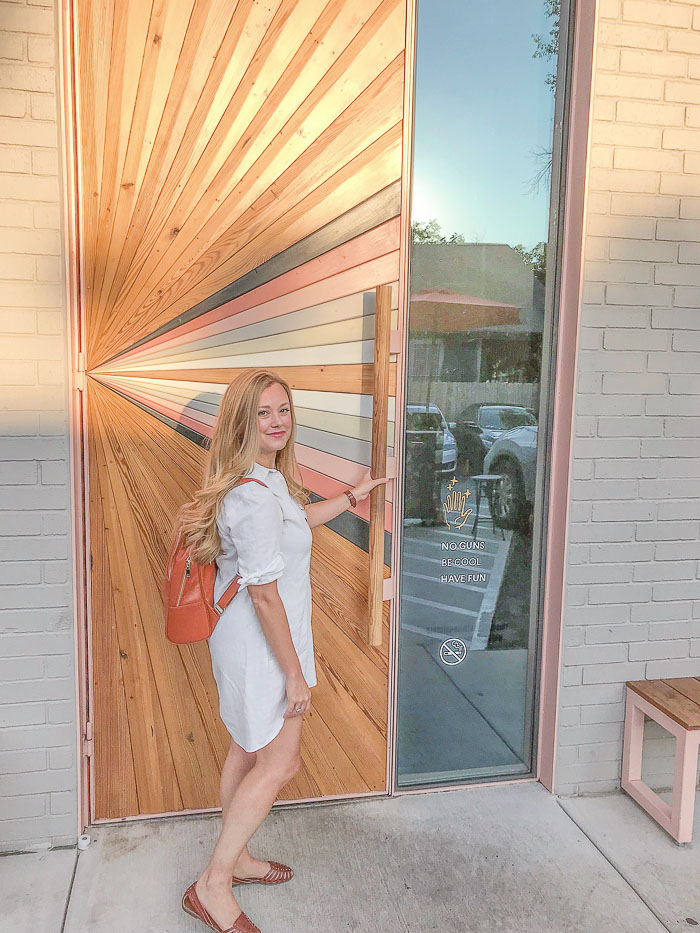 I rounded up several of my favorite places to eat in Austin right now! Some are new, some are old favorites that are worth revisiting, all are worth going to again and again. These are listed in no particular order. They are all places I spent my own money and time at figuring out the exact things you should order, in my humble opinion.
Where To Eat in Austin Right Now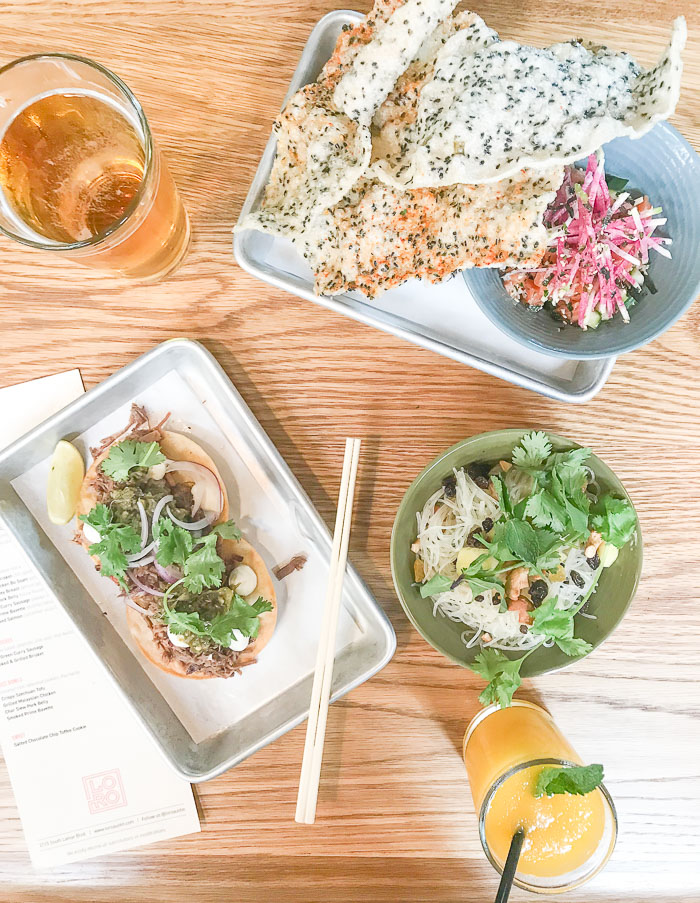 Loro– Foodie child of Aaron Franklin and Tyson Cole. It's really casual, almost feels like an old Texas dancehall or something. A place you can hangout a while.
What You're Getting: Go for happy hour and get the Barbacoa Tostadas and Mango Slushie. The burger is pretty heavy and greasy if not indulgent. I would recommend splitting it a few ways so you can get a taste.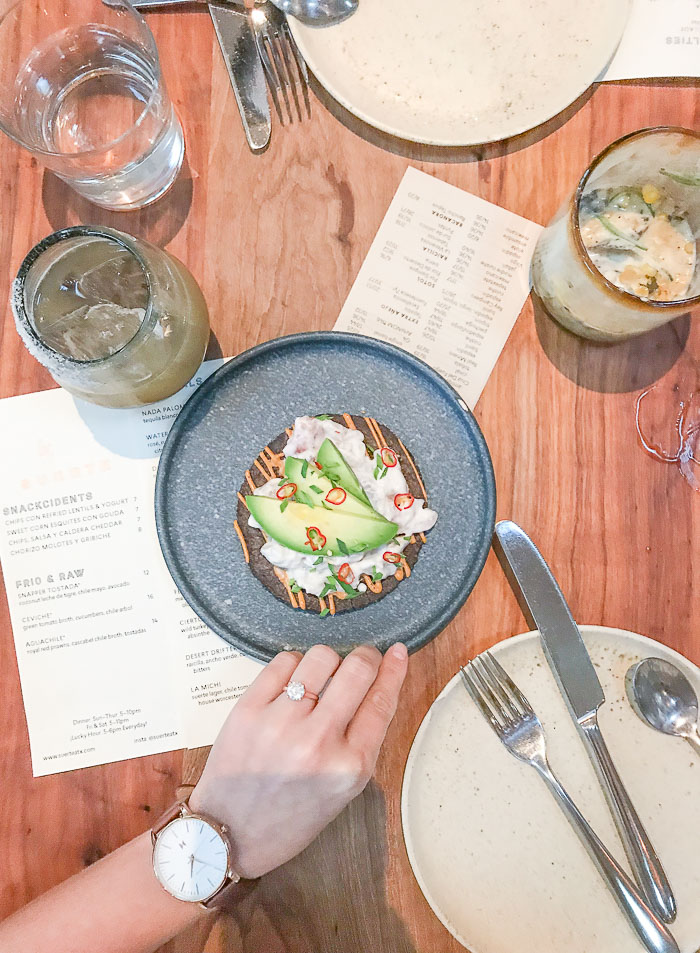 2. Suerte– It's a modern take on Mexican food but it's so much more than that. Each dish is carefully thought out and there wasn't one thing we had that I wouldn't order again. Reservations are recommended.
What You're Getting: Everything. But if you must choose, the Sweet Corn Esquites con Gouda is basically like a super fancy, super delicious corn cup. The Suadero Tacos are a must order and be sure to order something like the Goat Barbacoa even if the only reason is so that you can savor the incredible handmade tortillas.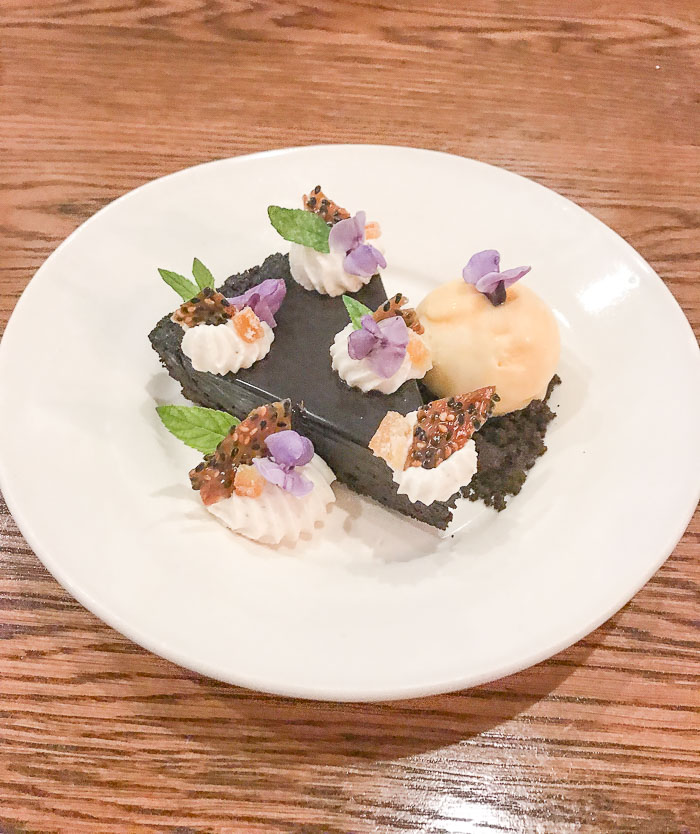 3. Rosewood– I love the adorable old house that is home to this restaurant. It's a charming date spot and bills itself as south Texas food.
What You're Getting: Hard to say because the menu changes daily. However, our favorite dishes were from the fish section and we also really like the tacos, which there always seems to be some version of. I would recommend saving room for dessert!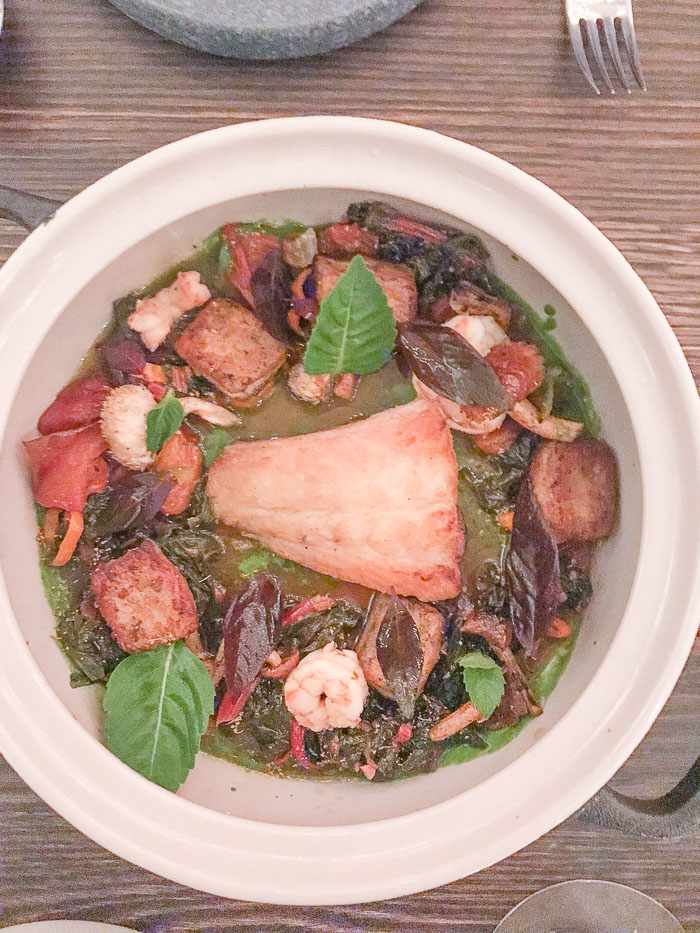 4. The Brewer's Table-   It's literally a brewery that also houses a restaurant. A restaurant with a really great chef. One of my favorite things was that you can order tiny 6 ounce pours of the draft beers so you can try several different kinds.
What You're Getting: Each meal at The Brewer's Table should start with the Hearth Bread (that butter though) and Snacks for the Table which is a mix of veggies and other starters, perfect for sharing. Moving down the menu, don't skip the Rabbit Carnitas with pig blood mole. A new dish was this Pan Roasted Barrel Fish with barley dumplings and lot of other aromatics. It's the perfect way to end the meal.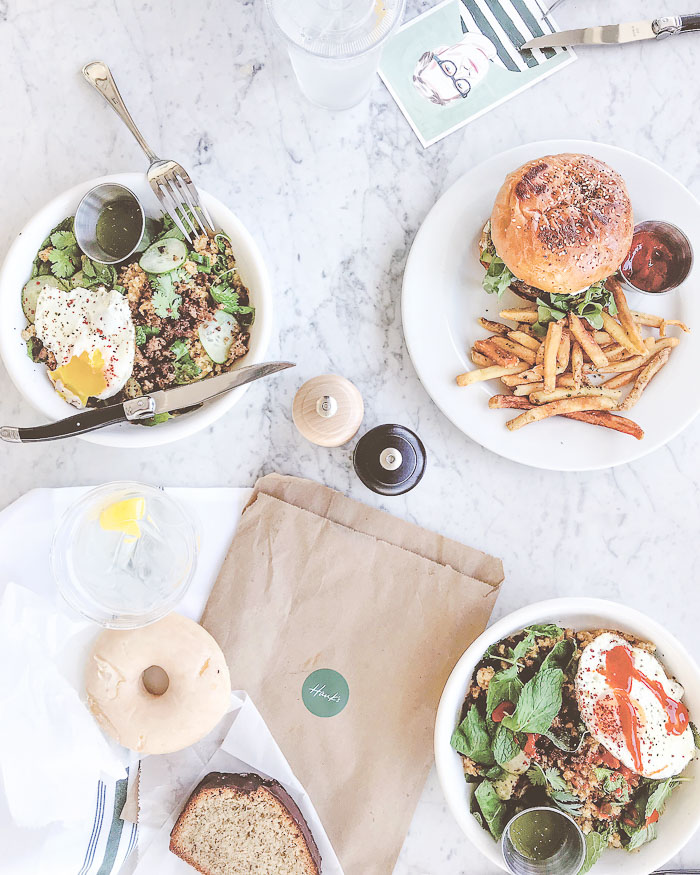 5. Hank's –  Hank's is the kind of place you can eat at everyday. I mean they even just opened a drive-thru. But don't let that fool you, the space is well designed, airy, has a huge patio and plenty of room to grab a cup of coffee with your lunch and stay a while.
What You're Getting: The Crispy Rice Bowl and Frozen Paloma. The puffed, crispy rice adds a nice texture to the dish and the Frozen Paloma has just enough bite from the tequila to keep it from being sweet.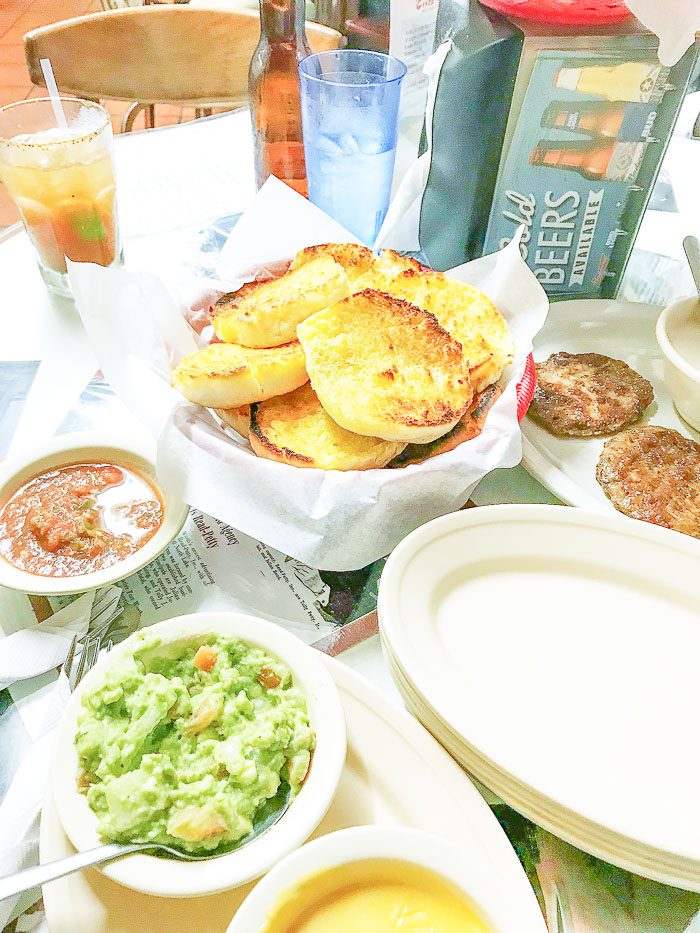 6. Cisco's – This old-school Austin haunt is now officially open for dinner. That's right, you can now grab those buttery biscuits and load them up with honey any time of day. Ok we'll at least until 10pm. And make sure you order them toasted, or else!
What You're Getting: Plain and simple you're getting the Huevos Rancheros. And the toasted biscuits.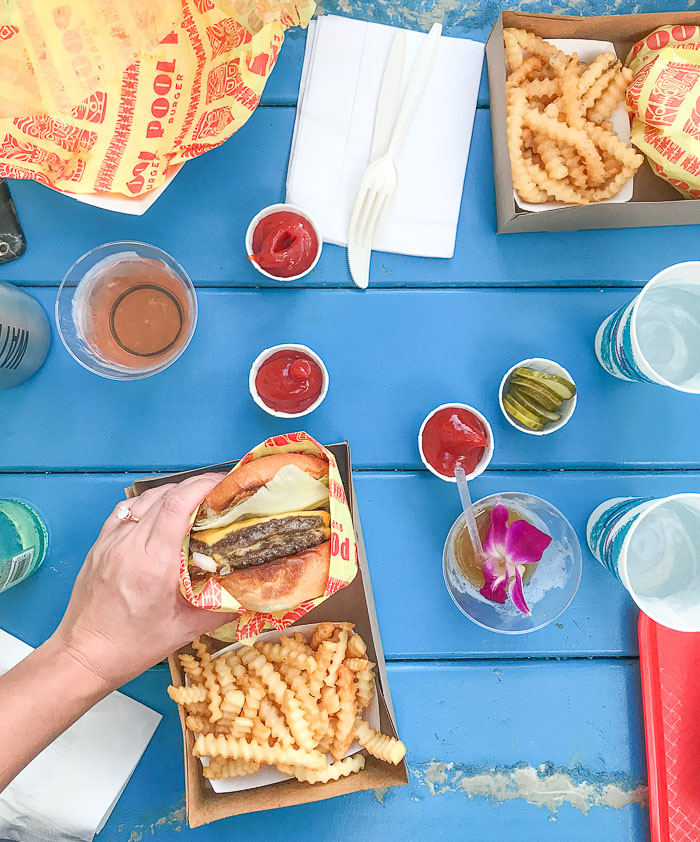 7. Pool Burger– Is it a tiki bar or a burger stand? Good question. It's really both. And one particular Saturday evening the patio turned into a dance floor and the usual family-friendly spot kicked out everyone under 21.
What You're Getting: The All-American with a side of crinkle fries and soft serve for dipping. Wash it down with a Singapore Sling.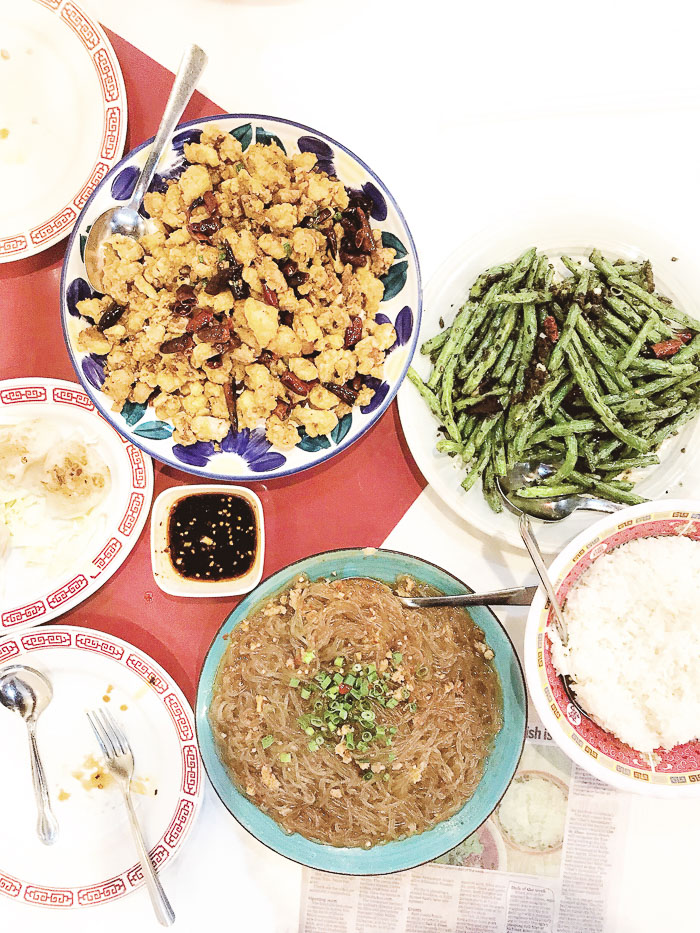 8. Sichuan River– Quite possibly my favorite strip mall find ever. Sorry TJ Maxx. Don't let the location fool you, the eats are great. This is the only take-menu that survived the move, just sayin'.
What You're Getting: The Mapo Tofu (VG8), Green Beans (VG7), Vermicelli with Spicy Minced Pork (PK22) and Sichuan Stir-Fried Chicken (CS7).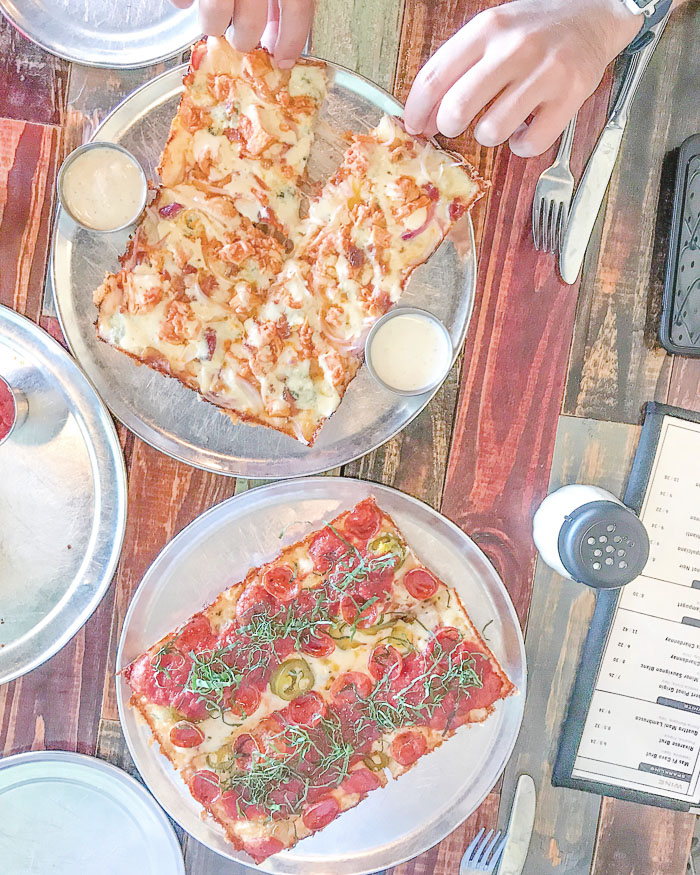 9. Via 313–  The pizza to cure all pizza cravings. I love this deep dish style with crispy edges. It reminds me of cheesy bread and I really like cheesy bread.
What You're Getting:  If you read any other post about Via 313 they'll tell you to get the Omnivore or more than likely the Cadillac. Both excellent choices but BMW and I really like to get the pepperoni with jalapeños. This one pictured here has basil on top. It's not necessary though IMHO. But you must get the CAESAR dressing for dipping. They have Ranch but the Caesar is where it's at.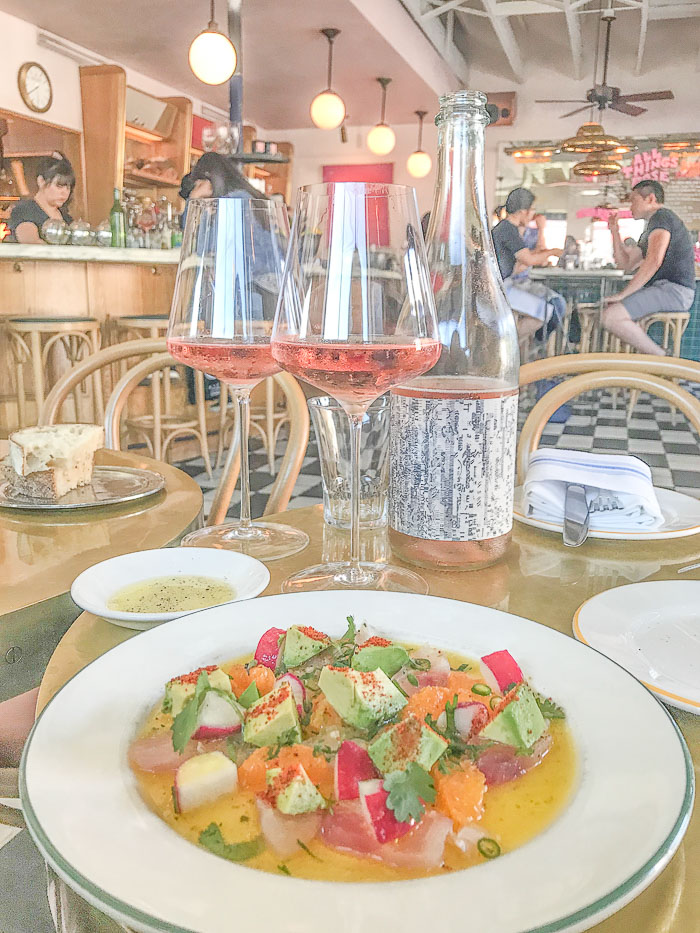 10. June's All Day – Even though this place is only about 2 years old, it's got an old soul and I like that. Feels sorta like a diner but with a dash of class. And an exceptional wine program led by the restaurant's namesake, June Rodil.
What You're Getting:  I suggest hitting up the happy hour because the entire food menu and all bubbles are 50% off. I personally like to start things off with the Snapper Ceviche, pictured here, and some bread to soak up any leftover sauce. The Fried Chicken and Ham Sandwiches are great choices for sharing. If you're feeling light, go for the Vegetable Couscous, or if you want something heartier, go for the Bolognese.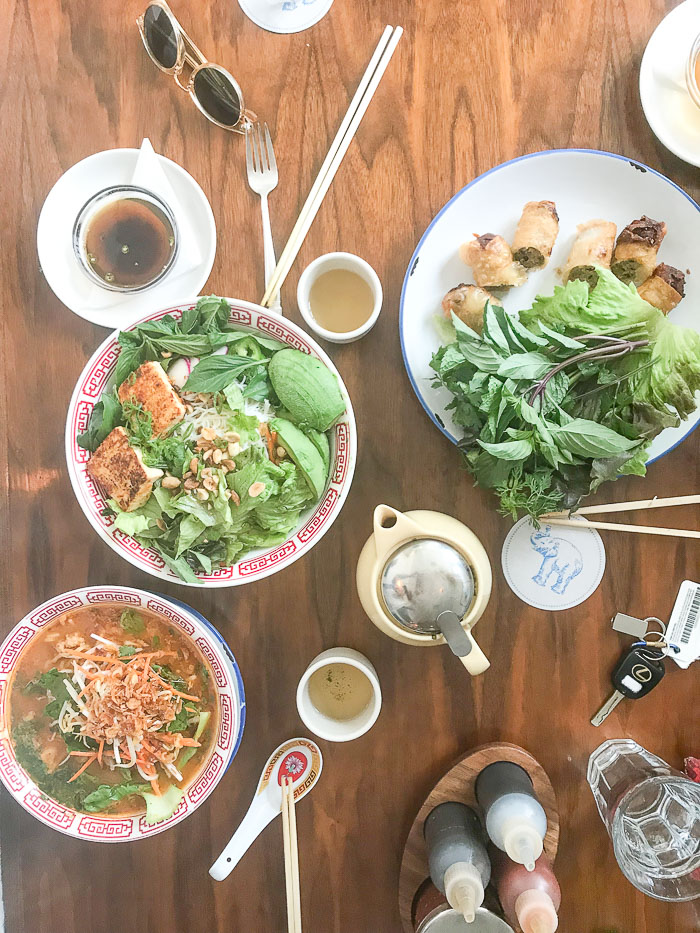 11. Elizabeth Street Cafe–  My love for this restaurant runs deep and I've written about it multiple times over the years. It's still the restaurant I say is my favorite when someone asks and the place I recommend out of towners be sure to make time for.
What You're Getting:  The Singapore Noodles, The Dan Dan Noodles or the Beef Short Rib Bun. I also recommend the Iced Vietnamese Coffee or the Dragon Punch.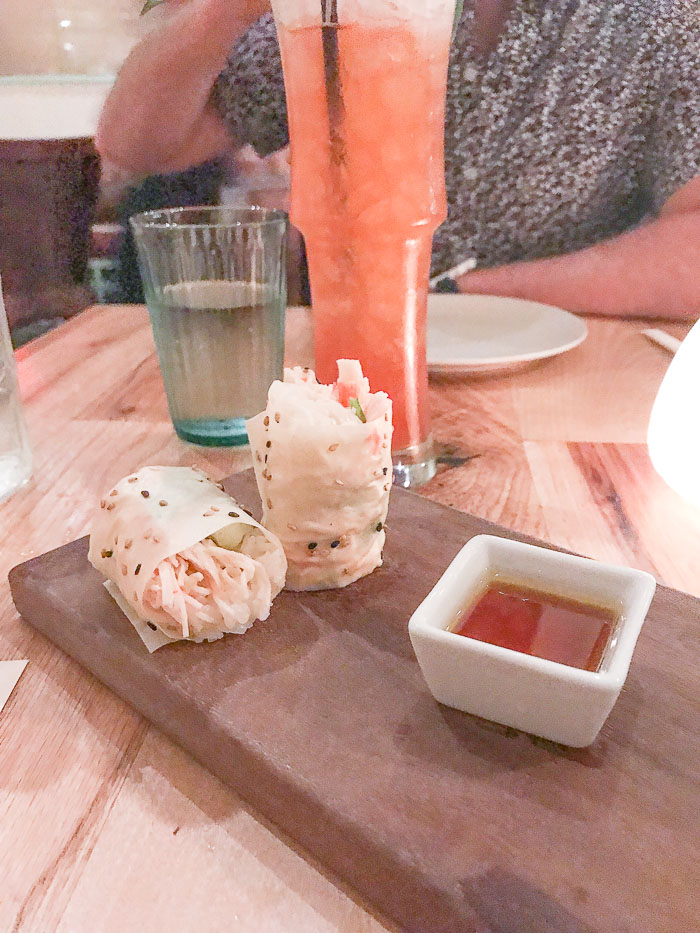 12. She's Not Here– I tossed and turned over whether to include this place or not. I only visited once and to be honest I thought the vibe was all wrong. Not to mention all the sushi and fish dishes we had tasted old or at best not fresh. I also wasn't a fan of the cocktails (so.much.pineapple.) and they were out of almost every beer we tried to order. However….
What You're Getting: We ordered the Crab Butter, pictured here, on the recommendation of a foodie friend. We ordered it three times during our meal because it was SO good. I would go back, sit at the bar, order like five Crab Butters and call it a night. Seriously.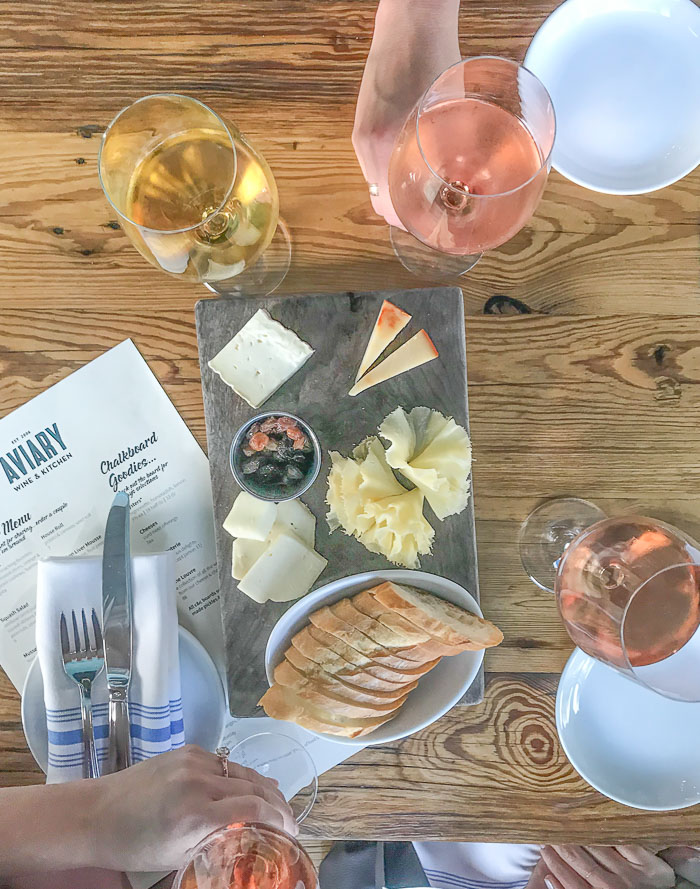 13. Aviary Wine & Kitchen-  This place has been reinvented a few times and I have to say I like this last revision the most. It's quaint and colorful and feels a little like Old School Austin where the owner seems to know someone at every table and a stranger at the bar might try and chat you up even if you're at a table several feet away.
What You're Getting: The cheese board. Let the server walk you through the daily selections and choose your favorites. Round things out with the House Roll, the burger and a pasta dish which changes with the seasons. And of course, wine.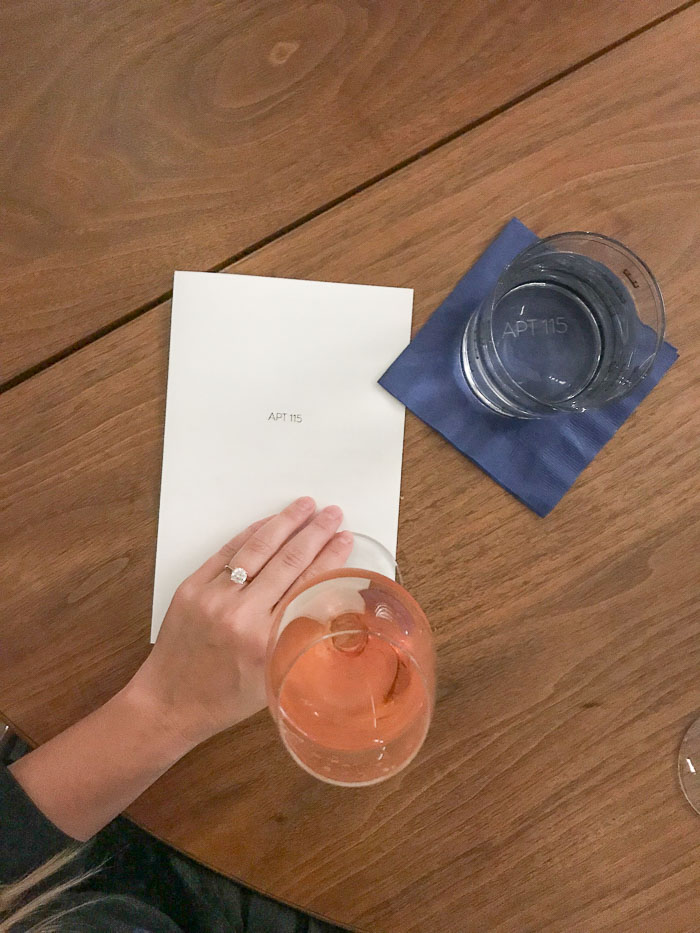 14. Apt 115-  This spot is so unassuming we almost left before we even went inside. It sits at the bottom of a big apartment complex on east 7th. Boy oh boy are we so glad we went inside! The owner was there pouring tastes for guests and greeting everyone like we had just walked into his living room. We chatted with him for almost an hour about different hard to find and obscure wines. We can't wait to take friends back here!
What You're Getting:  Wine! Seriously, chat up the owner about your likes and dislikes and he will be happy to taste you on a few wines before you choose which one you'd like to have a glass of. They also have meat and cheeses to snack and a few beers if you must.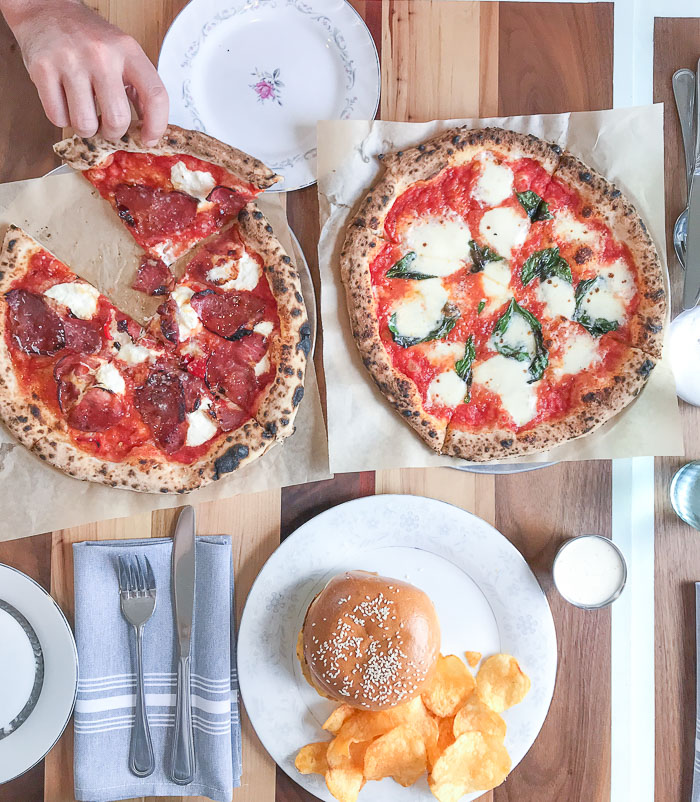 15. 40 North-  I first fell in love with this place when it was a food trailer on S. 1st. Their recent opening of the brick and mortar location offered an expanded menu and a robust happy hour! I came for the pizza but fell in love with a burger.
What You're Getting:  The burger, the Hot Honey pizza and the Labneh!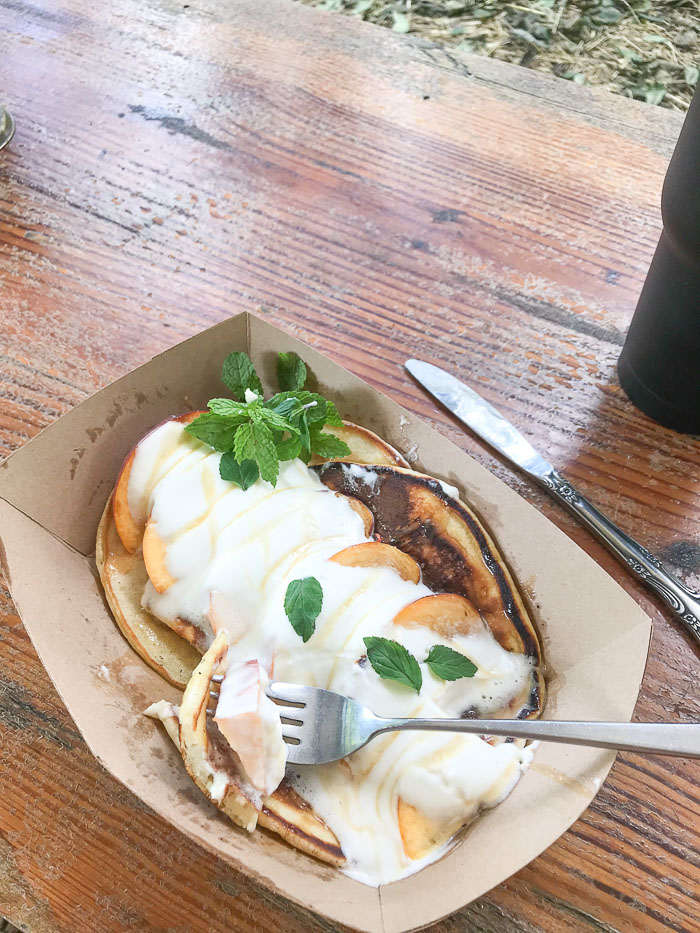 16. Eden East-  Eden East used to just be a food truck on Springdale Farm but recently the owners of Springdale sold the farm to a developer. For the next two years, the Eden East team will manage the farm, which sells its produce at the indoor farmers market on the property as well as serve food from their food truck.
What You're Getting: If you plan to go on a Thursday, Friday or Saturday evening, you need to make reservations. But on Wednesdays and Saturdays from 9am-1pm you can drop by for brunch. I recommend the hash or farm salad!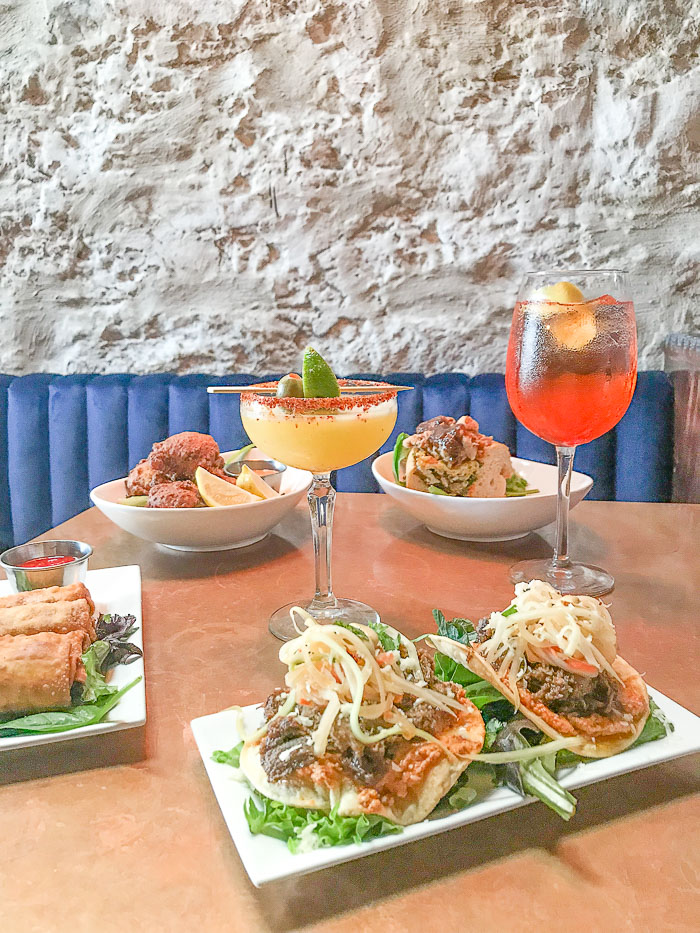 17. Native Hostels– I sadly learned that Native Hostels has recently removed the delicious waffle fries from their menu in an attempt to class the joint up. Not kidding. However, the new happy hour menu offers bites for $5.
What You're Getting:  The Sambal Barbacoa Tostadas and Mezcal Martini.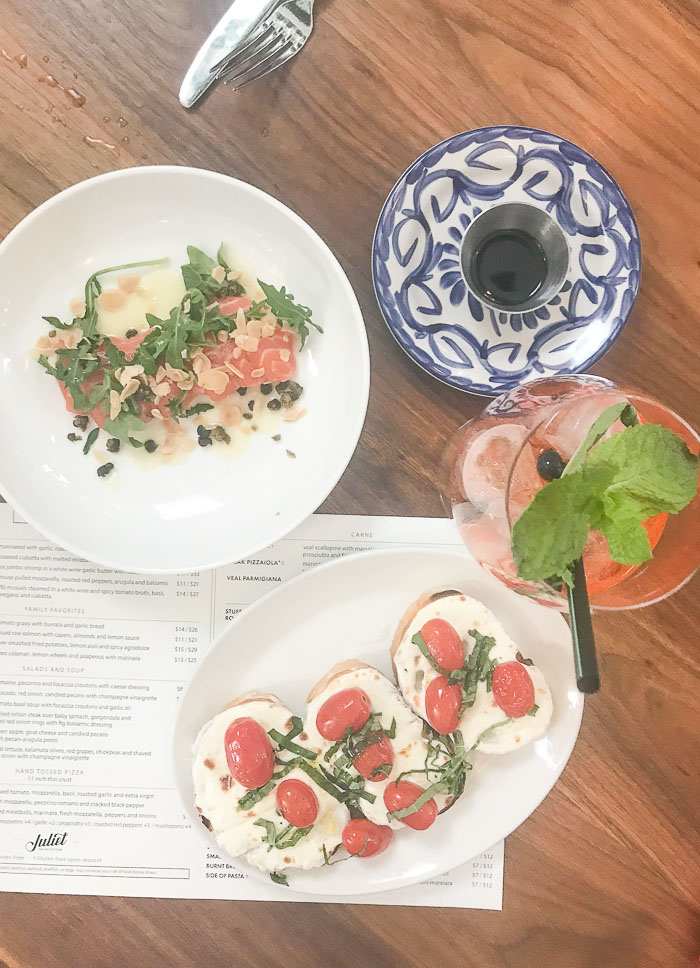 18. Juliet Italian Kitchen- Another Austin restaurant that has reinvented itself a few times in order to stay relevant. I like that this version of Juliet is focusing on just making delicious food. I went for the Aperol Spritz after several people recommended it on Instagram!
What You're Getting: The Caprese Bruschetta, Salmon Crudo, Cacio e Pepe and the Mussels Posilipo with a side of Angel Hair pasta added to the dish.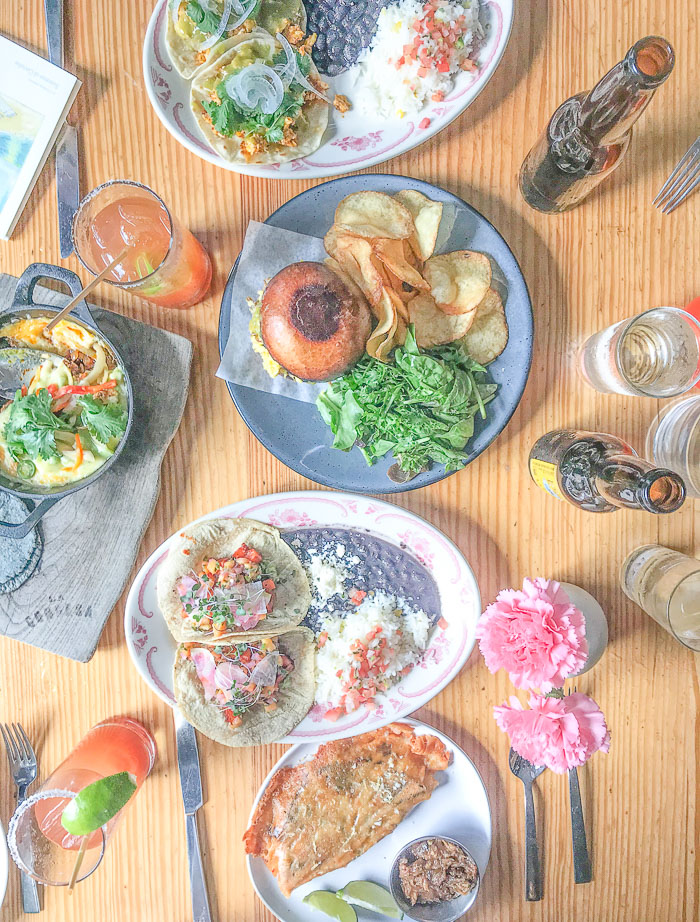 19. La Condesa– I've long been a La Condesa fan! They consistently serve up fresh and delicious Mexican fare and always include lots of vegetable-based dishes that are bright and flavorful. Recently, I went for brunch for the first time and was blown away!
What You're Getting:  Go for brunch on Saturday or Sunday and get the Tacos de Camote Al Pastor, Torta de Desayuno and the Quesadilla de Calabazas which is served up Kalifia-style aka crusted in crispy cheese!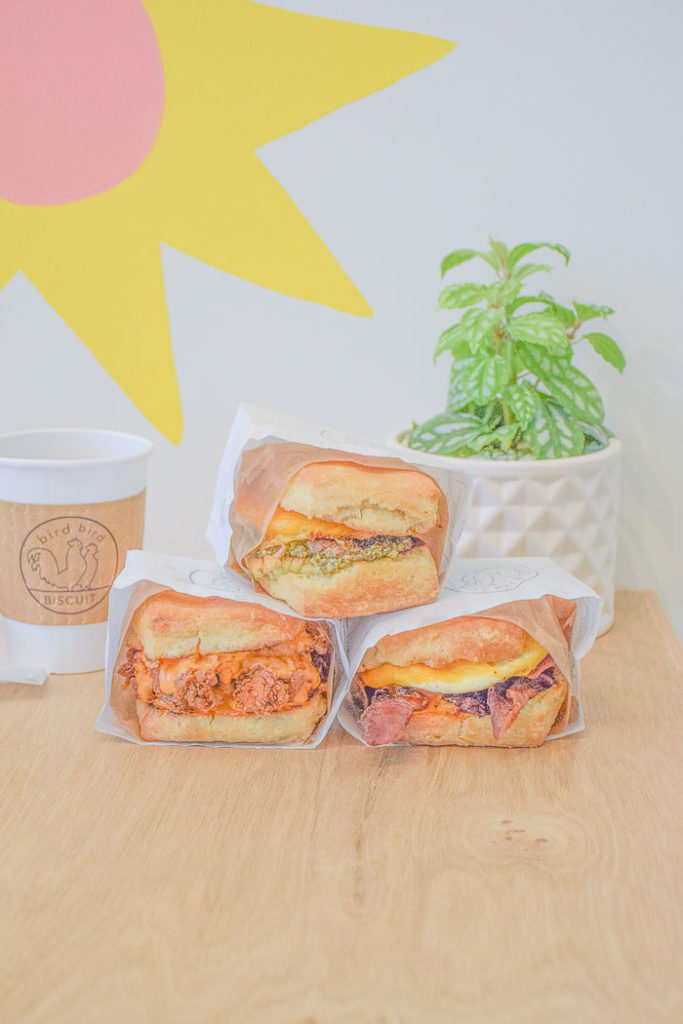 20. Bird Bird Biscuit-   A tiny shop that's serving up the best biscuits in town with a side of sunshine! No seriously, everyone here is so happy and it's infectious #nobaddays
What You're Getting:  The biscuits are delicious and fluffy and have that melty butter flavor that any good biscuit should. The real star of the menu is the Queen Beak which is a fried chicken thigh topped with an addicting spicy chipotle mayo and placed between two sides of biscuit. Thank me later.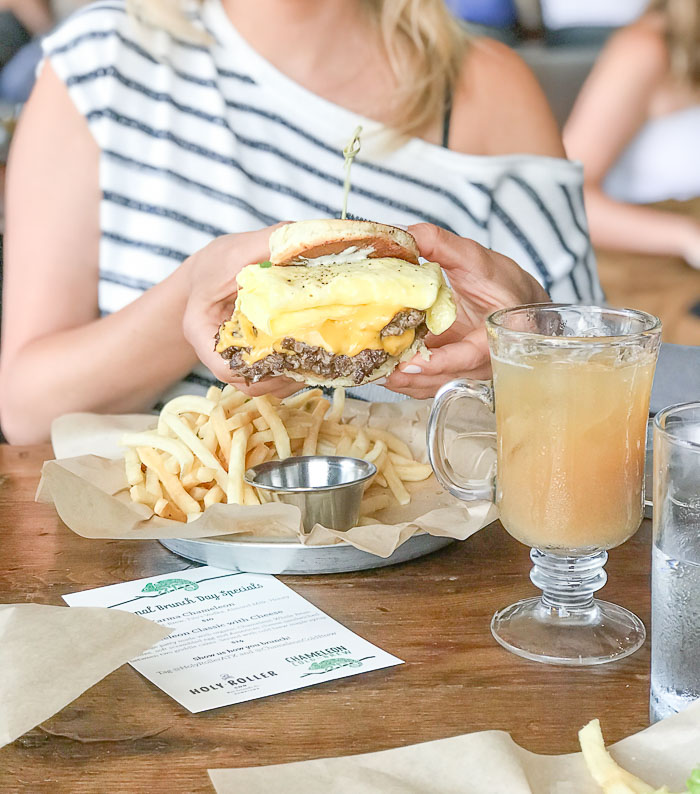 21. Holy Roller–  Brunch all day, every day, with an attitude to match. This rock and roll joint is worth a trip to West 6th street.
What You're Getting:  Personal favorites include the Trash Fries, Migas Kolache and the Burger but ask for it served on a biscuit. And some soft serve to go with those fries.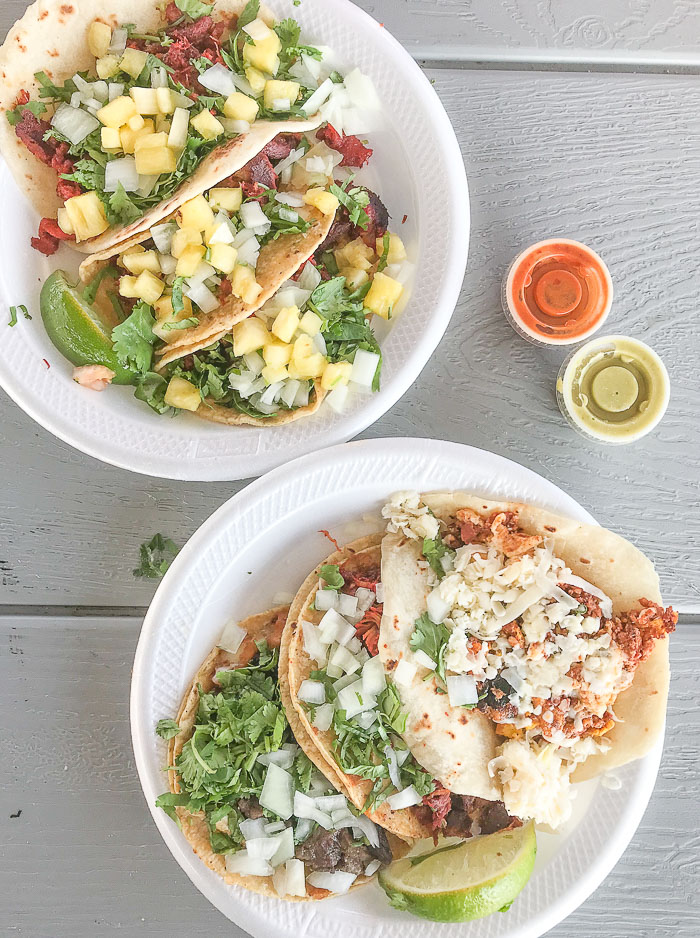 22. Rosita's Al Pastor– After our trips to Mexico City, BMW and I have been on the hunt for some legit al pastor. We can't get enough of Rosita's Al Pastor! It's a food truck located in a parking lot on the eastside. We only wish it was open later!
What You're Getting:  Al Pastor Taco, Gringa and Queso Flameado. Get several salsas. Normally, I'd recommend corn tortillas with al pastor but in this case, Rosita's homemade flour tortillas are too legit to not get.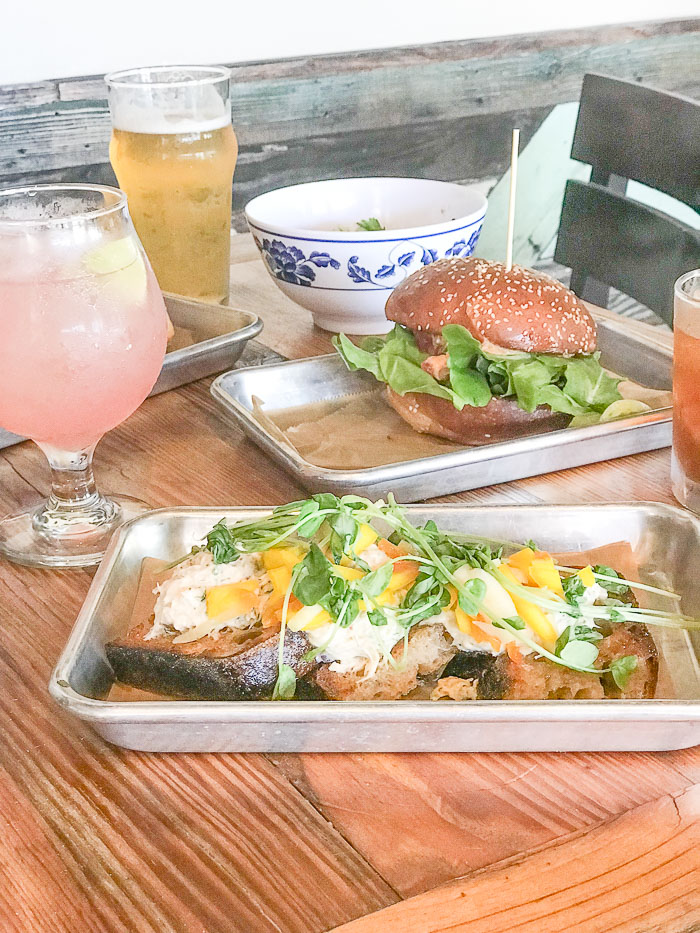 23. Sour Duck Market–  I wish there were more food halls in Austin! Until that happens, we have Sour Duck Market. It's a casual place that has plenty of places to spread out. A great place with lots of options for different tastes and a place you can chill out and stay a while.
What You're Getting:  The Burger (obvi), the Crab Toast, and Dirty Fried Rice. The menu changes frequently and this is my public plea to please bring back the Tempura Oaxaca Cheese!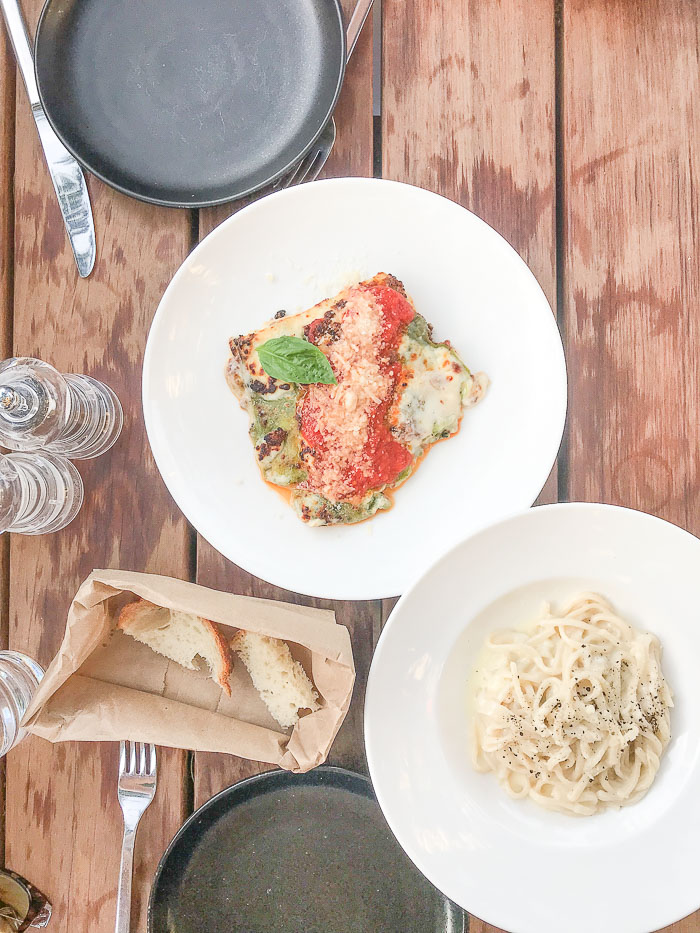 24. Il Brutto–  The first time we visited, BMW and I thought it was good but not worth recommending. We found ourselves back at Il Brutto with friends a few weeks later and our minds where definitely changed! We loved the pasta and the pizza and the apps and the dessert… you get the point.
What You're Getting: The Cacio e Pepe is a must for me, we also loved the Cozze e Vongole (mussels), Sausage Pizza and Pici!