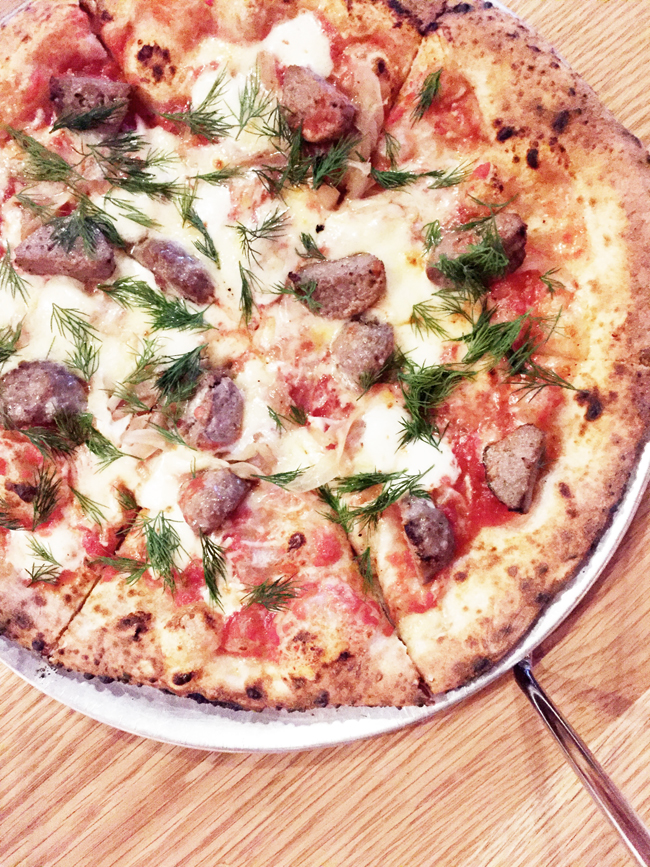 I know you just want to put that whole pie in your face! I know you do because so do I! I had been hearing a lot about Unit D Pizzeria on Manor Road from two of my girlfriends who live over there. It was on my list to try after seeing a few Instagram pics pop up on my feed. Then luckily I got an invite to come to a media tasting! One good thing about media tastings, besides the free food of course, is that you get to try lots of different things on the menu and hear the whole story behind the place. I love telling stories and I love food, so this whole thing works out pretty well for me! Thanks for always being so awesome and listening patiently to all my stories. I know I have a bad habit of trailing off, using run on sentences, overusing the exclamation point like whoa and trying to make sense of things that, well, sometimes don't.
In case you were wondering, yes the pizza is as good as it looks! It's a small place nestled on Manor Road next to Dai Due and Sugar Mama's. There's no pretense involved here. Even the name, Unit D, comes from the actual name of the space, Unit D. The couple moved here from the Pac Northwest and were wanting a good pizza spot and decided to open their own right here in Austin after not being able to find something that really fit their tastes. I am a sucker for neopolitian pizza, so of course I loved it!
The space has clean, modern lines and a semi-open kitchen where you can see the wood burning oven! The bar opens into the modest size dining room that lends itself well to feel cozy, just like a neighborhood pizza joint should! There is lots of wine and homemade ice creams. Don't even me started on the charcuterie plate! So, so, so good! I've been thinking about this place a lot and trying to plan my next visit! My favorites where of course the cheese & charcuterie plate, the sausage pizza, the mushroom pizza and the green pizza. Scroll on down for more pizzeria porn!
Carrots with virgin oil, balsamic, tan tan spice
Tomato pizza with tomato, cherry tomato, garlic, oregano, basil, parsley, mozzarella, fontina, parmesan
Greens pizza with garlic, stracciatella, arugula, parmesan, lemon, truffle
Mushroom pizza with white sauce, portobello, cauliflower, porcini powder, fontina, truffle, sherry vinegar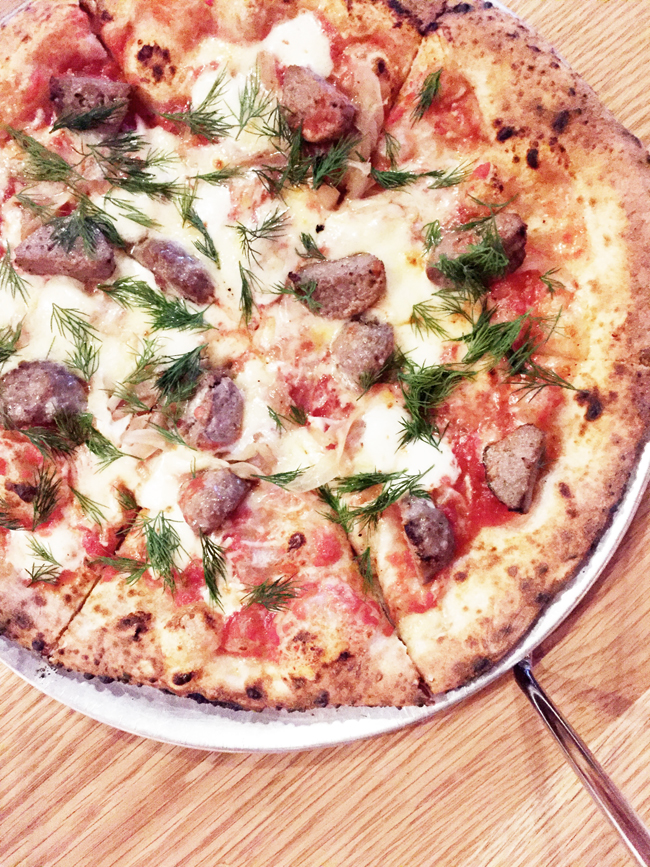 Sausage pizza with tomato, lamb, fennel, mozzarella, fontina, pecorino, dill
2406 Manor Road
Austin, TX 78722
Hours
SUN – MON, WED – THURS 5-10pm
FRI & SAT 5-11pm
CLOSED TUESDAYS.
HAPPY HOUR 5-6:30PM
MON, WED, THURS & FRI
Tel: 512.524.1922
Reservations  for parties of 5 or more at [email protected]