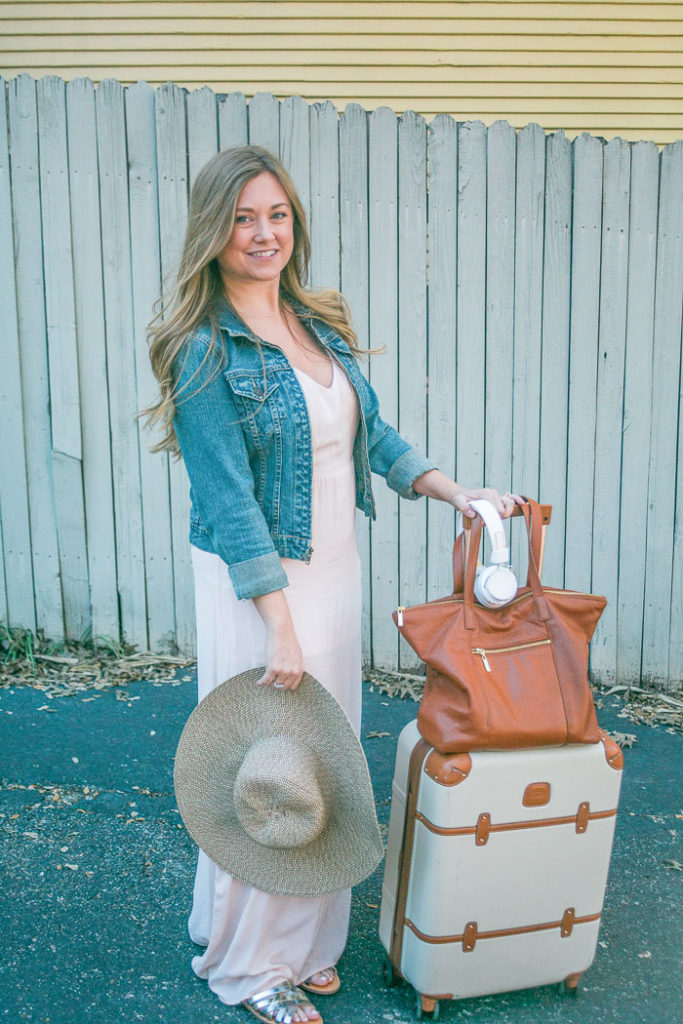 We are preparing for a few trips this summer and I decided to round up my favorite travel essentials for y'all! This is my list of all the things I take on every trip to make things a little bit easier. I also have a few healthy hacks for traveling that is worth checking out too! 
My Travel Essentials
Bric's Spinner Suitcase – This suitcase is my absolute favorite! It is so cute and spins effortlessly. I get so many compliments on it everywhere we go! They come in different sizes and colors but the one I linked to is my exact one that is approved for both US and EU overhead bins.
Bric's Suitcase Cover If you plan to check your bag, like ever, it is totally worth it to get this cover! It will keep your bag from getting scratches and getting dirty.
Leather Backpack with Gold Details– This backpack is one of my newest editions. I usually carry an over the shoulder bag or purse but have been wanting a backpack for some time and finally found this one! It's so perfect, especially that price! The leather is super lux and I love the hardware.
Gray Felt Laptop Cover and Storage Bag– I finally decided to upgrade my black neoprene laptop cover and found like great gray felt one. It fits my 15in Mac Book and has an extra pocket for papers or an iPad. It also has a small pouch that fits the charger or whatever else ya need.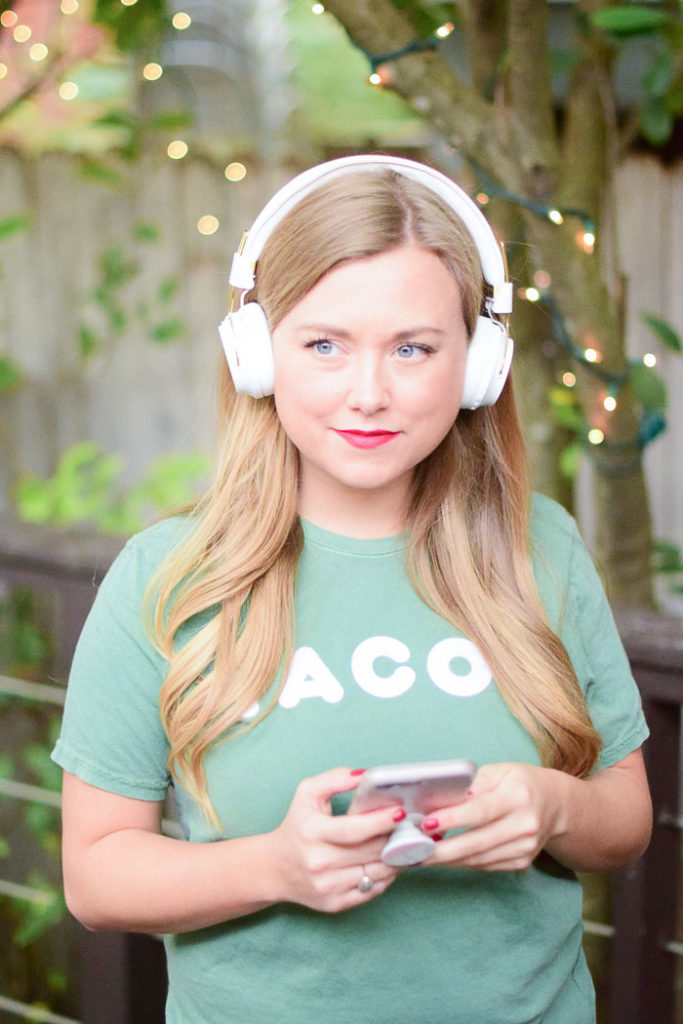 Sudio Headphones in White– Ok, I was a late adopter to the over the ear headphones. I always thought they were cute but not really necessary. Well, after trying these consider my mind changed. After long flights, my ears were throbbing from earbuds and these are so comfy and fold up and are easy to travel with. You can charge them and they will wirelessly connect to your device or come with a cord to connect on planes.
Rock Space External Powerbank– This was a purchase I made on our trip to China and we've gotten SO much use out of it. It's heavy but we can charge two phones and an iPad AT THE SAME TIME with this baby. For long trips, this is a must in my book.
Ursa Major Face Wipes– This is the perfect face wipe. Seriously. I love these and they are free from yucky chemicals and additives, plus they take off all your makeup and give you a little exfoliation.
Non-Preservative Eyedrops– I discovered these when I had my lasik eye surgery. These eye drops moisturize so much better. They cost a little more because without the preservatives they come individually wrapped but it worth it and it's easy to throw a few in each of your bags.
3D Sleep Mask– I never liked eye masks because they pressed down on my eyes and I found it really uncomfortable. I love that this one sits over my eyes and has an adjustable head strap so it's not too tight. You can also put moisturizing pads underneath (or just wet little cotton pads) and you can get your eyes looking fresh while get some zzzs!
Foam Ear Plugs– These are totally needed. Always nice to have a pair whether it's for a plane or when a concert gets too loud or say when your partner is a snorer.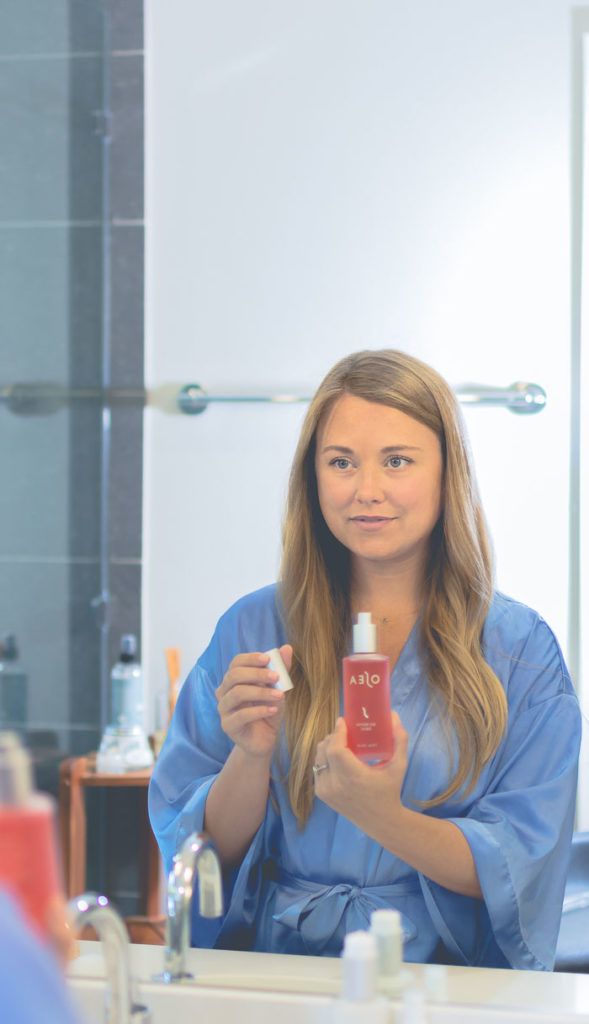 Osea Sea Vitamin Boost Facial Mist– Facial mists are my newest obsession. They are super refreshing and I love them on the plane or for a quick refresh on the go! Now my favorite mist has a travel size!
Vaseline Intensive Care Hand Healing Lotion– I have chronically dry hands and traveling and washing my hands a lot makes it so much worse. This lotion is THE BEST. I've tried so many different kinds and this one is the best. Plus, it has a nice scent that isn't very strong but just pleasant.
24k Gold Eye Mask– I get puffy on a plane but especially those long overnight flights when I can't sleep! These will have those under eye bags banished in no time.
Hydro Flask Water Bottle– This is BMW's pick for favorite travel water bottle. He likes it because it has a wide mouth and holds lots of water.
S'well Water Bottle– This is my pick for favorite travel water bottle. I like it because it's cute, slip easily into my bags and keeps my water nice and chilly.
Hair Dryer That Will Work in Europe– After having many a frizzy hair day while traveling, I finally broke down and bought a hair dryer that will work outside of the US. Most hotels will have dryers but they aren't always good and then there are the AirBnBs and it can always be a little iffy if they will have one. This dryer folds up for easy packing but blows hard enough to dry my long, thick mane.
Curling Iron That Will Work in Europe– Pretty much same as above except no hotel or AirBnB will have a curling iron. I've tried converters but they've never worked so here is a curling iron that will work anywhere!