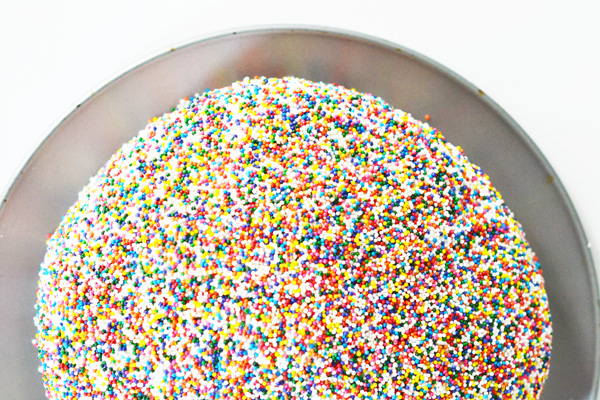 Last week was filled with birthdays! Two very important birthdays, in fact. 1st it was my precious pup Mimi's 10th Birthday! I mean, I can't believe my little stinker is 10 years old! This was definitely one of those times where I felt the where has the time gone. Remember when your parents would always say that time flies? My parents used to always say that to me as a kid, and now, well it is really happening. I cannot image how it will feel if I ever have child of the human variety. Little Meems, as she is often called, has been sidekick, best friend, ultimate snuggler, tear wiper and kiss giver. I could not imagine my life without my little fur ball. The 2nd very important birthday and the one who I made this colorful cake for, was my roommate Alex! It is her last year in her twenties, so I thought sprinkles were a must. I couldn't imagine my life without Alex either. She's one of the most thoughtful, cheerful and loyal friends I have ever had. And she is a great Auntie to Mimi, so that just melts my heart. So for Alex, I busted out the sprinkles and got to it!
Alex likes white on white for her cakes. No chocolate allowed. My friend Sarah started Miss Jones Baking Co. a few months ago. It is a line of all-natural ready to use cake mixes and frostings. She has a scrumptious vanilla cake mix and frosting, so it was the perfect pair for Alex's birthday cake. Funny thing, after I posted a picture of Alex with her cake on Instagram, we discovered that Alex and Sarah were friends back when they both lived in Dallas and Sarah made cupcakes for Alex's birthday before. SMALL WORLD! So thank you Sarah, for making my birthday cake taste as good as your homemade cupcakes 😉
I started off by baking two 9′ round cakes. Let them cool, then frosted them up with the super creamy frosting. That was the easy part. Next I tackled sprinkles.
I couldn't find any good how-to's for sprinkle covering online, so I just had a go at it. I started by dropping the little dudes on top. That sorta worked, but only on the middle of the top of the cake.
So then I tried tap, tap, tapping them on. This worked so much better. I poured the sprinkles on top, like a lot of them (yes, they went everywhere) then gently smoothed them all over the sides and top. It was a bit of a messy endeavor, but well worth it in the end.
Because then this happened! Ta-da! The cake was definitely eye-catching and a big hit at the birthday party.
Colorful candles were a must.
Time to dig in! Big thanks to Sarah Jones Garibaldi from Miss Jones Baking Co. for supplying me with best vanilla cake mix and frosting for Alex's birthday! If you want to see some truly spectacular cakes, check out Miss Jones Baking Co. !