So this is one of those posts that I have been sitting on for while. Mainly because of the holidays and this didn't seem to quite fit into the holiday buzz. I got caught up and distracted with the fun and bustle this season. Although, to be completely honest this year was a bit scattered for me. My typical family gatherings were all different this year and most took place before the actual day, so I wound up spending a good chunk of my Christmas Day alone. I didn't feel the magic and giddiness of the holidays like I used to. I say used to because last year (2013) I was a down right grinch. I blame that mostly on some questionable dating decisions I made earlier that fall. I really wasn't feeling it last year.  I didn't even help put up the tree which is one of my most looked forward to days of the year. Typically, January is my least favorite month of the year. I get the post-holiday blues, it's usually gray out and blah… I always feel like all the fun just left. This year is different though. I am feeling refreshed, work couldn't be busier (which I love) and I have some exciting life changes on the horizon. More on those in another post. My whole point of this is that even when I was feeling down, I forced myself to do a little cooking. Which always makes me happy and feel more centered. I decided to try something new when I could have called for take-out or done something I am used to. And what happened when I tried something new was deliciousness. Deliciousness happened. It is funny how life works out, just when you feel like doing something the least is probably when you need to do it the most.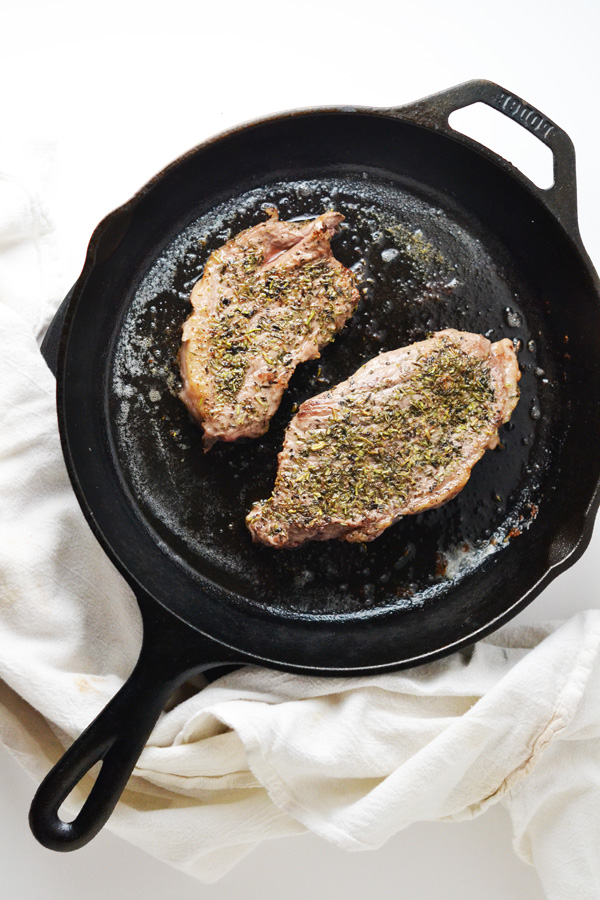 During my down trodden day, I decided to pull out some steaks that I actually helped butcher a few months before at class at Salt + Time. Which, ah, I totally meant to write about, don't worry it is on my list and coming soon! I took out the steaks to defrost and grabbed my cast iron and went to town. I had never cooked a steak in a cast iron before (gasp!) and decided it was about time to change that. I was surprised at how easy it was and even more floored by how delicious it was! I had one of those kitchen moments where I was like wait, this is awesome, did I actually make this!?
Here is how things went down:
You'll need:
For the steaks:
Beef cut of your choice ( I had two tiny sirloins about 1lb each)
4 tablespoons of butter
1 tablespoon of Herbs de Provence
Salt & Pepper
For the Kale & Mushroom Orzo:
1/2 cup orzo
1 cup chicken broth
1/4 cup heavy cream
2 cloves of garlic
1 cup sliced mushrooms
4 cups chopped kale
3 tablespoons of dry white wine
1 tablespoon of olive oil
1) Make the orzo according to the package, replacing the water with chicken broth.
2) Meanwhile, saute the chopped garlic with olive oil for about two minutes. Transfer to a blender or food processor. Combine with heavy cream and blend for about 30 seconds. The cream will thicken, set aside.
3) Returning to pan where garlic was sautéed, stir mushrooms and kale together over medium heat for about 8-10 minutes. The kale will wilt down significantly during this time. Add white wine and continue to stir every few minutes.
4) Cover steaks with herbs, salt and pepper. Heat cast iron until very hot, too hot to touch without a an oven mitt or towel. Place two pats of butter into cast iron and place steaks on top immediately. Sear for one minute, add the remaining butter and sear the other side. This will give you rare to medium rare, for medium sear two to three minutes on each side.
5) Add orzo to kale and mushrooms, stirring together. Simmer for three more minutes. Add parmesan on top.
6) Serve together while piping hot!
I hope you all enjoy this as much as I did!