Rain, rain go away! We've had quite the cloudy, rainy days recently here in our normally too hot to trot Austin, TX. I spent the better part of this Memorial Day weekend curled up in bed watching the thunderstorms and burning a holiday scented candle. It was practically like Christmas, haha. Which brings me to another point, why does the weather affect how we feel about food? Is it the seasonal vegetables? The heat, the rain, the everything that affects our mode. Hmmm, interesting. I need to investigate this more, but all I can say is, the weather definitely pulls my appetite in all sorts of directions. And rainy, cool days at the end of May mean hot, spicy soup! I found this recipe on Bon Appetit a few months ago and had every intention on making it this winter. Well despite all my efforts, it didn't quite happen, so all this cool weather was my perfect moment to carpe diem and make this tempting soup!
Of course I altered the recipe a bit, opting for light coconut milk versus full fat, which took away a bit of the heavy creaminess. Totally up to you and what your appetite is feeling. I nixed the bean sprouts because the only ones I could find looked really, ugh, dingy, and I was not about to eat those. I used parpadelle noodles in place of Asian egg noodles because that is what I had in my pantry. I am all about using whatever is around and making the best of it! You can find the full Bon Appetit recipe here, or see mine below!
Ingredients:
2

 

tablespoons

 

vegetable oil

2

 

14-oz. cans unsweetened lite coconut milk

2

 

cups

 

low-sodium chicken broth

1½

 

lb

 shrimp, thawed, peeled and cleaned

1

 

lb

 parpadelle

 noodles

2 

tablespoons

 

(or more) fish sauce 

1

 

tablespoon

 

 light brown sugar

Kosher salt
Sliced red onion, cilantro and lime wedges (for serving)
2 

large dried New Mexico or guajillo chiles

1 

medium shallot

4 

garlic cloves

 1

" piece ginger, peeled, sliced

¼

 

cup

 

chopped cilantro stems

1

 

tablespoon

 

ground coriander

1

 

tablespoon

 

ground turmeric

1

 

teaspoon

 

curry powder
Begin by soaking the chiles in warm water. This will help them soften and be easier to blend.
While the chiles are soaking, peel and chop the garlic, shallots and ginger.
In a blender or food processor combine the garlic, shallots, ginger, coriander, turmeric and curry powder. Remove the stem from the chiles and add them in with one cup of chicken broth.
Blend until a paste forms.

In a large pot, simmer the vegetable oil with the spice paste until fragrant, about 4 minutes. Stir constantly. Then add the remaining chicken broth and coconut milk. Stir frequently for another 15 minutes, adding in the fish sauce and brown sugar after about 10 minutes. In a separate pot, boil the parpadelle noodles until al dente. Place the cleaned shrimp into the pot with the chicken broth and stir for another 5-6 minutes or until the shrimp are opaque. Remove noodles from water and add to large pot and combine. Add salt to taste.
Serve in bowls with cilantro, red onion and lime wedges. In lieu of Bon Appetit's chili oil, you can sub siracha if you're craving a little more heat.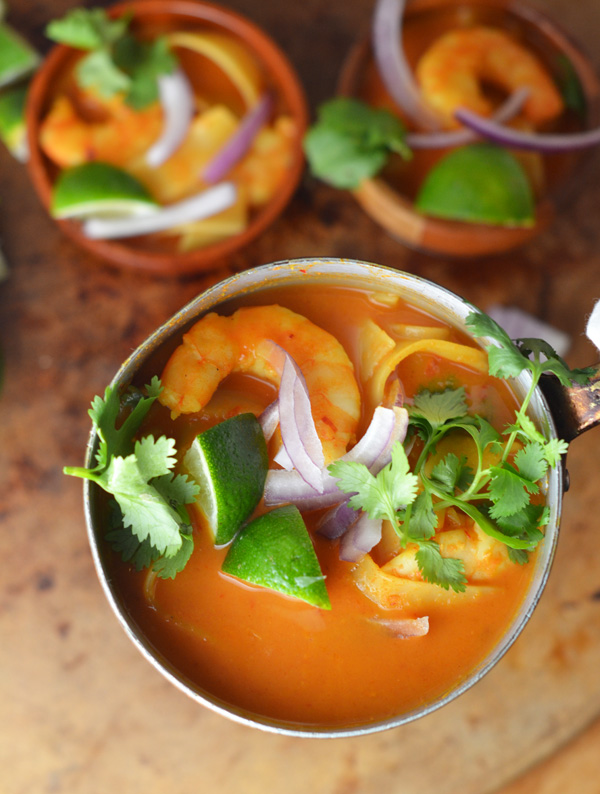 Perfect for a cooler evening this summer or anytime really. Enjoy!