Shredded Brussels Sprout Salad with Bacon Lardons and Dried Cranberries is a quick and easy side or meal! It's fresh and perfect anytime of year!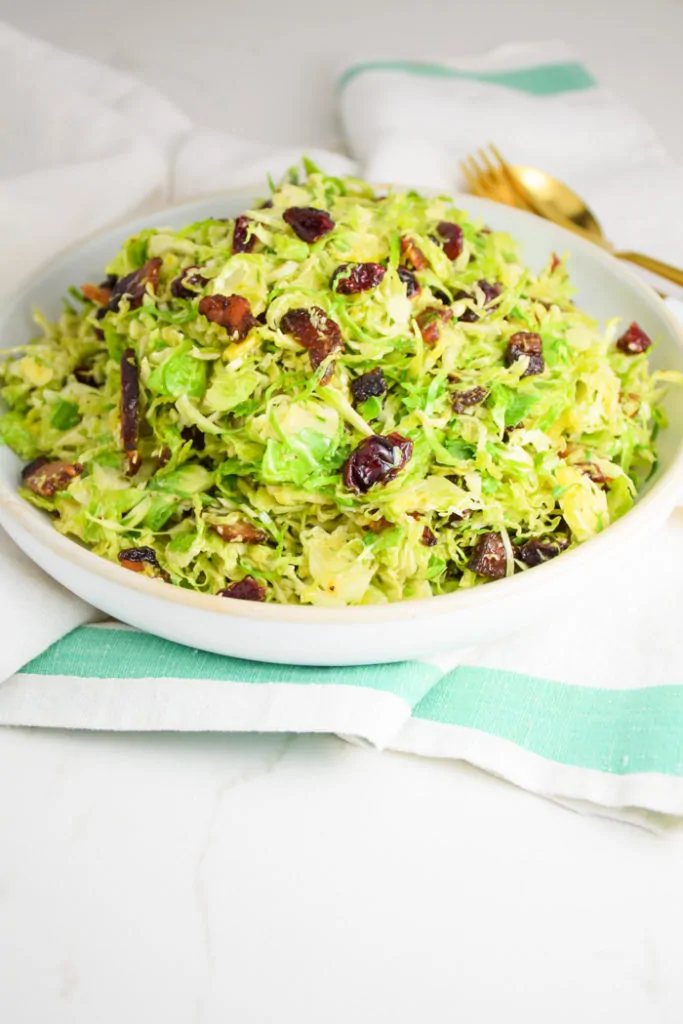 I love this crunchy, savory and just a hint of sweet salad! This shredded brussels sprout salad is great on it's own and it's perfect as the base for a meal when served with salmon. It also works great as a crunchy slaw. The bacon and cranberries add that perfect sweet & salty combo and the homemade dressing is super quick and easy to make! This Shredded Brussels Sprouts salad is perfect for meal prep because it will hold up all week without getting soggy.
This post contains affiliate links. If you purchase a product through these links I may earn a few pennies. Thanks for keeping this free blog going!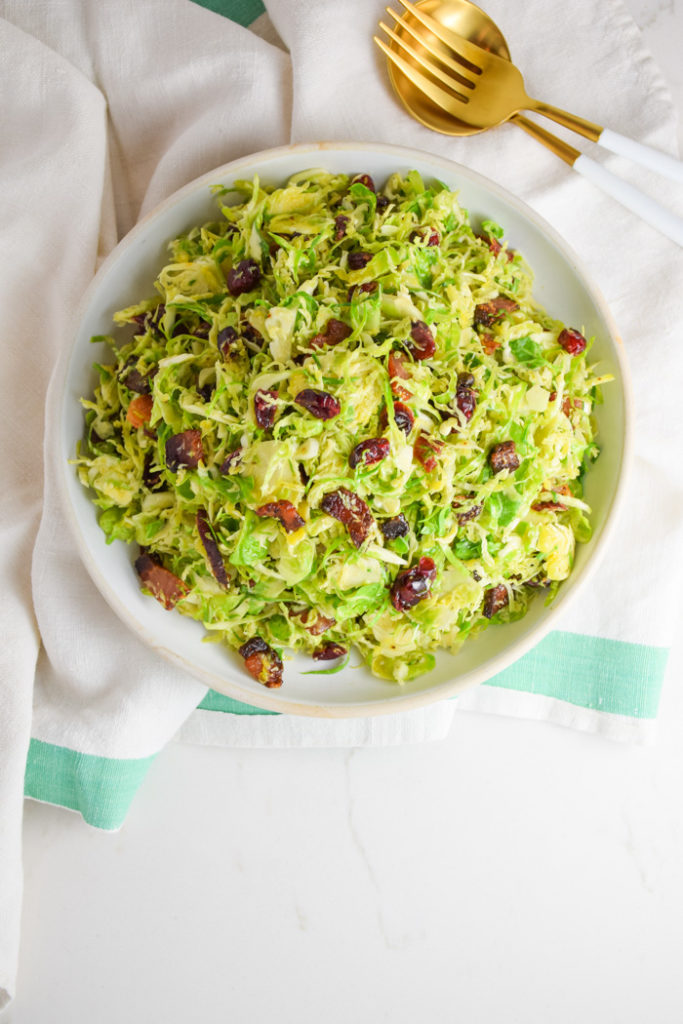 Crunchy, Raw Brussels Sprouts Salad
I love to serve this salad with salmon and it works great as a side to almost any meal. Whenever I'm feeling like I need something green but don't really feel like eating anything green (y'all know the feeling, right?) this salad always seems to hit the spot!
A few tips when you're prepping to make this shredded brussels sprouts salad:
Shred your own brussels sprouts– I know buying the bagged kind are easier but they are always dried out IMO and not shredded thinly enough. It makes a huge difference in the texture of this salad! I use a mandolin with a glove but you can also do this in a food processor using the slicing blade attachment.
Bacon Bits vs Lardons– Lardons are basically fancy bacon bits. They are usually made with thick cuts of bacon and have more texture because they are typically a bit larger than bacon bits. I buy thick cut bacon either at the butcher counter or pre-packaged and cut the lardons into 1inch thick strips and fry them. I try not to over fry them so they get some crispy parts and some chewy parts, which is nice in this dish.
Mustard Matters- I love making my own salad dressing! It's so easy and quick- literally just whisk ingredients and voila! But that also means your dressing is only as good as your ingredients. I love, love, love this mustard that we picked up at a gourmet store in France. Luckily, I was able to find it online too and now it's all we use!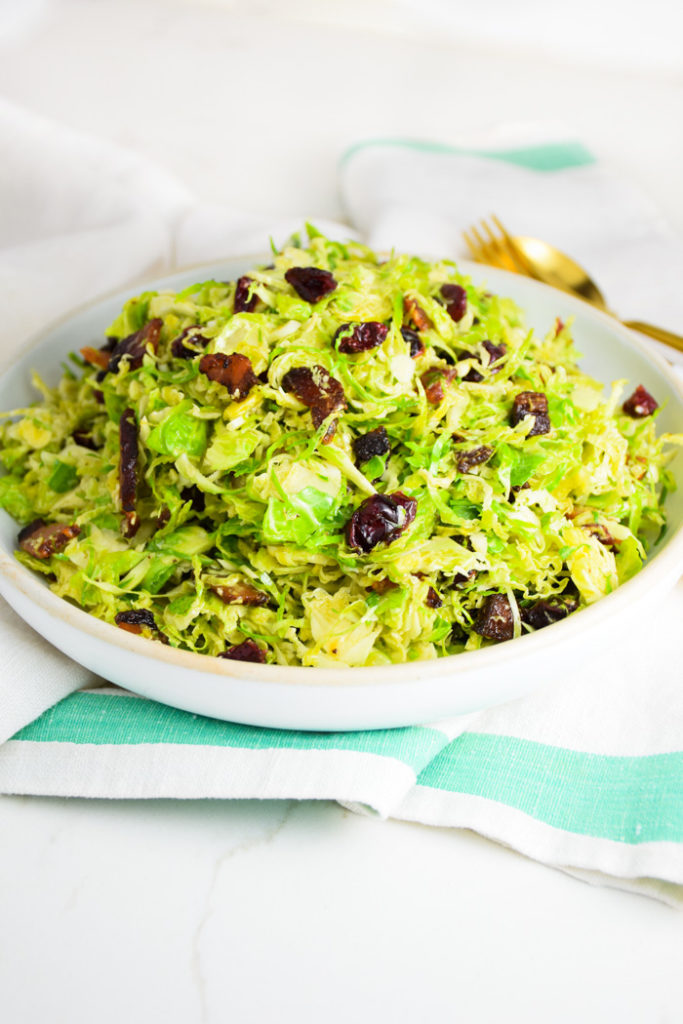 Shredded Brussels Sprout Salad with Bacon Lardons and Dried Cranberries
Serves 4
Ingredients: 
1lb whole brussels sprouts, shredded
1/4 cup dried cranberries
4 pieces thick-cut bacon, cut into 1 inch strips and fried
Dressing: 
2 tablespoons olive oil
2 tablespoons dijon mustard
1 ounce fresh lemon juice
1/2 teaspoon kosher salt
1/2 teaspoon black pepper
Directions: 
Make the dressing by whisking all ingredients together until smooth. Set aside.
Using a mandolin set on the thinnest setting, shred the brussels sprouts.
Fry the bacon lardon strips, drain.
Toss the brussels sprouts with the lardons, cranberries and dressing.
Serve immediately or store in air-tight container in the fridge for up to 5 days.