Sharing all my School Lunch Ideas for Toddlers! Quick, healthy and easy to pack lunches with links to everything you'll need.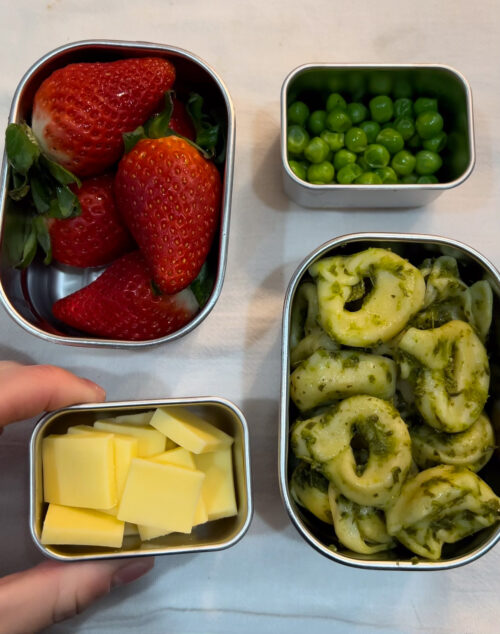 Ahhh school lunches. Always seem like one more thing for parents to add to the to do list. Last year, Warren's school provided the lunches and it was so nice! This year, we must provide the lunch. Thankfully, the school provides snacks but I will also include some ideas for snacks and breakfasts since that was a popular request from parents on my Instagram poll. If you have any suggestions or ideas, please drop those into the comments.
This post contains affiliate links. If you purchase a product through these links I may earn a few pennies at no additional cost to you. Thanks for keeping this free blog going!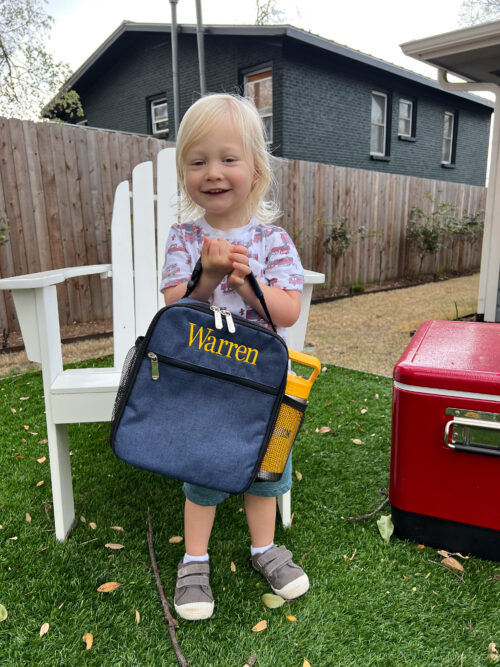 How to Prepare and Pack School Lunches
Just like anything that needs to be done regularly, I like to break down my process into steps that I can easily repeat. For school lunches, I like to think about including protein, fat and fruit and/or veggie. I'm not always perfect at this but I think it's a good formula.
For Warren's lunches, I typically pack the same thing every day that week. That might seem mundane to some but I find it easier because less food goes to waste, Warren knows what to expect in his lunch and well, only having to think through and plan one lunch menu a week is easier.
This works great for us during this toddler stage. As he gets older, he may want more variety and we can address that as it comes. Of course, the older he gets, the more he can help plan and pack his lunches!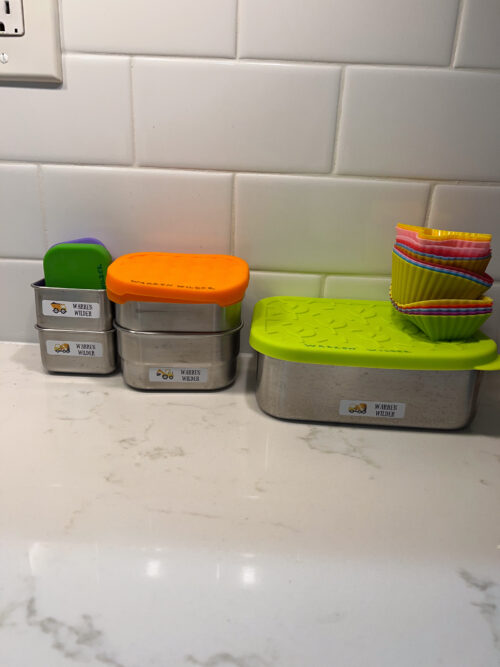 Best Lunch Boxes and Containers for Toddlers
To pack a lunch you'll need a lunchbox and containers! Our school has very specific requirements for the types of lunchboxes and containers we send. For example, no bentos allowed! This is because the children put their lunch on a plate to eat so it's easier for the kids to put the food on the plate with a small container versus dumping out an entire bento.
So my first suggestion is to read through any material your school or daycare provides about lunch routines and how lunch is served, etc. Ask the teacher if there are any preferred containers. This is really helpful! The teachers see the kids every day and know what works and what lasts in their specific environment.
Of course, the other consideration is allergens. Luckily for us, this year's classroom only has on allergy which is pineapple. Seems easy enough to avoid! Others such a peanuts, nuts and gluten can be more prohibitive but there are so many great products out there these days that make this easier.
Warren's school is also pretty strict about the type of food parents can send. This means nothing packaged or overly processed. No packaged chips, meats, candy or even certain types of crackers… looking at you Goldfish. They place an emphasis on whole foods and don't allow sweets or dessert. So in the examples I give for toddler lunches, you will see that reflected. Of course you can adapt and swap out things as they work for you and your family!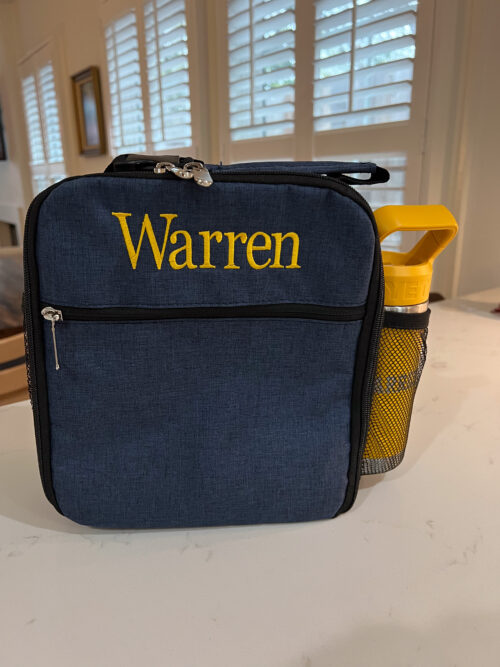 Toddler Lunchboxes and Containers
Everything can go into the dishwasher! The only thing I hand wash is the Yeti water bottle but it is dishwasher safe. Hand washing just preserves the color coating longer.
This is the lunchbox I got for Warren. It comes in several colors. I took it to a local monogram place and had them add his name.
These are the medium and large size stainless steel containers I use for Warren. They are the tiny ones that are great for dips and olives.
I am a big fan of the Yeti kid water bottle. It's really durable and I like that it's not plastic and will keep his water cool for longer on these hot days!
Speaking of keeping things cool, these are the ice packs we use. I place two, one in the front and one in the back of his lunch box and it keeps things cool until lunchtime. They are also light enough that he can still carry the lunchbox. We had used others that were too heavy for him.
This is the reusable zip top bag we use instead of disposable ones. Yes, it's dishwasher safe! I place it over a few prongs in the top rack to open it up and it washes and dries without any issues.
I linked my entire list of lunch box gear here with options for bentos, thermoses, flatware and more water bottles!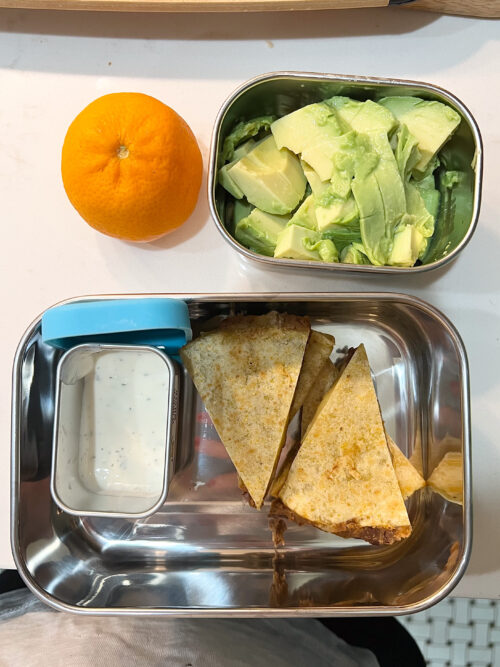 School Lunch Ideas for Toddlers
Now for the good part! Here are the lunch box ideas! It's more just prep and not any real recipes per se. I like to keep things really simple for Warren's lunches. My mantra is protein, fat and fruit and/or veggie. Just follow that formula and you'll be great!
Lunch Idea One: 
Black Bean and Cheese Quesadilla
Side of Ranch
Avocado Slices (I like to squeeze lime over to keep from browning and for flavor)
Clementine
Tips: Make the quesadillas ahead of time the night before or Sunday night for the week. Store in the fridge. Packing hot quesadillas caused condensation and the food to become really soggy. Packing them chilled from the fridge with the ice packs in the box made for better texture.
Shopping list:
Can of black beans
Tortillas
Cheese
3-4 avocados
2-3 limes
Clementines
Ranch Dressing *option to stir in Greek Yogurt for additional protein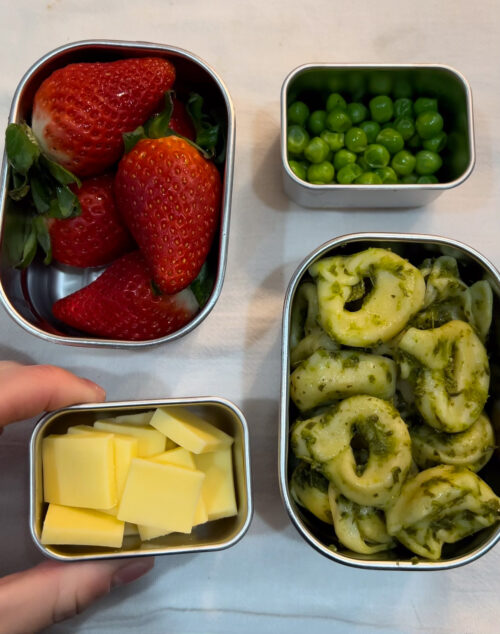 Lunch Idea Two:
Cheese Tortellini with Pesto
Strawberries
Cheese Slices
Peas
Tips: Boil the tortellini ahead and toss with pesto or marinara (or whatever sauce your kid likes — even just olive oil!) and store in fridge. You pack the week's lunches into containers or bentos and store those in the fridge to save time on busy mornings!
Shopping List:
1 lb Frozen Cheese Tortellini
Frozen Peas (approx 1 cup)
Pesto (4-6 tablespoons)
Strawberries
Cheese (block, cubes, slices, sticks)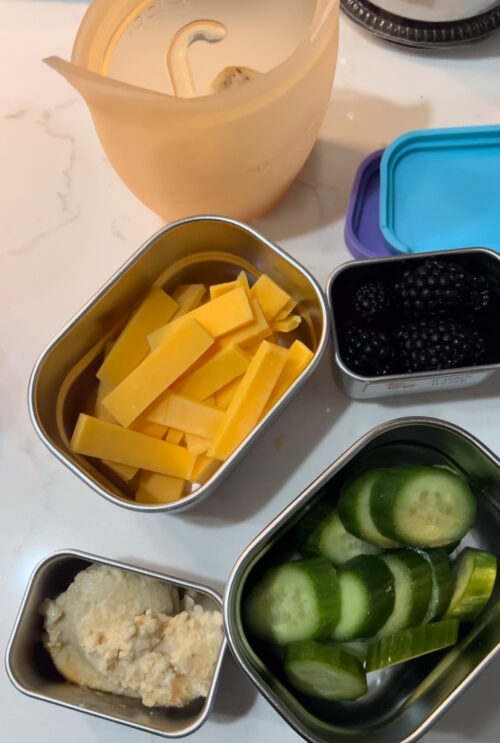 Lunch Idea Three: 
Hummus
Gluten-Free Crackers
Cheese Slices
Blackberries
English Cucumbers
Tips: Warren much prefers English or Persian Cucumbers to regular ones. I don't blame him — these have so much more flavor!
Shopping List:
Hummus
Crackers
Cheese (block, slices, cubes, sticks)
Blackberries
English Cucumbers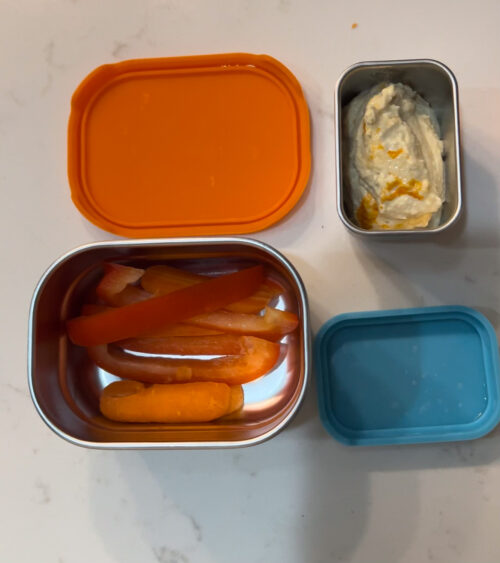 Lunch Idea Four:
Red Bell Pepper and Carrots
Hummus
Crackers
Banana
Tips: Part of this photo got cut off but you get the idea. I use red bell pepper or baby bell peppers because they are sweeter. I love adding whole bananas to his lunch. Easiest thing ever to pack plus they are great for the end of the week if the other fruit and veggies have turned or run out!
Shopping List:
Red Bell Pepper (or baby bell peppers)
Baby carrots (or pre-cut carrot sticks)
Hummus
Crackers
5 Bananas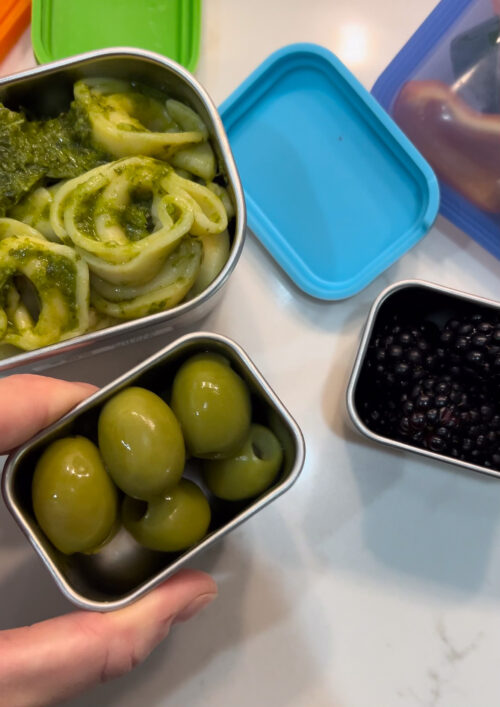 Lunch Idea Five:
Tortellini with Pesto
Pitted Olives
Blackberries
Side of Veggies: Sliced bell pepper, cucumbers and cherry or grape tomatoes
Tips: Use any pasta shape your child likes. Ravioli, penne… you get the idea. For a protein boost, stir Greek yogurt into ranch for a thicker dip that is packed with protein.
Shopping List:
1 lb Frozen Tortellini (or favorite pasta)
4-6 tablespoons pesto (or favorite sauce marinara is a great option)
Pitted Olives (Warren likes Castelvetrano best)
Blackerries
Bell Pepper
Grape or Cherry Tomatoes
English Cucumbers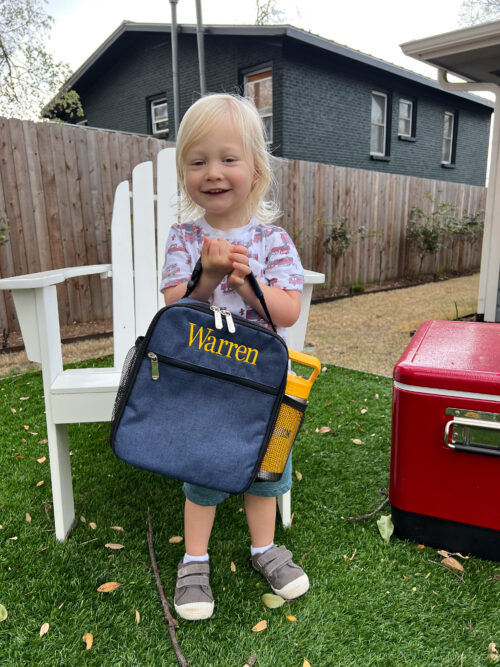 You can shop all my lunchbox favorites here!
There were also requests for breakfast and snack ideas so here goes!
Toddler Breakfast Ideas: 
This Smoothie is what we serve Warren nearly every morning
Overnight oats with fruit and nut butter or yogurt
Scrambled eggs and cheese or fruit
Greek yogurt with nut butter and fruit
Frozen protein waffles (like Kodiak brand) in toaster or microwave with nut butter, butter, whipped cream or fruit preserves
Whole Wheat English Muffin with PBJ or Cream Cheese
Toddler Snack Ideas:
Cheese Stick and berries
Bananas with nut butter (can be like a dip if old enough!)
Cheese and whole wheat or protein crackers
Cucumbers with hummus or cream cheese spread
Tomatoes (grape, cherry or sliced) with mozzarella
If these ideas are helpful to you please share this post or let me know in the comments!