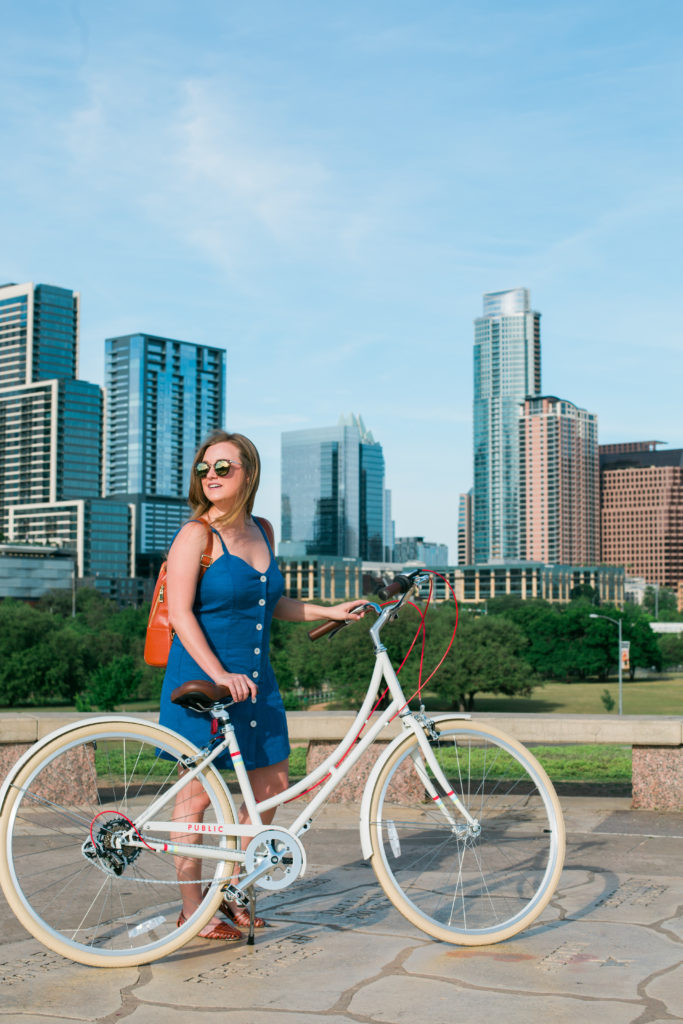 Welcome to Austin, Y'all! Well, ok maybe quite a few of you are already pretty familiar with the Live Music Capital of the World. We may be known for our breakfast tacos, live music and our generally cool vibe but there are still a few things to discover about our town. In the past few years Austin has become even more bike friendly, adding lots of bike lanes, not to mention it's a great way to skip the traffic and see more of the town! I teamed up with PUBLIC Bikes to hit up a few of my favorite, local spots in town!
Bike Tour Around Austin Tips
It's no secret that Austin summers are HOT so keep that in mind when you're planning to head out on your bike and tour the town. Here are a few things I, and any local would, suggest taking with you:
The biggest bottle you can find that'll fit on your bike or in your backpack.
It's important and you'll get sweaty so reapply!
Sunglasses and/or a hat. You'll need these no matter what time of day!
A towel or face wipe. You might want to towel off or freshen up after your ride.
S. 1st Austin Bike Tour
As a longtime resident of 78704, I have seen how much this area has changed over the last decade. South Congress is still a cool place during the week but on the weekends it's crawling with tourists. Just a hop, skip and short bike ride away is my favorite street: S. 1st! You might have already heard of the popular Elizabeth Street Café and Primo's breakfast tacos stand but there are a few gems that still have that local vibe!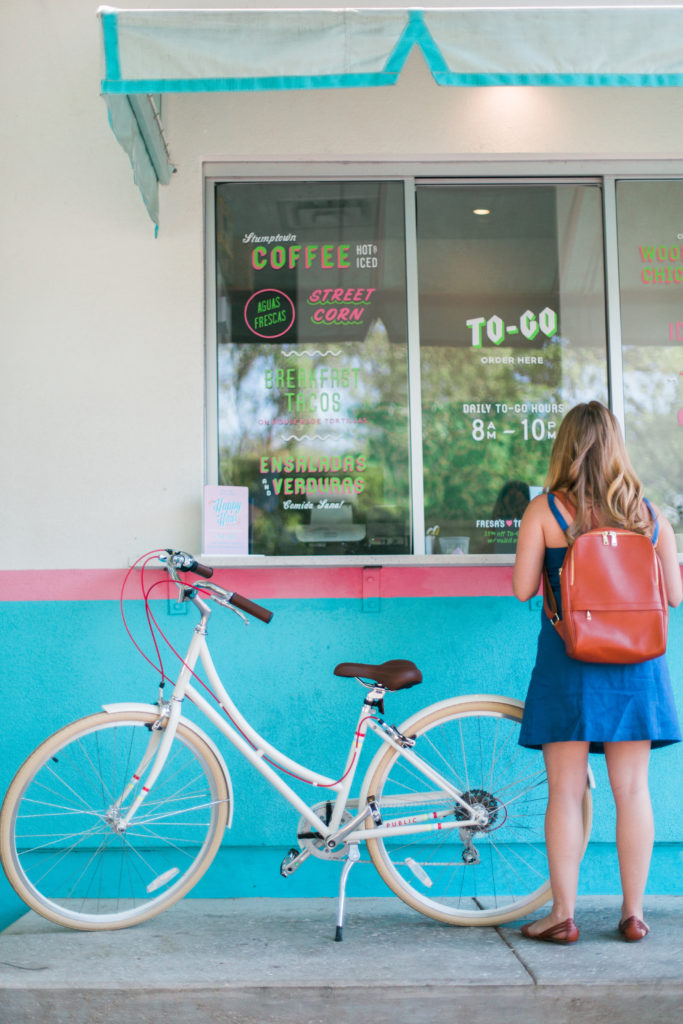 Guac + Margs at Fresa's– Start your ride off by fueling up at Fresa's on S. 1st. They have a great patio and bike parking. Depending on the time of day, you can grab breakfast tacos in the morning, guac and tacos for lunch or margaritas and homemade ice creams in the afternoon!
Take a Spin on Lady Bird Lake– Take off down S. 1st towards the river and take a spin around Lady Bird Lake Hike & Bike Trail. Cross the S. 1st bridge for a great spot to take an Instagram photo then loop back around and head towards S. 1st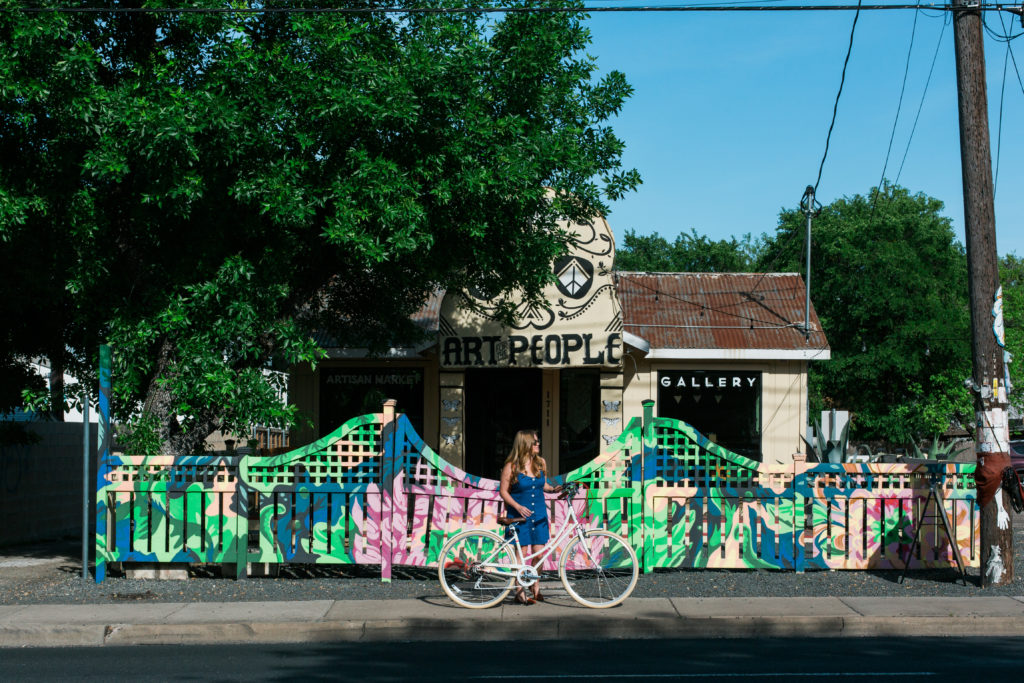 Art for The People– Stop at Art for The People and check out their unique gallery and unique artisan marketplace for a truly #KeepAustinWeird experience.
Take a Digital Postcard at The Greeting from Austin Mural– Just across the street is the famous Greetings from Austin mural and no trip to Austin would be complete without getting a photo here!
Happy Hour at Lenoir– Finally, take off down S. 1st a few more blocks to Lenoir. Cool off in their shady garden, grab a glass of rosé and listen to some live music. They have a great wine selection and healthy-ish happy hour snacks.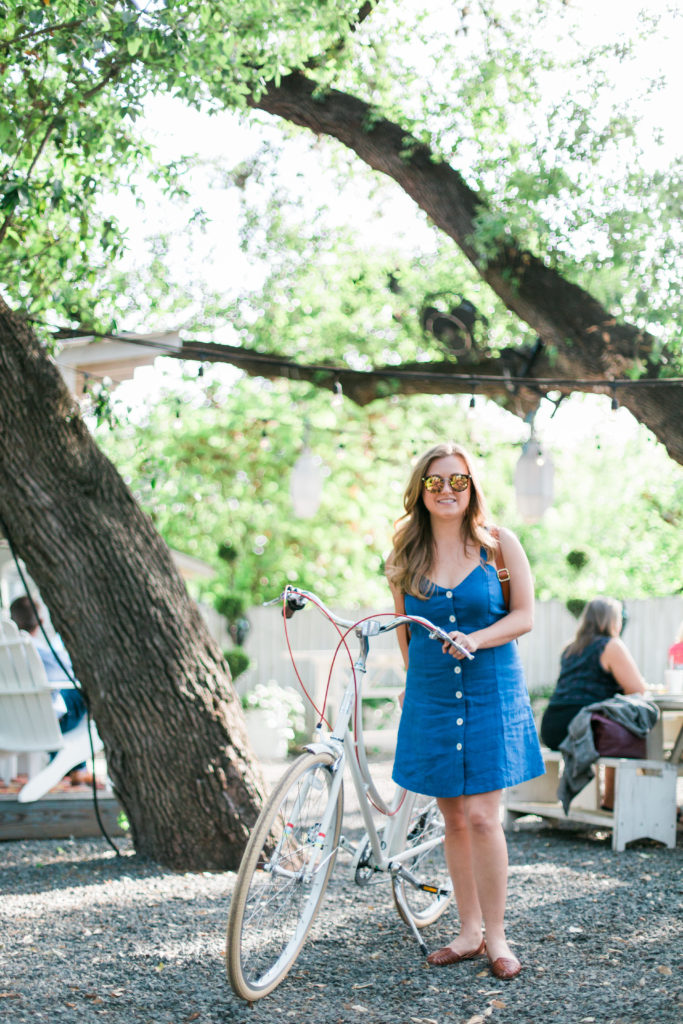 Whether you're a local or coming for a visit to Austin, hope you can hope on a bike this summer and tour the town!