Roasted Cauliflower Veggie Bowls with Turmeric Sunshine Sauce are a bright, quick and healthy meal! These bowls are easy to make ahead of time!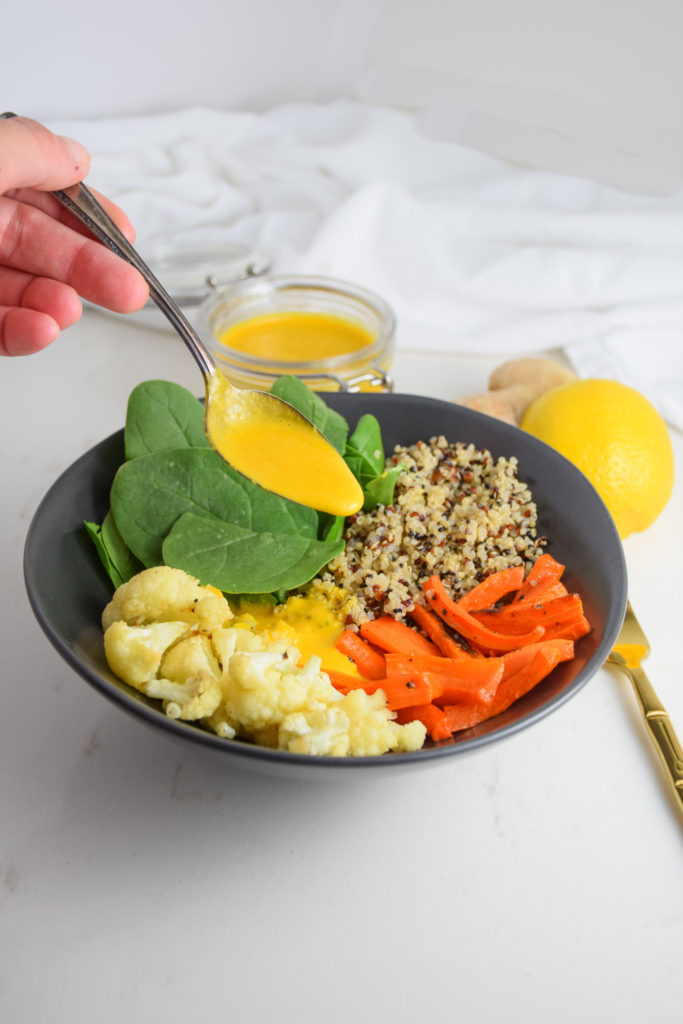 I love how light and fresh these bowls are! They are just what I need when I want a meal that will keep me satisfied but also keeps me feeling light. These are so perfect for meal prep so you can make a big batch early on in the week and then have lunches and dinners ready to go.
This post contains affiliate links. If you purchase a product through these links I may earn a few pennies. Thanks for keeping this free blog going.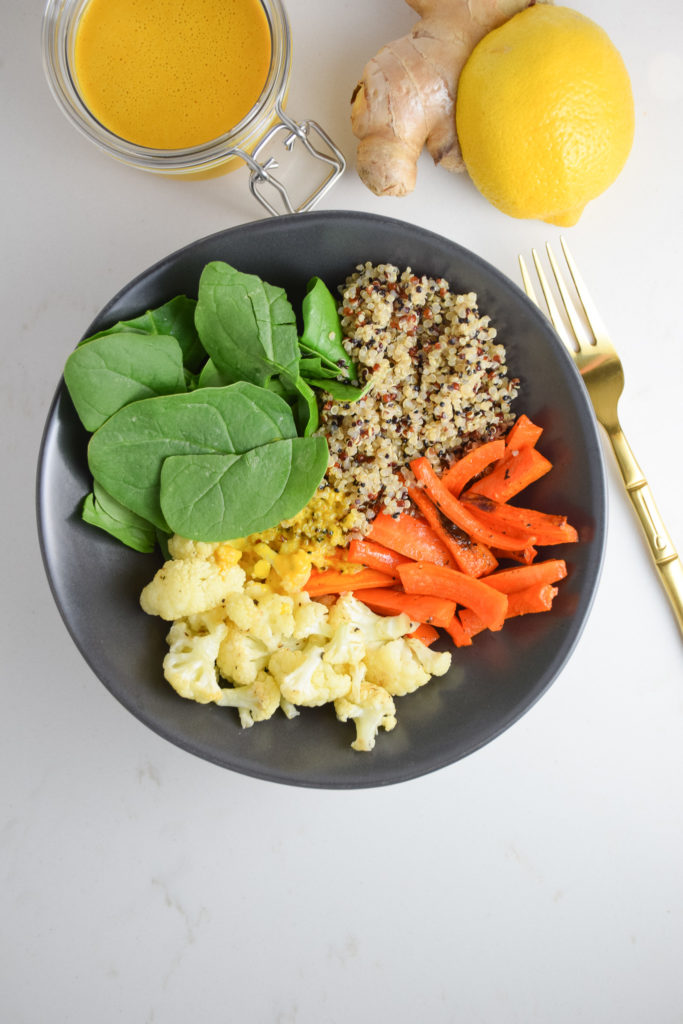 Turmeric Sunshine Sauce
This dressing is so fresh and will brighten up any meal! Hence the sunshine name! The ginger, turmeric, garlic and lemon add loads of flavor with hardly any calories so feel free to layer this sauce on your bowl! This is a super lightweight sauce and coats the veggies and quinoa really nicely.
I've been craving bright, fresh flavors lately and this combo really hits the spot. You can make the dressing days ahead of time and keep in the fridge. Although, I am not sure if it will last for days because you'll want to drink this stuff! At least, that's what BMW did haha.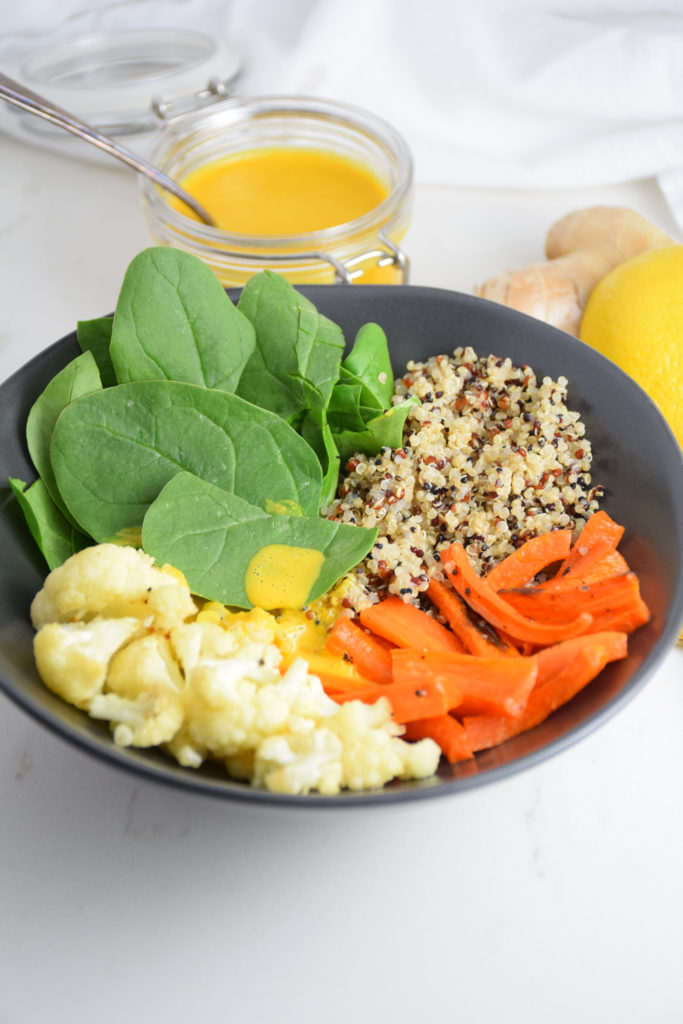 Healthy Lunch and Dinner Recipe
I love how this Turmeric Sunshine Sauce pairs with the roasted cauliflower and carrots in this bowl. You can definitely add some protein to this bowl if you wanted. Shredded or grilled chicken would be great, roasted salmon would be delish or even steak or chickpeas. Go crazy y'all!
Sometimes I just want tons of veggies and this is why I kept this bowl vegan. Whenever I'm feeling like I need extra veggies and fiber, I reach for this bowl!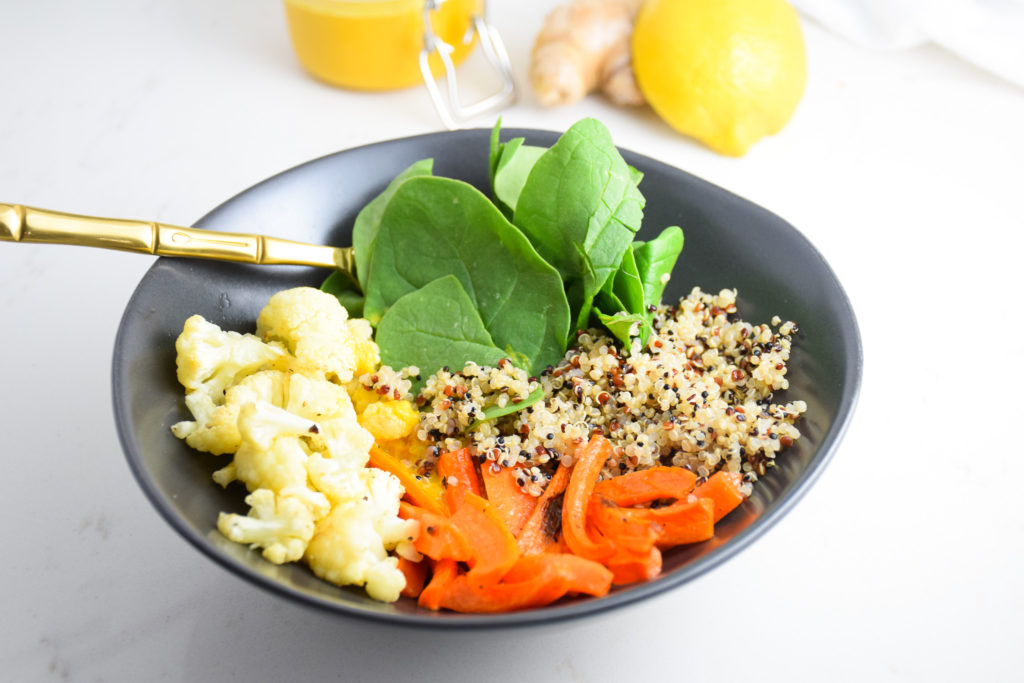 Roasted Cauliflower Veggie Bowls with Turmeric Sunshine Sauce
Makes two bowls
Ingredients: 
Bowls:
1 cup cooked quinoa
2 cups baby spinach
1 cup cauliflower florets
1 cup carrots, diced
2 teaspoons olive oil
1 teaspoon salt
1/2 teaspoon black pepper
Turmeric Sunshine Sauce:
1 teaspoon ground turmeric
1/4 cup extra virgin olive oil
1 clove garlic
1 tablespoon ginger root
1 teaspoon maple syrup or honey
1/2 teaspoon ground cayenne
1/2 teaspoon kosher salt
1/2 teaspoon black pepper
1 ounce lemon juice
1/4 cup filtered water
Directions:
In a high powered blender or food processor, combine turmeric, olive oil, garlic, ginger, maple syrup or honey, cayenne, salt, pepper, lemon juice and water until smooth. Can be made up to five days ahead of time and stored in air tight jar in fridge.
Prepare quinoa according to directions on package.
Line a baking sheet with parchment paper. Toss cauliflower florets and diced carrots with olive oil, salt and pepper. Roast at 350 degrees for 20-25 minutes, tossing once, until tender.
Build bowls by layering quinoa with baby spinach and roasted vegetables. Top with Turmeric Sunshine Sauce and enjoy immediately!
For meal prep, build bowls and add Sunshine Sauce just before eating.