Pumpkin Sage Soup is so easy you can make this soup in a blender!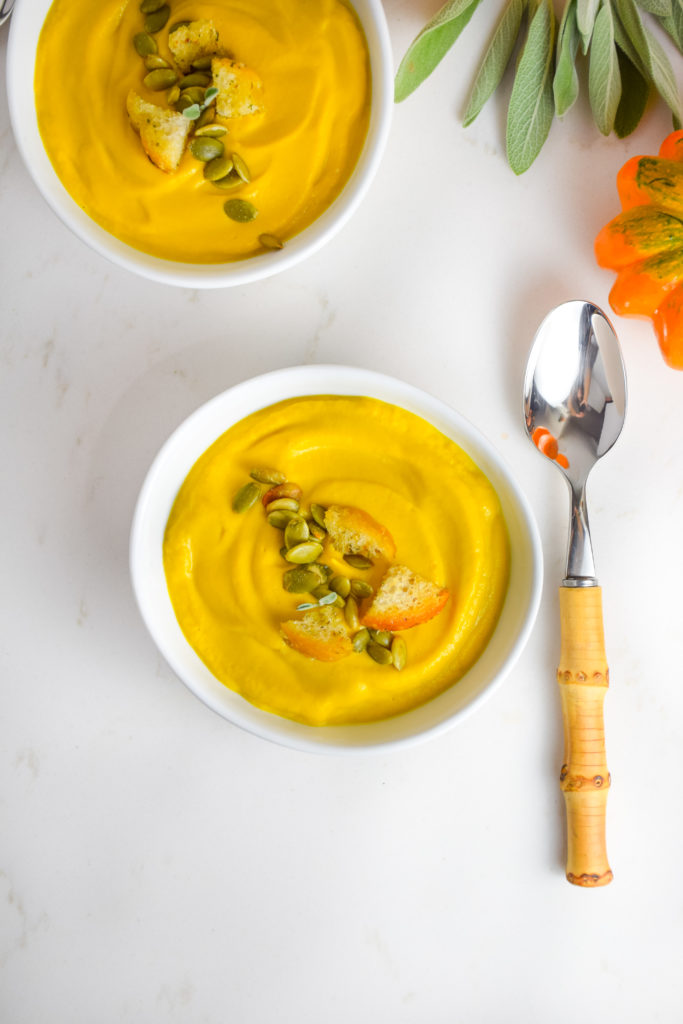 Thanksgiving soup. As in serving soup during the Thanksgiving meal. How do we feel about it? My family has never served soup at our Thanksgiving meal but I really like the idea. In fact, I love a good long meal, especially when they are coursed out. Often at those coursed out meals, you will find a soup at the beginning-ish of the meal. I love coursed out meals so much, we had one at our wedding and the second course? You guessed it! A soup. Lobster Bisque to be exact. Now, I digress back to Thanksgiving and this Pumpkin Sage Soup. Cozy, creamy and very, very easy to make!
This post contain affiliate links. If you purchase a product through these links, I may earn a few pennies. Thanks for keeping this blog going!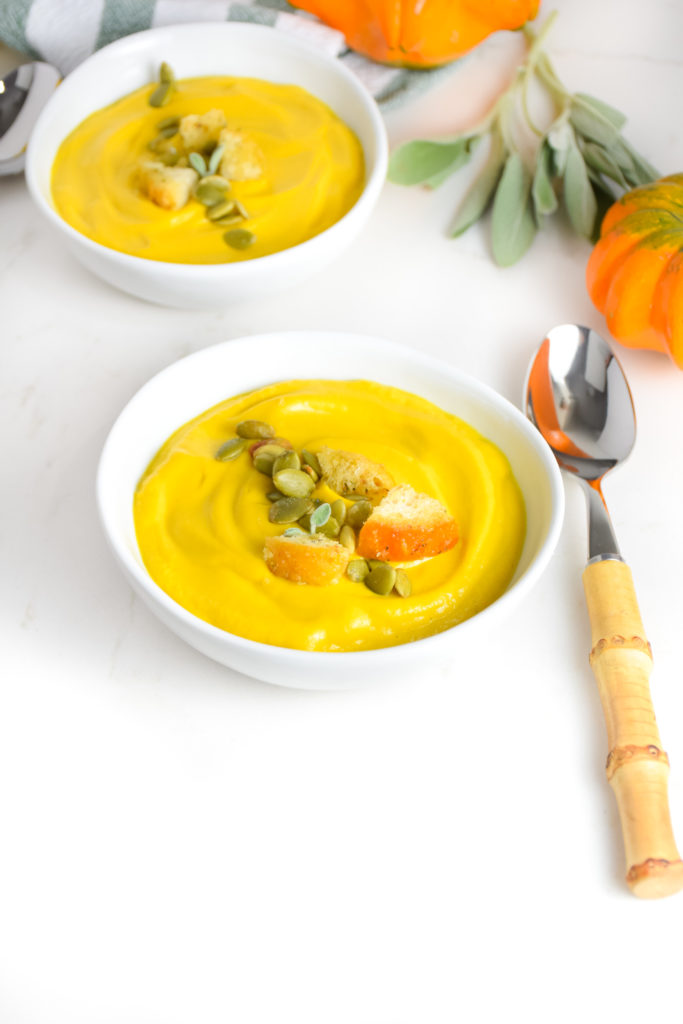 Thanksgiving Soup
No matter where you fall on the Thanksgiving soup debate, I think we can all agree that a good fall soup is nice to have on those chilly nights. This Pumpkin Sage Soup is naturally gluten-free and I included super easy substitutions for making it dairy-free and vegan if that is more your speed.
This soup is thick and rich, just a like butternut squash soup. It could be a meal if you have a large serving. Pro-tip if you're making a meal out of this, don't skip the toppings! A smaller serving is perfect as a starter to your meal.
Pumpkin Sage Soup is full of flavor and the kind of soup that really warms you up from the inside out. The pumpkin really takes on the flavor of the herbs in this soup, so you don't need many ingredients, making this the perfect soup for all your fall meals. And it's freezes and reheats really well!
Pumpkin Sage Soup
Makes 2 large (bowl) or 4 small (cup) servings
Ingredients:
1 can (15oz) of pure pumpkin purée
1/2 yellow onion, chopped
2 cloves of garlic, minced or pressed
4-6 sage leaves
1 tablespoon butter or olive oil
1 cup broth, vegetable or chicken
1 cup heavy cream or full fat coconut cream
1/2 teaspoon salt + more to taste
1/4 teaspoon black or white pepper
Optional: top with roasted and salted
Pepitas
or croutons. Parmesan is good too!
Directions:
Blender Option:
You can literally throw all the ingredients into your high-powered blender and blend for about 7 minutes until hot and steamy!
👩🏼‍🍳Pro-Tip: if you have the time, do step 1 below, then transfer it all to the blender. The sautéing releases more flavor in my opinion.
Stove Top Option:
1.  Sauté the garlic and onions with butter or oil until soft and translucent. Add sage leaves and sauté about 1-2 minutes more.
2.  Now you have two options: regular blender or hand/immersion blender.
2a. If you have a regular blender, add sautéed ingredients with broth and cream to blender and blend on high for 1-2 minutes until completely smooth. Transfer to large pot, add salt and pepper and heat over medium until hot and ready to eat!
OR
2b. If you have hand/immersion blender, add liquids, salt and pepper and blend until smooth. Then heat in pot until steamy and ready to eat!