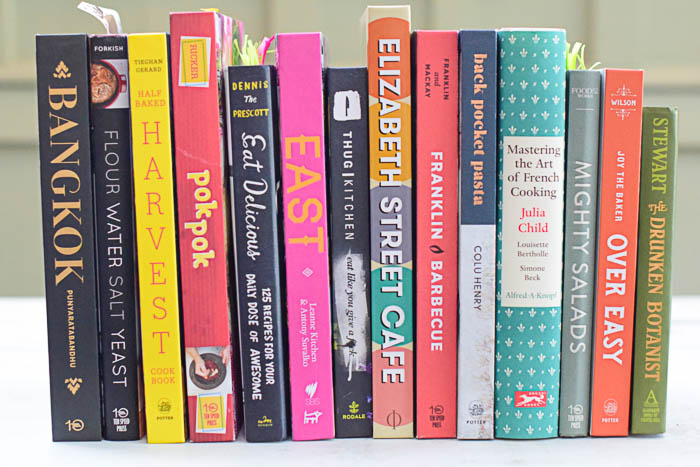 I've been looking forward to this post for a while! Mainly because I just wanted to photograph my gorgeous collection of cookbooks. I absolutely love cookbooks, probably more so than any other type of cookbook. These days cookbooks are so much more than just recipes on pages. They come alive with vibrant colors and and ingredients and their life-filled pages tell so many interesting stories. From cooking from the heart to easy dinner recipes to diving into why brown butter tastes so much different than regular butter, here is my list of my favorite cookbook!
My Favorite Cookbooks
This post contains affiliate links and if you purchase something I might get a few pennies.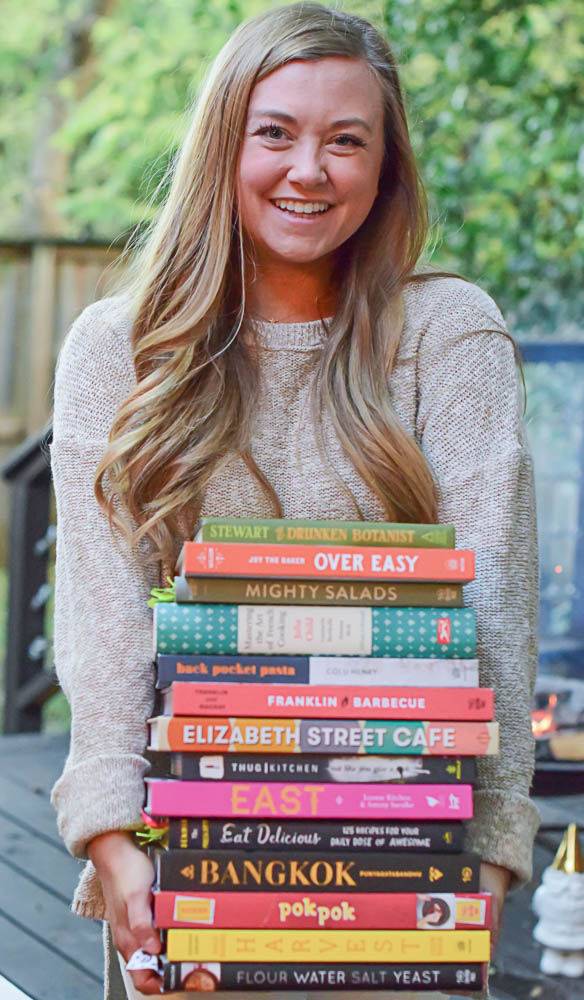 I divided these up into some easy categories so you can find the perfect cookbook for your kitchen shelf or a thoughtful gift!
If You Want To Go On A Culinary Adventure
Since we traveled so much to Asia this year, you'll see that reflected in this list. Plus, Southeast Asian food is my favorite type of food! We head to Italy in 2018, so I'm guessing you'll see this list get updated soon 😉

Bangkok: Recipes and Stories from the Heart of Thailand – Gorgeous recipes and stories that'll transport you to the culinary mecca of Bangkok without the jet lag.

East: Culinary Adventures in Southeast Asia– Let's be honest, I bought this because the cover was so beautiful. It's the story of a couple of Aussie eating their way through my fav sub-continent.

Pok Pok: Food and Stories from the Streets, Homes, Roadside Restaurants of Thailand– This is the story behind the award-winning restaurant Pok Pok! We love it because he gives practical tips for cooking our favorite food at home when we can't get all the traditional ingredients.
From My Favorite Bloggers
Instagram made me do it! I've been following these accounts for years and love the in-depth stories and recipes from their cookbooks!
Half Baked Harvest: Recipes from My Barn in the Mountains– Tieghan is a wonderful cook and she masterfully turns simple food into stunning dishes!

Eat Delicious: 125 Recipes for Your Daily Does of Awesome– BMW has booked like 50 recipes out this book! We love the Tonkatsu recipe!

Thug Kitchen: Eat Like You Give a F*uck– BMW's mom gave me this cookbook and it's so funny! Perfect for getting more veggies in your life!

Over Easy: Sweet and Savory Recipes for Leisurely Days– Joy the Baker is probably the first blog I ever stumbled upon and I've been a fangirl ever since. I bought her first dessert cookbook and now I'm loving her savory take on brunch recipes with a heavy New Orleans influence.

Love and Lemons Cookbook: An Apple-to-Zucchini Celebration of Impromptu Cooking– Jeanine makes vegetables look absolutely stunning! I love her simple and quick approach to produce.
When You Don't Know What To Make For Dinner
These are some of favorites for dinner and dinner parties!

Elizabeth Street Cafe Cookbook– Obviously this book makes my list! Elizabeth Street Cafe has long been my favorite restaurant in Austin and I'm excited to try my hand at their recipes at home. The 1st recipe I made were the Sinapore Noodles!

Franklin Barbecue: A Meat-Smoking Manifesto– BMW has loved reading up on Franklin's no so-secret tips for making the best 'que at home.

Back Pocket Pasta: Inspired Dinners to Cook on the Fly– I love pasta and I love the quick approach to using what's on hand to made a cozy dinner every night of the week!

Mighty Salads: 60 Ways to Turn Salad into Dinner– BMW and I have enjoyed referencing this book for hearty salads to make during the week. If you love big salads for dinner than this will help you get more creative!
If You Really Want To Learn How To Cook
Some people like cooking, other would rather avoid it at all costs. And then there are the ones who truly want to dive a little deeper and create some magic in the kitchen. These are the cookbooks for people who truly want to dig into the how and why of cooking!

Mastering the Art of French Cooking– The kitchen queen has inspired so many, myself included! Take the time to read through her recipes before starting and then watch the magic happen!
The Drunken Botanist: The Plants that Create the World's Great Drinks– This book dives into the plants that make wonderful cocktails! If you're looking to take your happy hour at home up a notch, get this book!
America's Test Kitchen Cooking School Cookbook: Everything You Need to Know to Become a Great Cook– BMW loves this book and is actually who introduced me to it! They really explain WHY you are supposed to do certain things like only brown the butter for 3 minutes and give tips on the best kitchen gadgets and ingredients. Plus, they introduced me to my favorite chocolate chip cookie recipe!

The Flavor Bible: The Essential Guide to Culinary Creativity, Based on the Wisdom of America's Most Creative Chefs– This is the first cookbook I ever bought for myself! It is actually an index of flavors not a recipe cookbook. If you already have a handle on kitchen basics and are looking to truly create your own unique dishes than this is the cookbook for you!

Flour Water Salt Yeast: The Fundamentals of Artisan Bread and Pizza – We got turned onto this book when BMW decided to start making bread! The author goes through all the tedious steps for making bread and has a great online community you can reference as well.