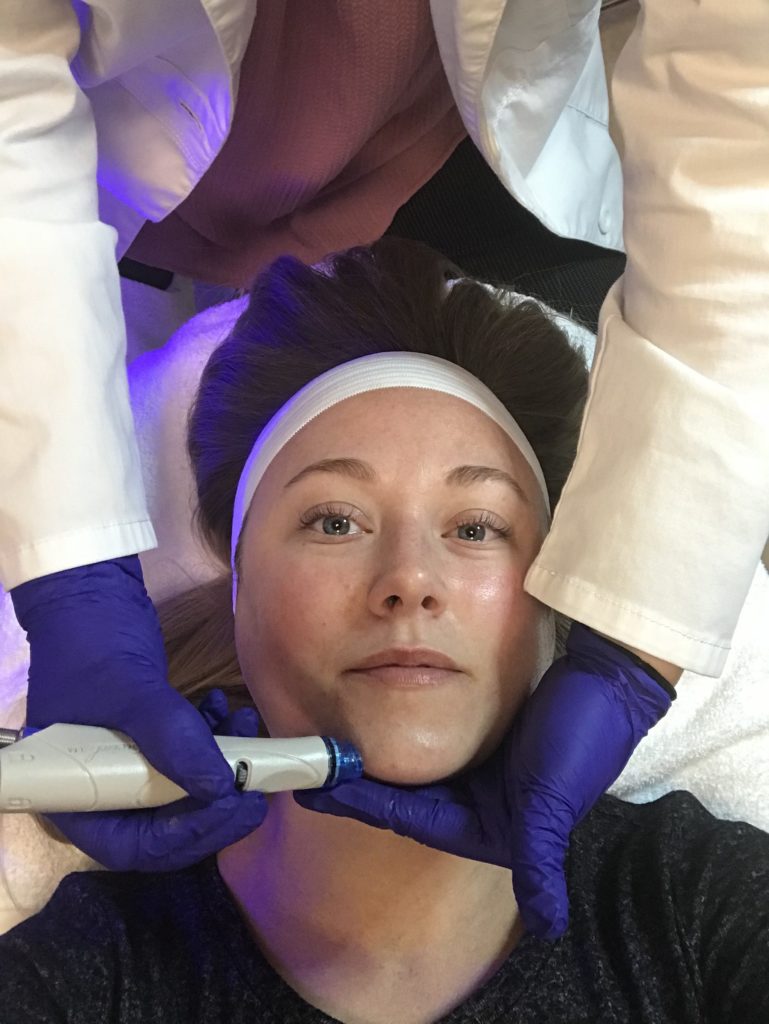 I got my first hydrofacial in Austin and I was super impressed with the results! After my hydrofacial, my pores appeared smaller and my skin was super smooth. I decided to get a hydrofacial over other procedures because it's not permanent and doesn't use any harsh chemicals. Y'all know I am a fan of more natural treatments and products so here goes! 
What is a Hydrofacial?
A hydrofacial is a cleansing facial that uses a vacuum to cleanse the pores. The hydrofacial process, actually sucks the dirt and blockages out of your pores. It's kinda gross but awesome at the same time. Instead of pushing down and squeezing pores to get the dirt and grime it, it sucks them clean. Which is less harsh on the skin.
After the pores are clean, the esthetician can put a gentle chemical peel on to further exfoliate or clean the pores or she can put a soothing cleanser or hydrator on the skin. It's important to let the pores completely close after the procedure and to stay out of the sun. Probably about a day or so just to be on the safe side.
This process can be done very gently for people like me with sensitive skin or it can be a deeper clean or more extensive peel depending on what you are trying to achieve. I was just so happy because this process really cleaned my skin without much irritation.
What Are The Benefits of A Hydrofacial?
In my opinion, a hydrofacial can clean your skin unlike any other type of cleanings. Simply because it sucks the impurities out of your skin instead of squeezing, scrubbing or exfoliating them away. I like that you an see the the impurities afterwards in the jar. It's kind of gross but I like to see the progress if you know what I mean!
After my hydrofacial, I noticed that my pores were less visible. This was a big win for me. As I have gotten older, I'm beginning to see my pores get larger, especially around my cheeks and nose where sunscreen and makeup tend to settle on my skin.
I like that the hydrofacial can be personalized to each individual's skin type. Meaning you can have a deeper clean or a more gentle clean depending on your skin type and what you need.
Below I included the videos from my hydrofacial at Beverly Hills Rejuvenation Center in Austin. Thank you to Beverly Hill Rejuvenation Center for letting me experience this and report back to my followers!
Have you ever had a hydrofacial? What's your favorite way to pamper your skin?