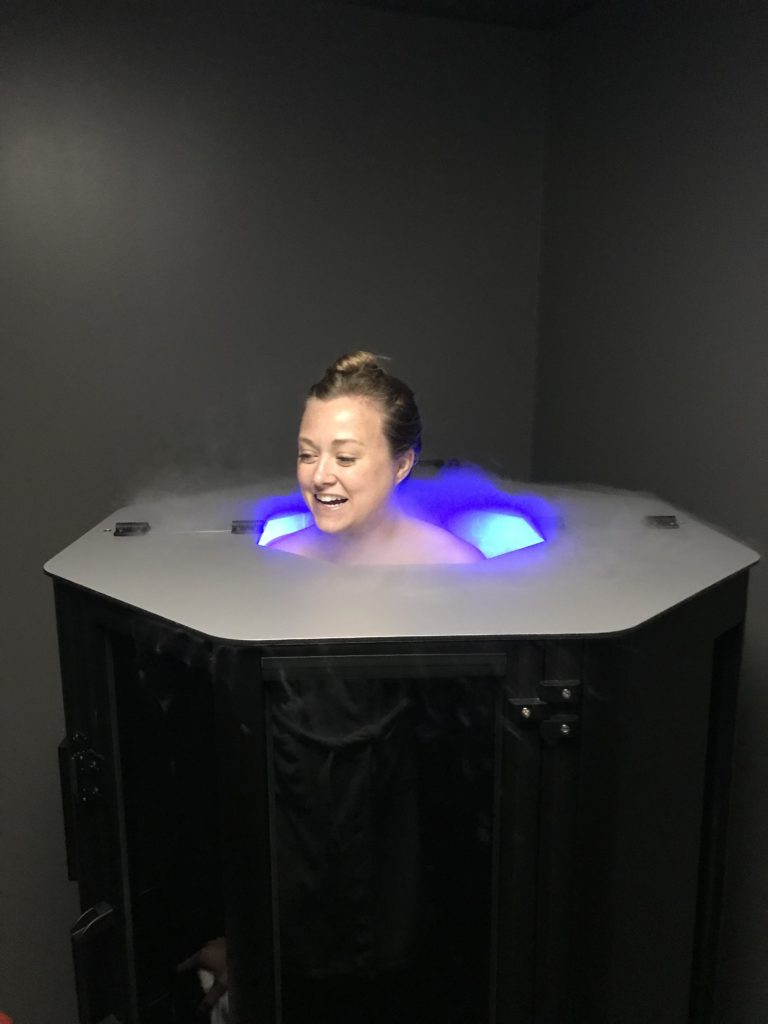 This month I've teamed up with Evolve Cryo + Wellness in Austin to tryout some of their treatments and report back to you about my experience! I tried out Cryo Therapy first! I am always looking for new, efficient ways to treat my body better and thus feel better and hopefully be a little healthier! Eating is an extremely important part of healthy living but exercise, rest and wellness treatments are also part of taking care of your whole body! Not to mention, they give our minds a little rest too. 
I learned so much from my travels to Asia about the power of different types of healing treatments. As part of my New Year's trip to Japan with BMW, we took a dip in seven different baths, or hot springs, that all had different minerals that helped heal. While in Thailand, I experienced some great massages and learned that the Thai people believe that massage is an important part of a healthy lifestyle. Now this is something I can get into!

Cryo Therapy in Austin
Wellness treatments aren't something that I have incorporated into my normal routine in the past. But lately I can't help but notice how sore my shoulders and neck are from staring at a screen all day. Sometimes I get cramps in my hands and forearms from all the typing. And after a hard workout, my body doesn't bounce quite the same as it used to in my twenties. All that is to say that I've look into massage, epsom salt baths and lots of other things as part of my overall wellness. My thought was that even if they "don't work" just the relaxing experience alone would be worth it for my mental health, haha. I mean part of being healthy is healthy thinking, right?
As part of my partnership with Evolve Cryo + Wellness, BMW and I got to try out Cryo Therapy! Yes, it was freezing! Just see the video below! I did get a burst of energy afterwards and noticed that I slept really well later that night. I want to go back and try it again after a long run to see if helps my joints.
What is Cryotherapy?
I asked Shannon Maddalena who owns Evolve Cryo + Wellness in Austin, TX and here is what she had to say!
What exactly is Cryotherapy for those of us who don't know? 
Cryotherapy is cold therapy, and has been studied for everything from anxiety and depression, to pain management. What it does best is reduce inflammation in the body, but people experience a wide range of benefits with cryo including better sleep, high energy levels, reduced recovery times, reduction in pain and discomfort.
Who is an ideal candidate for Cryotherapy?
Most people will benefit from cryo, try it three days in a row for fantastic results.
How often should some someone get Cryotherapy?
It depends on what you're trying to accomplish. our team will guide you based on your goals of wellness, pain management or sports recovery.
What are the benefits of Cryotherapy?
Improved sleep and energy, less downtime after workouts, and instant reduction of pain and inflammation.
See the video of BMW and I trying out Cryo Therapy together for the first time at Evolve Cryo in Austin!
Have you tried Cryo Therapy? What did you think? Tell me in the comments!