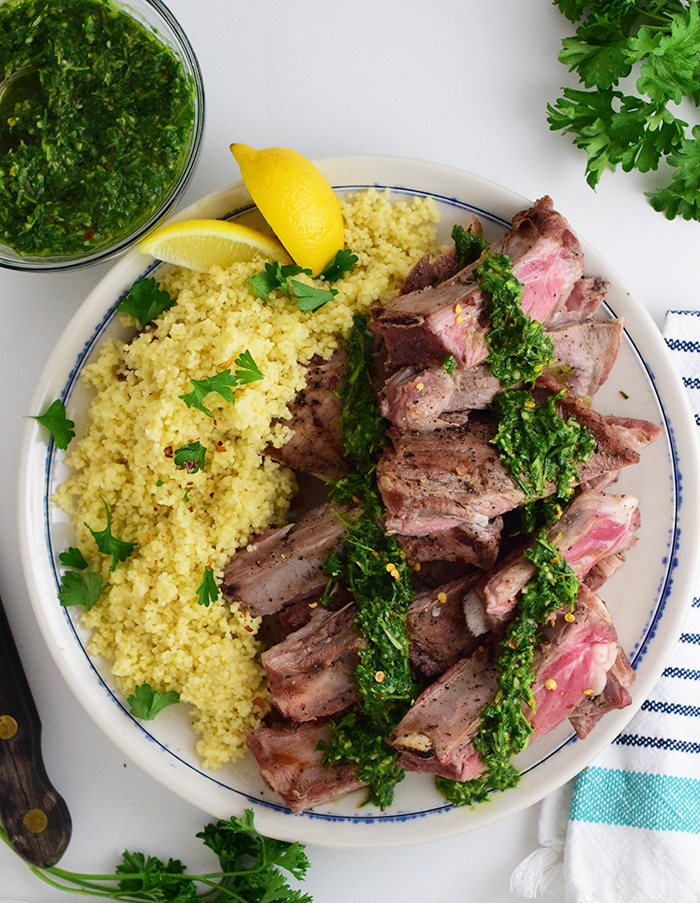 Every now and then BMW and I like bust open the Big Green Egg and get to grilling up some veggies or meat! Ok, he is more partial to the meat. His favorite being Beer Can Chicken. It's actually pretty flavorful. But this time we tried our hand at something new: lamb ribs. I've made lamb before but never a full rack of ribs. The meat wasn't quite as tender as the other cuts, the fattiness of it provides quite a bit of flavor. We tried these in the oven and really didn't care for how they turned out. We hit them on the grill and the flavor profile was much better and the meat more tender. 
The good people at Capra Foods sent me some of their lamb ribs to try. They are located right here in Central Texas, and y'all know how much I love supporting local. Capra works with farmers who only pasture raise their lambs and they specifically use Droper Lamb which is supposed to be less fatty and have a better taste. Our ribs were quite fatty and did require trimming, however, that may have just been the cut.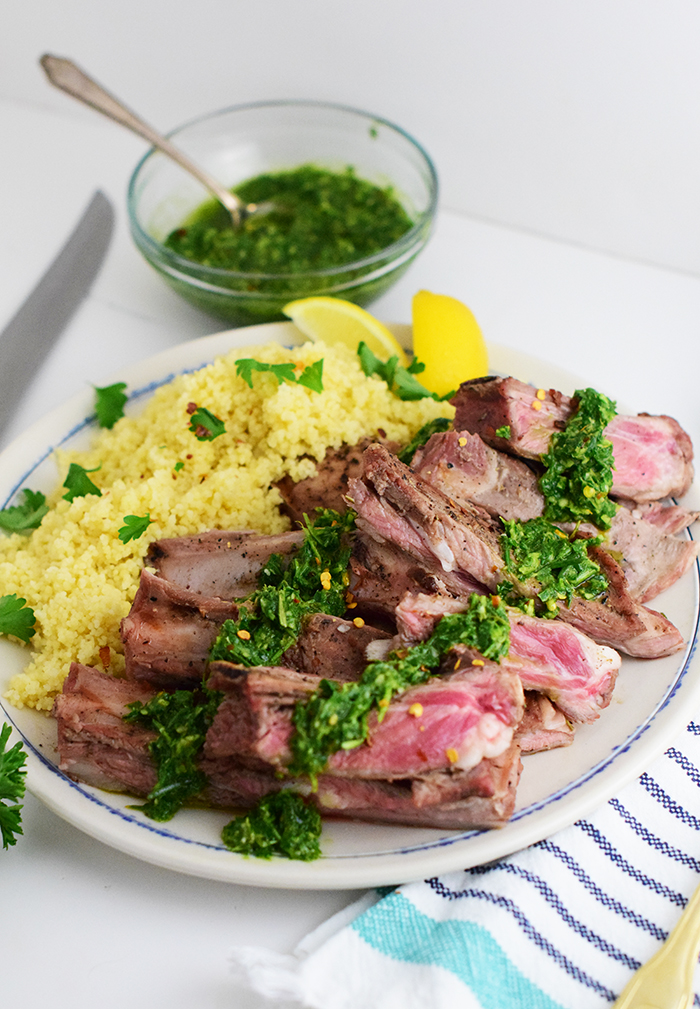 I used this recipe from Food & Wine for my recipe. Since I hadn't made lamb ribs before, I wanted to try out another recipe that I was pretty sure was going to work! Lamb ribs, at least mine, were pretty fatty so be prepared for that. Make sure to trim your meat before you start cooking. The butcher can do this for you or you can do it at home by removing any large fat caps and connective tissue. This will be that shiny, slivery tissue covering the meat. It won't be easily cut with a knife, unlike fat which will cut easily. Use a butter knife to begin peeling the tissue away from the meat then use your hands to remove more. This will help the marinade get into the meat better resulting in more flavor and better eating experience!
This chimichurri is super flavorful and would work on almost any kind of meat. Don't be afraid to make extra and keep in the fridge for a few days to enjoy on chicken, beef or even toast!
Lamb Rib Marinade:
2  1/5 lb lamb rib racks
1 cup Sherry Vinegar
1/4 cup lemon juice
3 rosemary sprigs
8 garlic cloves
olive oil for brushing + salt and pepper
Mince the garlic and remove rosemary leaves form stems. Combine with sherry and lemon juice and cover lamb racks in a shallow dish. Let marinate at room temperature for one hour.
Remove racks from marinade and pat dry removing any garlic. Brush with olive oil and season with salt and pepper.
Sear over medium-high heat on the grill for about 5 minutes on each side or until the meat reaches 130 degrees.
For the chimichurri:
1.5 cups parsley
6 garlic cloves
2 tablespoons oregano leaves
2 tablespoons rosemary leaves
1 tablespoon thyme leaves
1 fresh bay leaf
1/2 cup olive oil
1 teaspoon red pepper flakes
1 teaspoon salt + more to taste
1/8 cup sherry vinegar
Pulse all ingredients together in a food processor until combined, stopping to scrap down sides if necessary.
Drizzle cooked lamb with chimichurri and enjoy! I served this with couscous and it paired nicely soaking up all the flavorful juices!