If you're around Austin, whether visiting or you live here, chances are you'll want to take a jaunt out to the Hill Country for the gorgeous sunsets, to float the river and some serious R&R. I know I am always looking for an excuse to take a daytrip outside of town! If you stroll out to Wimberly, about a 45 minute drive from downtown Austin, you'll find yourself nestled in the hills with some gorgeous restaurants and wineries. I had the chance to join a few of my friends for a mini road trip to check out Jobell Cafe & Bistro. The family run restaurant is serving up some of the freshest food in the Hill Country and sources from many local Austin vendors. It is the perfect place to try on your next trip!
The owners David Jessenia Bober came to Austin from New York to raise their family. Appropriately enough the name Jobell is a combination of their son and daughter's names Joseph and Belle. Truly a family place! I was pleasantly pleased by how wonderful our meal was. The service was excellent and all the food was so fresh and prepared with care. I must say the extra touches went a long way. Our vegetarian friend dined with us and they had several vegetarian (or easily made vegetarian) dishes and she also loved the meal.
The lobster, gravlax and dessert dishes definitely stole the show. The menu changes seasonally and there are always lots of specials. Let me know if you find yourself at Jobell Cafe & Bistro! I hope to be back soon!
Polenta Fries roasted garlic parmesan aioli
Charcuterie & Cheese Slate selection of three artisanal cheeses, two artisanal meats, fruit, olives, house chutney, pagnotta
Parmesan Encrusted Pork Loin cauliflower and sweet potato mash, broccolini, roasted tomato and garlic béchamel
Lobster & Crab Sun Dried Tomato Linguini with cherry tomatoes, asparagus, sun dried tomato lobster cream sauce, parmesan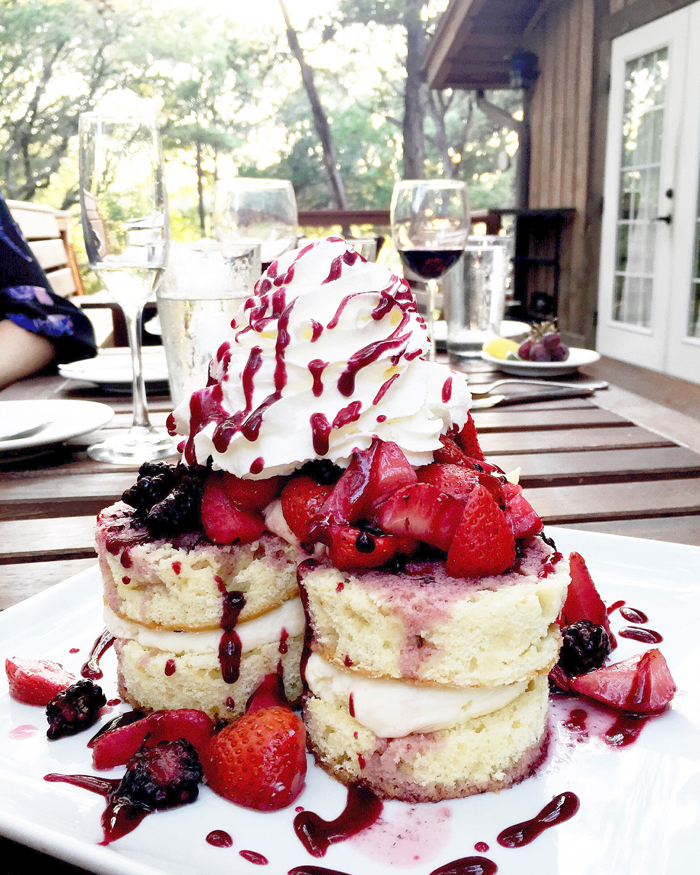 Lavender Pound Cake with mixed strawberries and blackberries, whipped cream
Jobell Cafe & Bistro
16920 Ranch Road 12
Wimberley, TX 78676
512 847-5700
[email protected]