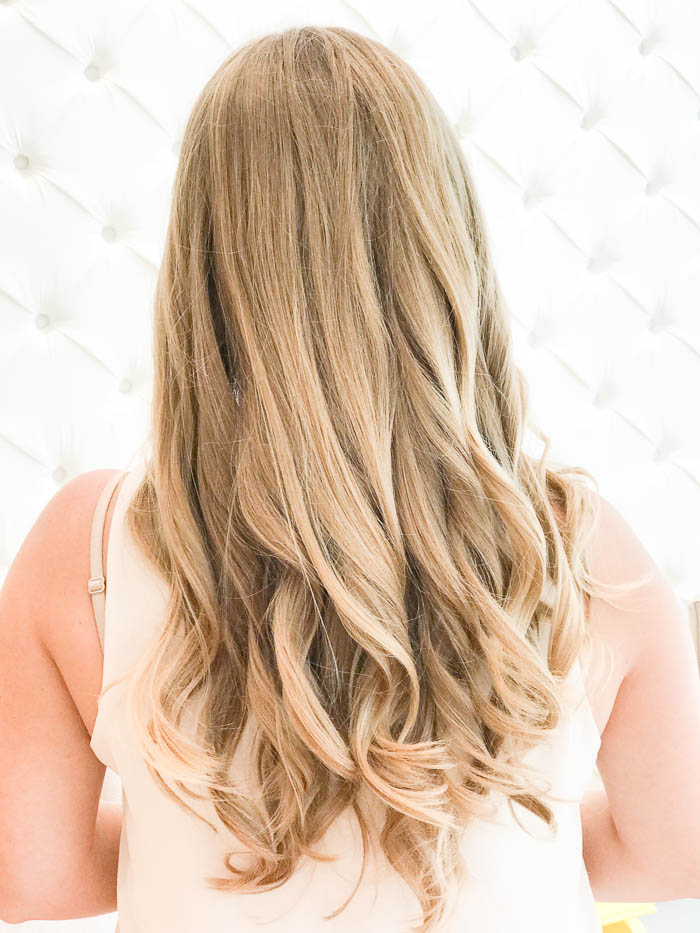 I love getting my hair blown out, don't you? I rarely indulge in this treat for myself but I got pampered by Drybar and had to share these gorgeous locks. I typically wash my hair everyday because I always get so sweaty whether it's from a workout or just that Texas heat. I'm always jealous of those gals that come out of spin class and do some dry shampoo magic and somehow their hair looks flawless. I come out of spin class looking like a wet dog so there's no helping me there. After my blowout at Drybar I wanted it to last forever! So I chatted with Drybar founder Allie Webb for her pro tips about making your blowlast!
I love that Alli is from Florida so she totally understands that heat and humidity we deal with here in Texas. Plus, all her products not only smell fabulous but they have the cutest names! PS- there are affiliate links in the post.
Alli's Tips to Make Your Blowout Last

Growing up in Southern Florida with all the humidity, I can relate to the southern frizz! One tip is to just embrace the weather and your natural texture by transforming it into a style. If you have naturally frizzy hair and it's an extra humid day, try the Dirty Martini. Our Velvet Hammer Hydrating Control Cream and/or Chaser are perfect to tame frizz and fly-aways.
Always start your blowout with squeaky clear hair and prep with a heat protectant to protect your locks from frizzing. Drybar's Prep Rally protects hair from both UV exposure and heat from tools.
To give yourself a blowout built to last, be sure to section with clips and blow dry one small  section at a time with a ceramic round brush. Check out my book, The Drybar Guide to Good Hair For All
, for lots of tips and tricks to do at home. Wink wink 😉
Finish with a hairspray built to block humidity, like Drybar's Money Maker Flexible Hair Spray, which provides a soft, movable hold, while still allowing you to brush through your hair with ease.
For day 2, use a terry-cloth lined shower cap to fight pesky humidity and keep out any moisture. Follow up with a little DetoxDry Shampoo and Triple Sec texturizing spray to embrace the humidity with a messy beachy look. Apply a control cream to tame any fly-aways! Voila!