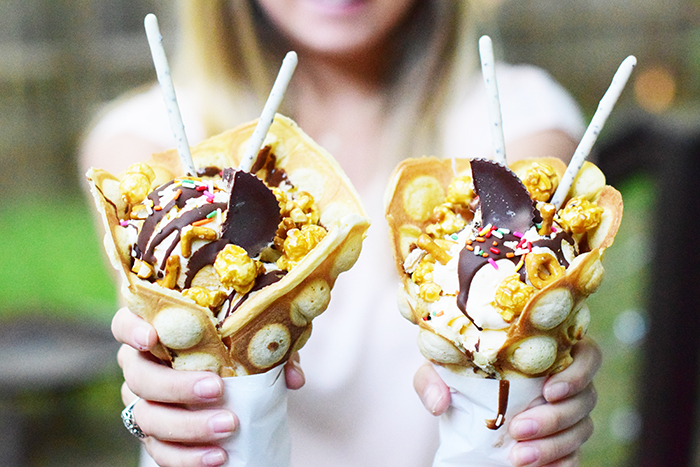 Pretty sure I should be knee-deep in Thanksgiving recipes and holiday planning but I just got back from a beach vacation with my family and decided ice cream sounded a lot better. What do you think? I'll save up those recipes for another day this month. Besides check out these bubble cones!?! There is like one place in Austin that serves these up somewhat regularly but I first discovered them on Instagram and have been drooling over the crazy photos ever since. I finally found a Hong Kong style bubble cone waffle maker  (affiliate link!) on the internet and ordered one for myself!
I tested out two recipes, one traditional with lots of fluffy eggs and one vegan! I even made it a funfetti recipe because sprinkles make everything better, right?
Traditional Hong Kong Style Ice Cream Bubble Cone Recipe
Makes about 4-5 waffles
Ingredients:
For Cone:
3 eggs yolks
3/4 cup milk
1 tablespoon vanilla extract
6 tablespoons unsalted butter, melted
3/4 cup sugar
1 1/4 cup cake flour
1 1/2 teaspoon baking powder
1/8 teaspoon grated nutmeg
1/8 teaspoon salt
6 egg whites, beaten to medium peaks
Toppings: 
Ice Cream
Chocolate or other dessert syrup
Sprinkles
Chocolate Peanut Butter Cups
Pretzels
Pocky Sticks
Popcorn
Directions: 
1. Whisk together egg yolks, milk, vanilla, butter and sugar until well combined.
2. In a separate larger bowl, sift together the flour, baking powder, nutmeg and salt.
3. Whisk egg yolk mixture into flour mixture until well combined and no lumps remain.
4. Beat egg whites until medium, stiff peaks form. About 10 minutes.
5. Gently fold egg whites into batter in two batches.
6. Pre-heat bubble cone waffle maker and spray with non-stick spray. Evenly spread batter into bottom half of waffle maker. Be careful not overfill.
7. Immediately turn waffle maker over once closed for 1-2 minutes. Then turn waffle maker back over to complete remaining 2-3 minutes.
8. Remove bubble cone from waffle maker once complete and gently fold into wide mouthed cup to form cone shape. Do this while the waffle is still warm and let cool in cup.
9. Complete by adding your favorite ice cream, chocolate syrup, sprinkles, candy and all the other toppings you choose!
Vegan Funfetti Bubble Cone
Makes 2 Bubble Cones
Ingredients:
For Cone:
1 cup cake flour
1 cup unsweetened almond milk
2 teaspoons baking powder
2 teaspoons vanilla extract
¼ cup sugar
1 tablespoon vegetable oil
1 egg replacer
a pinch of kosher salt
½ cup vegan sprinkles
non-stick cooking spray or vegetable oil for waffle iron
Toppings:
One pint favorite flavor of NadaMoo! (We used Vanilla..aahh)
2 Justin's Dark Chocolate Peanut Butter Cups
Gluten-Free Pretzels
Vegan Caramel Popcorn
Dark Chocolate Magic Shell
More vegan sprinkles
Directions:
Pre-heat waffle or bubble cone iron
Whisk together flour, sugar, baking powder, and salt.
Whisk egg replacer and stir in almond milk, vanilla, vegetable oil until well combined.
Mix wet and dry ingredients together until there are no lumps. Gently fold in sprinkles.
Pour half of mixture into waffle iron and cook for 4-5 minutes until completely done.
Remove from bubble cone maker and place into wide mouthed up, turning edges to form a cone. Let cool.
Repeat to make second cone.
Fill with ice cream and top with magic shell chocolate, additional sprinkles and the your favorite vegan sweet treats!