You guys! I have been traveling a bit the past few weeks and if you want to follow along check out my Instagram or better yet follow me on Snapchat (natalieparamore) for my day-to-day shenanigans and trying to figure things out overseas! All that is say that before I left for my travels, I did a lot of fun stuff back in Austin. And I've finally got a few extra hours to sit down and tell ya all about it!
First up, I was invited to try out the new happy hour food menu at The Townsend in downtown Austin. I had visited The Townsend before and it is such a beautiful space. It's dark and feels like you're sneaking off to your dad's really fancy man cave that you're not supposed to be in. The drinks are all superb and well crafted. It is the perfect place to sip a well made cocktail after a long day. But I'll have you know that the food is certainly worth sticking around for!
Reconstruction Julep with mount gay black barrel rum, cognac paul beau vs, mint, sugar
Tequila Fix with tequila tapatio blanco, raspberry, lemon
Cheeseboard with three cheeses, accompaniments and crostini
When I visited the The Townsend we naturally asked for the most "Instagram worthy cocktails" because lets be honest things taste better when they are pretty. And I will say that I loved the Tequila Fix! It's strong but cold and lovely. The Reconstructed Julep is sight for sore eyes and if you love juleps than this is the one for you. Of course, it wouldn't be happy hour for me without a cheese board! I thought the portions on this board were really generous and I loved those candied pecans!
Trout-On-Toast with lemon thyme crème fraîche, cracklin' and frisée salad
Next up was the Trout-On-Toast. Sometimes I hear trout and hesitate a minute but I loved this one! Also, I've been majorly loving anything frisée lately, I just wish it wasn't so darn messy to eat. This dish tastes like summer with the lemon thyme crème fraîche and the fish is perfectly light.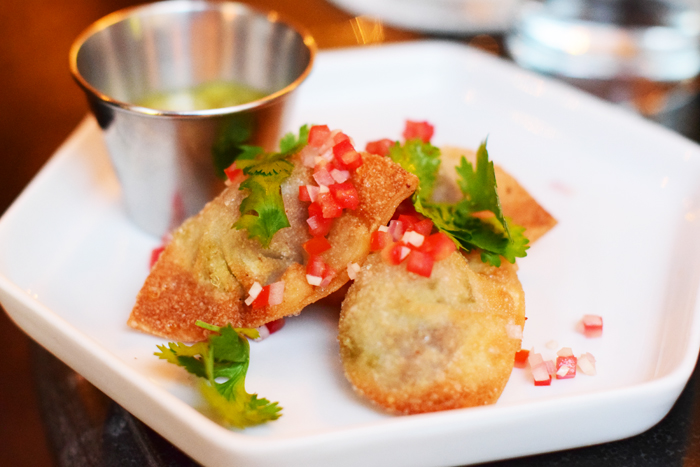 Crispy pork and beef gyoza with tom yum broth and thai herbs
Honestly, this might be the best gyoza I've had since I was in Japan! Not kidding. I loved the tom yum sauce and thai herbs. It was so herbacious and slightly addicting.
Cheeseburger with white american cheese, homemade pickles, onions, mustard, red miso mayo and homemade french fries
I love a good burger and this one was great! It's nothing crazy, just a simple, easy  burger that you can eat over and over again. You can also add a can of Bug Light for only $2. Can't beat that!
Hot Chicken which is north African fried chicken thigh, semolina flatbread and pickles
Don't be fooled, this isn't your average Nashville Hot Chicken but instead an upgraded dish that incorporates some spicy flavors with flatbread and some delicious pickles.
The Townsend's version of Cookies & Creme with basque cookie, lavender pastry cream and blueberry compote
Really though, The Townsend's new menu is full of surprises! This cookies & creme variety isn't the black and white oreo version, not even close. The homemade cookies and lavender pastry cream are the perfect ending to a meal and the blueberry compote well, it is lovely as well.
If you're ever looking for a sophisticated place for drinks and some delicious food, try out The Townsend! Bonus points for lots of easy weeknight parking too!
The Townsend Austin
718 Congress Avenue, Suite 100
Austin, Texas 78701
Phone: (512) 887-8778
Open Monday through Thursday 4pm to Midnight
Friday & Saturday 4pm – 2am
Sundays closed