Grilled Zucchini and Corn Tacos are a delicious, vegetarian taco recipe! They are so easy to make and a definitely crowd pleaser even with kids!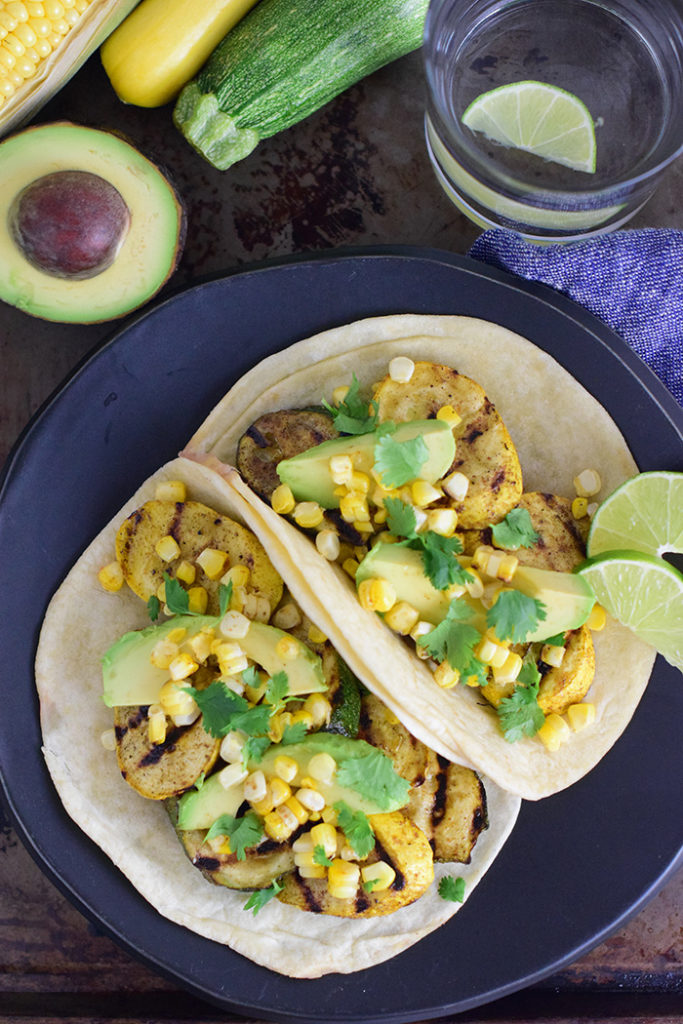 Confession time: we don't eat tacos that much. Well, besides breakfast tacos. I haven't been able to full transition BMW to the Austin lifestyle quite yet. He still isn't the biggest fan of Mexican food and especially not Tex-Mex. Which drives me mad because Mexican food and Tex-Mex are basically like just food to me. I grew up in Texas so we ate tacos, in many different forms, all the time. And I still love when I order at a restaurant and they just bring a thing of tortillas. Oh you ordered enchiladas? Here are some tortillas. Salad? I mean why not. Fresh corn tortillas are some my favorite things ever. Finding them can be tough though. When I do make tacos at home we typically opt for flour. Anyways, I was thrilled when BMW actually liked these veggies tacos! I mean they were vegetarian AND tacos, so I really feel accomplished y'all. Getting my picky Midwest raised BF to get on board with anything besides meat and potatoes can be a struggle. So I am pumped to share these with you! 
I made these for the August issue of Austin Woman Magazine this month! I always love getting to use fresh produce for these posts. For my column, we always use seasonal produce to guide the recipes. This is the best time of year for corn and summer squash (like zucchini!) and with just a quick hit on the grill or pan and tossed with some spices they are great in a warm tortilla! You can cheese or onions if that's your thing but the lime, avocado and cilantro add tons of flavor. Let me know that you think!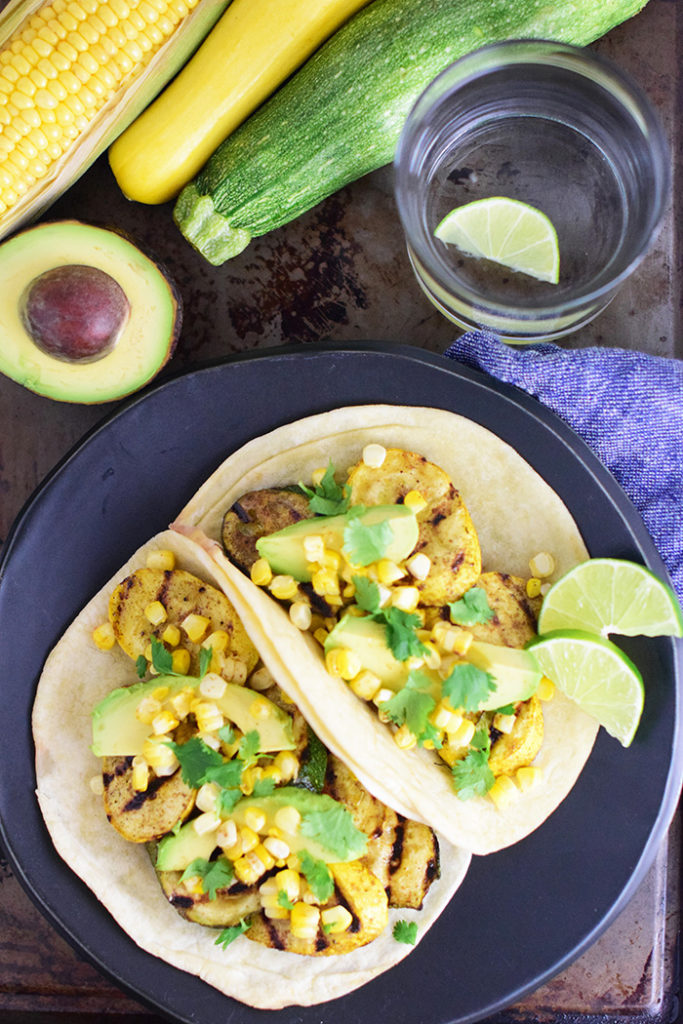 Grilled Zucchini and Corn Tacos
Makes 4 tacos
Ingredients: 
1 ear sweet corn
1 zucchini
1 yellow squash
½ avocado
4 flour tortillas
1 teaspoon garlic powder
1 teaspoon cumin
½ teaspoon paprika
½ teaspoon kosher salt
1/4 teaspoon cayenne
2 tablespoons olive oil
1 tablespoon fresh lime juice
Cilantro and lime wedges for garnish
Directions: 
Slice zucchini and squash into ½ thick pieces.
In a small bowl, whisk together garlic powder, cumin, paprika, salt, cayenne, olive oil and lime juice.
Toss zucchini, squash and corn in spice olive oil mixture.
On a grill or panini press, grill vegetables over medium heat about 2-3 minutes per side or until grill marks form and vegetables are tender. Corn may take an additional 5 minutes.
Once corn is cool enough to touch, slice kernals off of the ear.
Put vegetables into tortillas and add slices of avocado. Add cilantro and limes.