These Green Chili Enchiladas are filled with flavor and great for a delicious dinner! These freeze well too!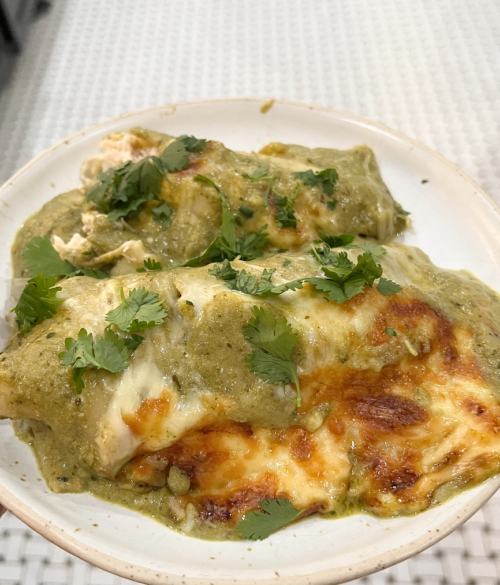 I can't believe it took me so long to write up this recipe! A few weeks ago I was craving enchiladas, which to be honest isn't my normal tex-mex craving, so I ordered some at a local spot. But they weren't quite satisfying my craving so I decided to make my own! I've tried these a few different ways, with pork and with chicken, with hatch and with poblano chiles and lastly with frying and not frying the tortillas. I gotta say, these enchiladas are really all about the sauce and the cheese so you can't go wrong with any of these options! But I will break down everything you need to know below!
This post contains affiliate links. If you purchase a product through these links I may earn a few pennies. Thanks for keeping this free blog going!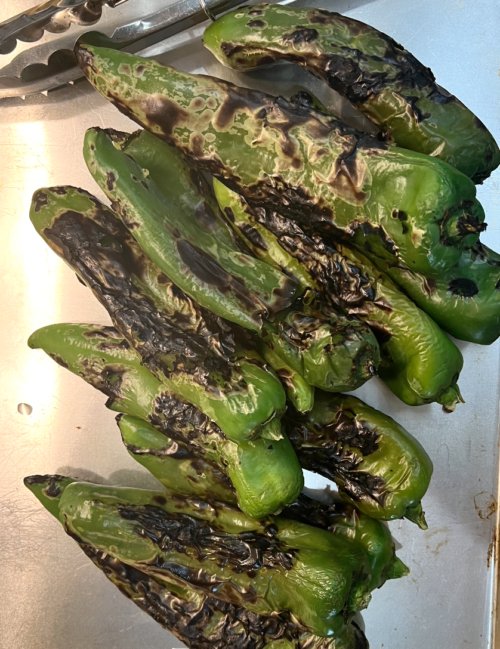 Green Chili Enchiladas
I started off wanting to make a Hatch chili version but quickly realized that Hatch Chili season is so short that I would want to try with poblano peppers as well since we can get those year round. The important thing is to realize that both Hatch and Poblano peppers come in spicy and non-spicy versions. So depending on your desired spice level, you can go all spicy, no spice or a mix. I wen with a mix but you do you!
The important thing is to remove the thick waxy skins on these green chiles. You can do that by fire roasting the peppers over an open flame like a gas stove. Or you can do this in oven under the broiler. Another option would be do this on a grill outside!. So many options. Place the peppers over the flame and let the skins bubble and turn black, turning as needed to get all the sides. Let the peppers cool enough to touch then slide the blackened skins off of the pepper. They should remove pretty easily, if you find that little pieces are getting everywhere, trying peeling them under slowly running water faucet. This should help!
Remove stems and seeds and chop the peppers and set aside.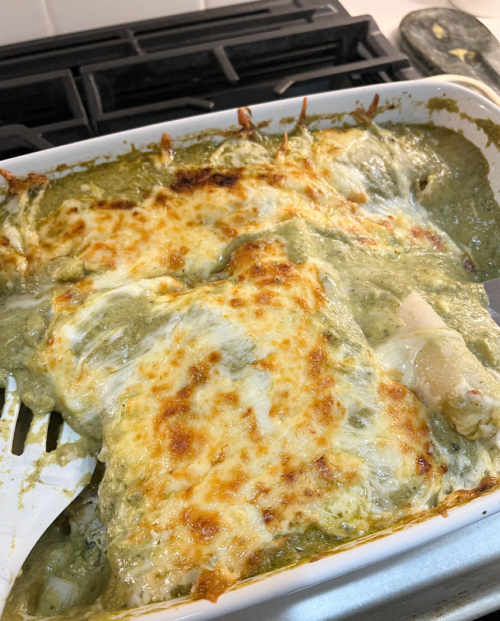 The Best Green Chili Enchiladas
One day I will go back and try to figure out a way to make enchiladas look pretty. All I can say is that these are soooo good! When it comes to enchiladas, the cheesier the better, right!?!What makes these so good is the sour cream and fire roasted green chilies sauce. It all comes together for a delicious meal.
I tried using both shredded chicken and shredded pork. The pork was a smoked pork shoulder that BMW had made. I really enjoyed both to be honest! The pork was certainly higher in fat and gave the enchiladas a richer, more decadent flavor. The shredded chicken breast was also delicious and a little lighter in flavor. Both work really well in this recipe!
Tips for Making Enchiladas
You can blend this sauce right in the pot if you use an immersion blender
. This is the method I used. You can also move the sauce to a blender and blend until smooth. I love my large casserole dish for this recipe. It also cleans soooo easily. The baked on cheese literally just wipes right off.
The traditional version of enchiladas requires frying the corn tortillas so they are pliable enough to roll. I found that while the gently fried tortillas were easier to roll, they still tore some of the time. I found no difference in taste in the final product. If the thought of rolling tortillas only to have them tear makes you mad, try layer the tortillas and filling like you would in a lasagna. These are called "flat" enchiladas and are just as delicious!
I used heavy cream and sour cream in my recipe for a slightly thinner sauce. If you prefer thicker, you can substitute additional sour cream for the heavy cream in the sauce.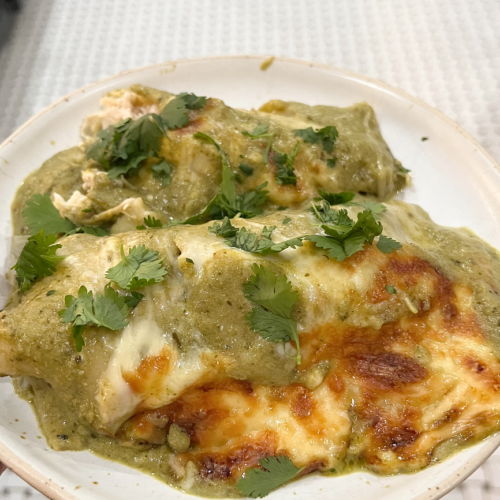 Green Chili Enchiladas
These Green Chili Enchiladas are filled with flavor from fire roasted chiles and sour cream sauce. Extra cheesy and so delicious!
Ingredients
Green Chili Enchilada Sauce
1

lb

Green Chiles like Hatch or Poblano

2

cups

Low Sodium Vegetable or Chicken Broth

1

cup

white onion

chopped, approx 1 onion

5

cloves

garlic

minced or pressed

2

tbsp

kosher salt

reduce by half if using table salt

1

tbsp

ground coriander

1

tbsp

ground cumin

1

tbsp

olive oil

1/2

cup

heavy cream

4

oz

sour cream

1

bunch

fresh cilantro
Filling
1

lb

shredded pork or chicken

1

cup

white onion

chopped, approx 1 onion

3

cups

shredded Monterrey Jack Cheese

divided for filling and topping

12

corn tortillas

4

tbsp

vegetable or other frying oil

optional*
Instructions
Begin by roasting chiles over open flame such as gas stove top until blackened. Alternatively, you can do this in the oven broiler rotating chiles until all sides are blackened. Let chiles cool enough to touch then peel burnt skins off. Remove tops and seeds and chop peppers.

In a large pot, add olive oil, garlic, 1 cup onion and salt over medium heat until fragrant and onions are translucent, about 3-5 minutes. Add cumin and coriander, stirring until sticky, about 1-2 minutes. Add chopped chilies and broth, bring to a boil, then reduce to simmer and cover for 15 minutes. Add in fresh cilantro and stir until wilted. Using an immersion blender, blend sauce until smooth. Alternatively, you can move sauce to blender and blend until smooth and return to pot. Remove heat and stir in heavy cream and sour cream until combined. Add salt to taste.

OPTIONAL: Fry corn tortillas for about 10 seconds each until slightly golden and pliable. This can help the tortillas not to tear and break while rolling. I've tried both frying and not frying tortillas and honestly, I cannot tell a difference taste-wise although the frying can help when rolling.

In a large casserole dish, spread 2-3 tablespoons of sauce on bottom. In a bowl, combine shredded chicken or pork with 1 cup chopped onion and 1 cup shredded cheese and toss together. Fill tortillas one at a time with filling and roll and place into casserole dish. Then cover with remaining sauce and top with 2 cup shredded cheese. Cover and bake for 20 minutes at 350°F. Remove cover and broil for 5 minutes until cheese is bubbling and slightly brown. Enjoy while hot!
Notes
Sauce can be made ahead of time and kept in fridge up to 5 days or frozen and thawed when ready to use. 
Enchiladas can be assembled and stored frozen in dish until ready to bake. Let thaw partially before baking and may need to increase baking time. 
After baking, enchiladas and be divided and frozen and reheated later.