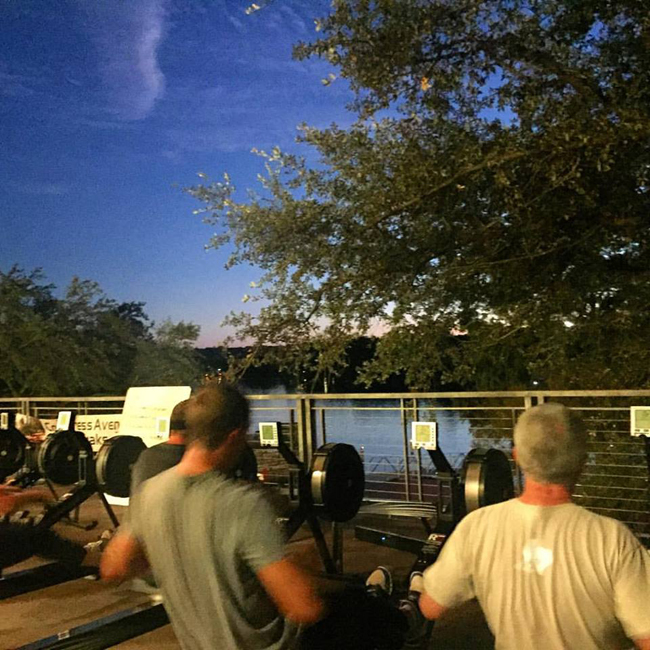 It's that time again!
Fit Fridays
is back this month with 
Rō Fitness
! I got the chance to check this place out after my friend
Jane Ko
gifted me a two week membership to Class Pass, thanks Jane! I had this place on my list because it's so close to my office and hello gorgeous lake views while you're working out! I love that you can get a full body workout in just 45 minutes. I took my class outside on a Sunday morning and it was the perfect pre-brunch activity. I highly recommend it! Not to mention they have showers and a cafe on-site for your post workout routine.
I interviewd Chelsea Moore of Rō Fitness for this month's Fit Fridays and she gave us the scoop on why she roes, where she eats and her tips for staying fit! Some of the best advice I've heard in a long time! Now I'll toss it on over to Chelsea!

Well, above everything else, I truly believe in the workout. It works all the major muscle groups without impact on your joints. After college, I found myself at a desk job with a very busy schedule and the workout I always turned to was indoor rowing because it was quick and it didn't hurt my knees and it burned the legs, glutes, abs, arms and shouders — and I knew how to do it correctly. So many people don't fully understand how to utilize the rowing machine to it's full potential unless they were ever on a rowing team. When I found myself with the opportunity to start Rō, it was sort of a no-brainer. I got to build something to show Austin a piece of the sport I love and they get to understand how to get the best, most efficient workout on this machine. Plus this workout can be done by any age or fitness level — and that's not always typical in the fitness scene.
Have you always been into fitness?
I always wanted something to latch onto in the fitness world but didn't find it until I joined the rowing team in college. It was a huge shock since workouts are pretty intense on rowing teams, but I fell in love with the competition and the accountability of being a part of the team.
What is your favorite splurge restaurant in town?
Definitely Odd Duck! Their quirky menu items are delicious!
How do you stay balanced with so much queso, margaritas and tacos everywhere?!? Holy cow, I know. There's always a balance in life. I am a big advocate of picking your own balance, but making sure that you feel good. If you end up in a queso/junk food rut and you feel low-energy, then it's time to sub the queso for some good old fashioned green smoothies til you feel better.
Where is your favorite healthy spot in town?
This is tough but I'll have to go with Whole Foods — love their smoothie bar!
What is your favorite healthy meal to make at home?
I'm definitely not the best cook but I make a mean salad, hah! Basically a bowl of a bunch of vegetables in balsamic vinaigrette.
What are your top three tips for getting back on the fitness saddle?
Honestly, my best advice is to enjoy the workout. Avoiding negative thoughts while working out will allow you to be excited to do the workout the next time, which will get you doing the workout more often. Everyone starts somewhere, so you have to be patient to see the big strides. But if you're consistent and positive about the experience, you'll be unstoppable.
Rō Fitness
http://www.rofitness.com/
Location
Rō Fitness boasts the best views in downtown Austin. Classes are held on the top floor of Waller Creek Boathouse in downtown Austin, right along the Hike & Bike Trail. We share the boathouse with Alta's Cafe (upstairs), Congress Avenue Kayaks (downstairs) and the Austin Rowing Club (upstairs and downstairs).
74 Trinity St. Austin, TX
Schedule
Monday: 6am- 7am, 7:15am- 8:15am, 5:15pm- 6:15pm, 6:30pm- 7:30pm
Tuesday: 9:30am-10:15am, 12:30pm- 1:15pm
Wednesday: 6am- 7am, 5:15pm- 6:15pm, 6:30pm- 7:30pm
Thursday: 8:30am-9:15am, 12:30pm- 1:15pm
Friday: 6am- 7am, 7:15am- 8:15am, 4pm- 5pm, 5:15pm- 6:15pm
Saturday: 8:15am- 9:15am, 9:30am- 10:30am
Sunday: 9:30am-10:15am, 10:30am-11:15am, 11:30am-12:15pm