Y'all, probably one of the best things I did in 2015 was build a picnic table with my boyfriend! Yes, for reals, we looked up a gazillion plans, went to Home Depot like we knew what we were doing, bought all the supplies and 18 hours later our first picnic table was born! Can you believe it?!? We are such proud parents. Many a wonderful night has been spent sitting around it enjoying long, delicious meals with friends. Bonus points, it is the absolutely most perfect background for showing off my pretty blue and white plates. I just love how they look on this table!
When it came time to shoot the April issue of Austin Woman Magazine, I knew immediately that I wanted my little picnic table to shine! I rounded up three of my most favorite spring recipes for you. Check them out below plus my tips for shopping at the farmers market this spring!
Tips for choosing and buying at the farmers market:
Strawberries: Color is more important than shape. Choose the berries with the deepest red color you can find. Strawberries with white around the tops aren't quite ripe yet and won't be as sweet.
Carrots: Look for carrots that are smooth and don't have rootlets or cracks. Carrots should be plump and firm. Carrots loose moisture from their tops, so cut off the greens if you plan on storing the carrots but they are best enjoyed as fresh as possible!
Corn: Don't shuck the corn or you'll annoy the farmer! Instead look for corn with tassels that are brown and sticky. If it's black then it's old. Feel the stalks through the husk for plump, even kernels.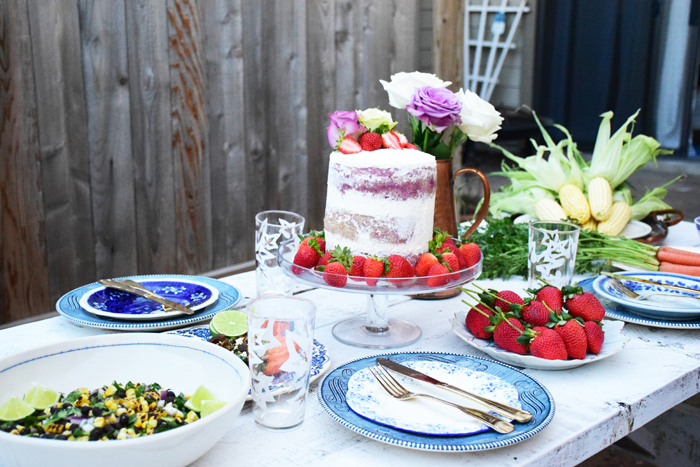 These recipes first appeared in the April 2016 Issue of Austin Woman Magazine
From Scratch Strawberry Cake
Ingredients:
Cake:
3 cups of all-purpose flour
2 cups of sugar
1 ½ cups fresh strawberry puree
¾ cups vegetable oil
4 eggs
1 teaspoon lemon juice
Pinch of salt
Frosting:
2 cups heavy whipping cream
¼ cup sugar
Directions:
Preheat oven to 375 degrees and whisk dry ingredients together.
Combine wet ingredients with dry until smooth, be careful not to overmix or cake can be become dense.
Pour batter into three 6 inch baking rounds and bake for 35 minutes or until they pass the knife test.
Let cakes cool. Whip heavy cream with sugar until stiff peaks form.
Remove cakes from pan and layer cake with frosting. Decorate with additional strawberries.
Serve that day. Cake will need to be stored in fridge if kept overnight.
Roasted Corn and Black Bean Salsa (this is based off an old favorite- here is an even quicker version!)
Ingredients:
3 ears of corn
1 can (or approx. 13 ounces) of black beans
½ cup diced red onion
½ cup chopped cilantro
1 teaspoon of cumin
½ teaspoon of salt
Juice of one lime
Directions:
Roast corn on grill or over open flame until slightly blackened. Once cool enough to touch, cut corn from ear and place into a mixing bowl.
Rinse and drain black beans. Pat dry and remove any excess water. Combine with corn in bowl.
Add diced red onion, cilantro, cumin, salt, lime and stir until well combined.
Serve with chips, on salads, with tacos or as a side. Will keep in the fridge for 3-5 days.
Moroccan Carrot Salad
Ingredients:
7-8 whole large carrots
4 dates (pitted)
¼ cup crumbled feta
¼ cup olive oil
1/8 cup chopped cilantro
Juice of half a lime
½ teaspoon turmeric
½ teaspoon salt
½ teaspoon pepper
½ teaspoon cumin
Pinch of red pepper flakes
Directions:
Wash and peel carrots. Roast them in a pan over medium heat for 15 minutes turning a few times until they become slightly tender.
 In a bowl, combine olive oil, spices and lime juice together with chopped dates.
Place carrots on a serving dish and top with dates and mixed spices. Add feta and serve with additional cilantro if desired.