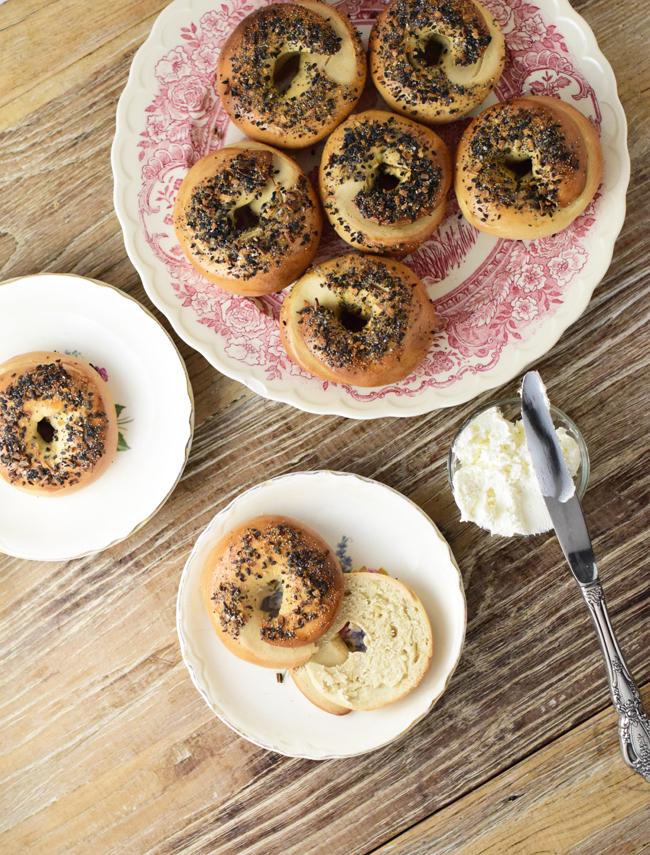 Hmm what to do with rainy weekend? Why make some homemade bagels of course! I truly love bagels, almost as much a breakfast tacos. But somehow they seem a little bit more indulgent and little more special. Is it because I can't get them on every street corner in Austin at anytime of day? Is it because if I were to make them myself then they take a little more invest of my sweet weekend time? Maybe. Bagels were something I ate a lot more of as kid than I do these days. Maybe simply because growing up breakfast tacos weren't much of thing were I lived. I still like to grab a bagel and cream cheese anytime I am in an airport. Not really sure why because of most of the time they are a bit of a disappointment. I think it's just some sorta nostalgia I have for the gluttonous breakfast pastry! When I came across this recipe that says you can make these in less than two hours, well I knew what my weekend plans were!
With another rainy weekend in store for Austin, I figured you all could pin this one and try it out this weekend! Or maybe if you're one of lucky ones in New York or Boston or Michigan then you can whip these up while looking out the window at some gorgeous fall leaves when it's chilly enough that a warm oven is a welcome addition to the kitchen! Ahhh one day people, one day, I will live somewhere where there is fall! If I put this out into the universe then it will happen right? In the meantime, I take rainy mornings and clouds as the perfect excuse for snuggling up with a recipe like this!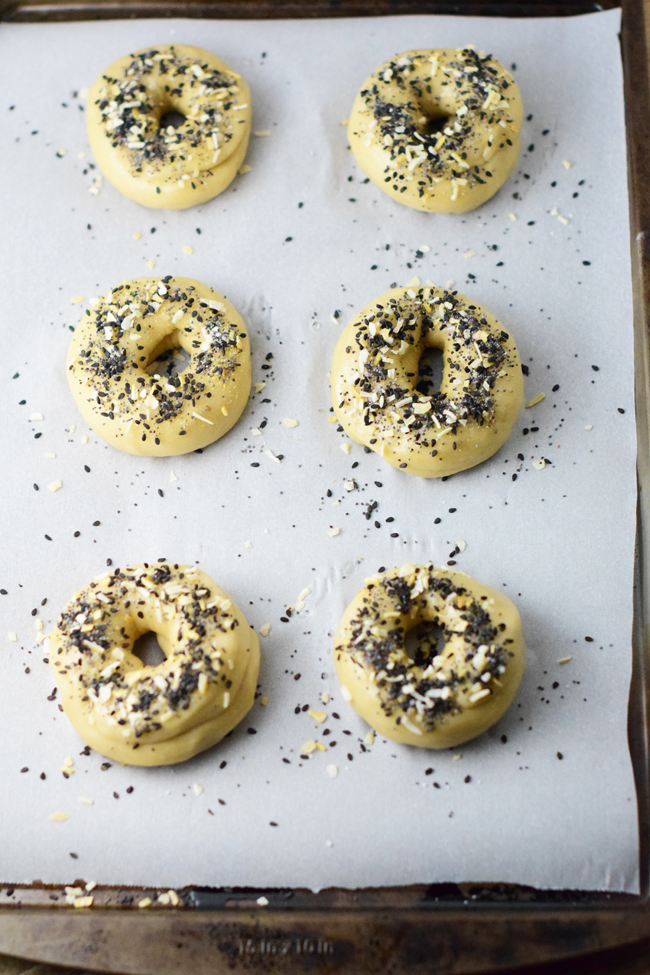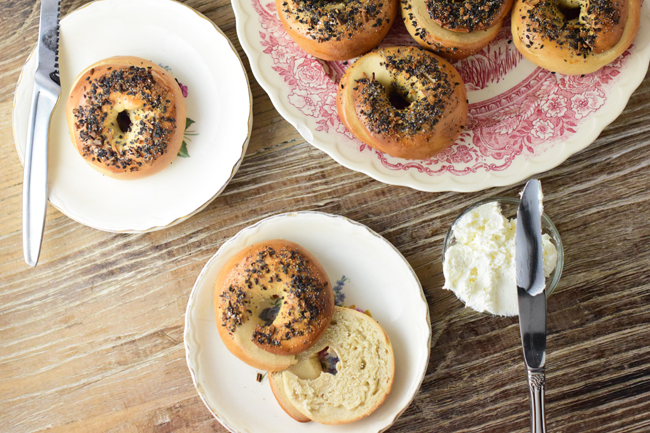 Everything Bagels Recipe (adapted from Amatuer Gourmet)
Makes 12 small bagels
You'll need:
1 1/2 cups tepid water (hot from faucet) plus 1 tablespoon for the egg wash
1 (1/4-ounce) packet active dry yeast
4 cups bread flour
2 teaspoons pure maple syrup
1 tablespoons kosher salt
4 teaspoons sugar
1 large egg white
2 teaspoons black sesame seeds
2 teaspoons poppy seeds
1 tablespoon dried onions
1/2 teaspoon onion powder
1/4 teaspoon garlic powder
Directions:
Mix together hot water and yeast and allow it to bubble up a bit.
Mix flour, salt, sugar, maple syrup with yeast mixture together in a the bowl for a Kitchen-Aid stand mixer using the dough hook attachment. Start on medium low speed and gradually increase to medium high for about 9 minutes. Stop to scrape the dough off the hook if it gets stuck. Dough should be firm when finished.
Place dough ball into an oiled bowl, cover and let rise for 20 minutes.
Meanwhile, heat oven to 450 degrees. Bring a large pot of water to a boil. Mix together bagel toppings and set aside. Mix egg white with water for the wash.
After 20 minutes, divide dough into 12 equal parts. Take about three at a time roll out into 9 inch long rope. Secure ends together with a touch of water. Keep the dough you're not working with covered with a damp towel to keep it from drying out.
After you've made all the bagels, it's time to boil! Take about 3-4 bagels at a time depending on the size of your pot and boil them for 30 seconds each. They should shrivel up just a bit.
Place them on a rack to dry.
Place boiled bagels onto baking sheet lined with parchment paper. Brush with eggwash then sprinkle toppings on.
Bake for about 25 minutes or until they are nice shiny, golden brown. Let cool for about 20 minutes before eating. They will be super hot inside!