Fall is here and it feels uber luxurious! I spent the whole weekend avoiding the ACL crowds and snuggled up at home trying out some new recipes and binging on Netflix. Don't tell me what happens on Breaking Bad! I just started season four and things are getting gooood. Or bad. Well good television watching but you know bad if it was real life stuff. Anyways, I can't stop. Whilst binge watching, I also tried making stove top popcorn for the first time! Um, hello, why did no one tell me it was so EASY. Like so easy. I've been without a microwave in my new place since last winter and things have been just fine. The only time I sorta miss it is when I want to heat up leftovers, but let me tell ya, they taste way better when heated up on the stove or in the oven. It's just that they take quite a bit longer, but oh well. Back to my point, I totally discovered stove top popcorn and am in love! Everyone should be doing this! It's so much healthier and you can make any flavor you want. The best! I also tried my hand at some birthday cake funfetti cookie bars. Yes, all those words really do go into one recipe! Sometimes it's nice just to cook for myself and see what happens 🙂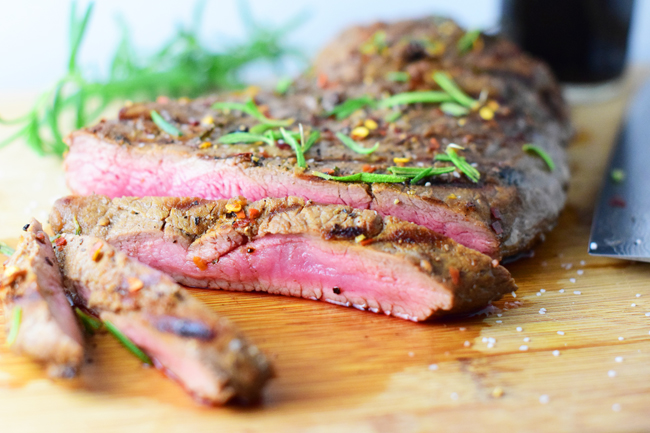 A few weeks ago I was charged with making a recipe for High Brew Coffee using one of their coffees for a savory recipe. You can find my recipe featured here on this fancy pants website 🙂 I went with a marinade because coffee is just so perfect for making food tender! And I was pumped to use some fresh rosemary that I've been growing in my backyard! Yes, people! I have finally been able to grow some plants and keep them alive for a few months! I can now give up my total black thumb status, hooray! Even if you don't have fresh herbs growing in your backyard, chances are if you live in Texas you are pretty close to some rosemary somewhere in your life. The stuff grows wild here and you can find it in lots of parks or gardens.
This recipe is easy peasey. Just take all the ingredients, shake them up and let them sit in the fridge. Literally anyone can do it. So I encourage you all to get out there and make a little marinade this week! I used beef for this recipe but you can totally use it on chicken or even some heartier veggies. I wouldn't try it with fish though. Try this recipe if you're going fish. Onto the recipe!

Cold Brew Coffee Steak Marinade
Ingredients:
1 1/2 lbs skirt steak
1 cup cold brew- High Brew Black and Bold
4 tablespoons Maple Syrup
3 cloves of garlic roughly chopped
2 sprigs of fresh rosemary, torn
1 teaspoon red pepper flakes
1 teaspoon of black pepper
1 teaspoon of kosher salt
Directions:
1. Whisk cold brew, syrup, garlic, rosemary, red pepper, black pepper and salt together. Marinate steak for two hours in the fridge, turning the meat over about half way through.
2. Sear steak on grill or cast iron pan on high heat for three minutes on each side for rare, five minutes on each side for medium.
3. Let skirt steak sit for five minutes after cooking, then slice and serve.
Serves 2-4
Marinade can be made a day in advance.