Giving you all the tips you need to know for this simple and delicious cocktail recipe! Making a Classic Spanish Gin & Tonic is easier than you think!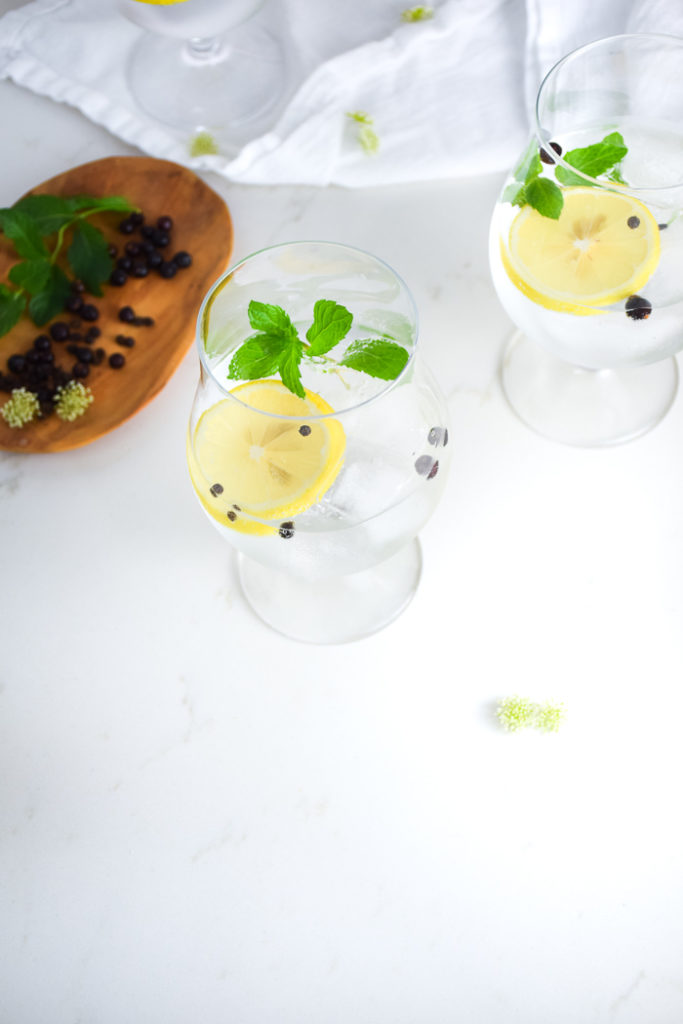 I must admit, I've been on quite the G&T kick lately. At least that's what they call it in the UK! When we were wedding planning, the G&T bar was brought up to us frequently, apparently it's all the rage across the pond right now. I mean, I get it, they are cool refreshing and the floral and herby notes make this simple cocktail interesting and not boring at all. If you use quality ingredients, not the crappy cheap stuff from college, this drink has a sophistication about it, a little bit of bite, some effervescence on the nose and clean palate. It's the perfect 5 o'clock cocktail for these steamy Texas evenings.
This post contain affiliate links. If you purchase a product through these links I may earn a few pennies. Thanks for keeping this free blog going!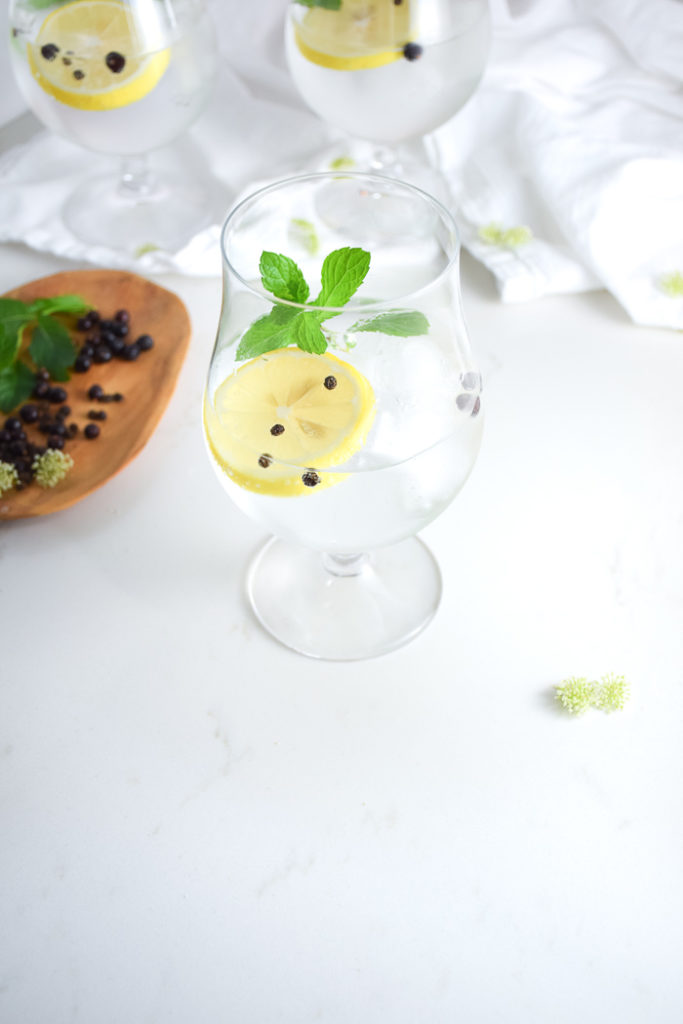 Classic Spanish Gin & Tonic
So what makes a Spanish Gin & Tonic different from a regular Gin & Tonic? The Spanish Gin & Tonic first originated in the Basque area of Spain, right around Barcelona where I studied abroad in college! The summers in Spain are terribly hot, so a refreshing drink is a must. A regular gin & tonic is simply a combination of those two ingredients. The gin & tonics I remember were awfully sweet and definitely not refreshing.
The Spanish take on this classic combination requires a few extra things: ice, citrus and herbs. The fun part is that you can change up the herbs and citrus to create your own perfect Spanish Gin & Tonic! I love lemon, so I used a lemon slice in my variation. However, orange is also commonly used, I would definitely suggest using citrus for the balance it provides to the sweetness of the tonic water and how it will bring out the floral notes of the gin. Both citrus peels and slices are commonly used. I am sure you could try lime, although I do not see that used often.
For the herbs, I used mint because it is going crazy in my herb garden right now! Sprigs of thyme, rosemary, and even sage would work particularly well in a Spanish Gin & Tonic. Peppercorns and Juniper Berries are also key to this drink. Peppercorns impart a bit of spice while Juniper Berries provide an earthy, licorice aroma. Whole black peppercorns are preferred. I would not suggest using ground peppercorns because they would get a little itchy on the throat. I thought Juniper Berries
would be hard to find but I realized many grocery stores carry them and you can get them for pretty cheap on Amazon.
One thing that is also tantamount to achieving the perfect balance is a using a high quality tonic water and not just any ol' tonic water. Since this cocktail is so simple, there is nothing there to cover up a bad ingredient. I like to use Fever Tree Tonic Water
.  It's crisp with just a touch of sweetness. I am big fan of their ginger beer too for it's exceptional bite.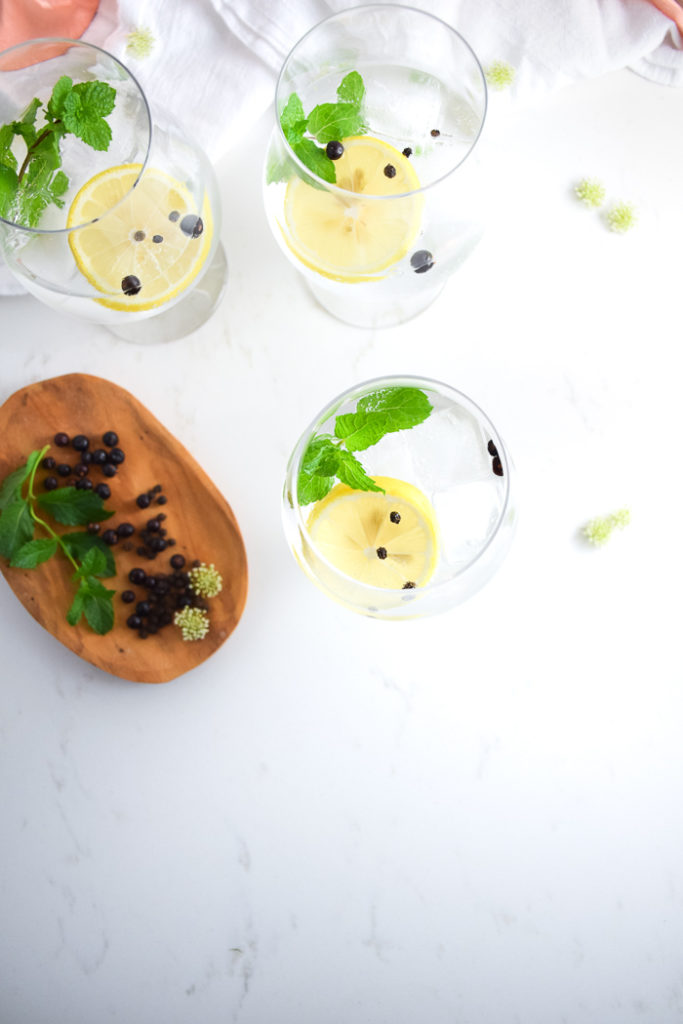 Everything You Need To Make A Classic Spanish Gin & Tonic
While the Classic Spanish Gin & Tonic is made up of a few simple ingredients and garnishes, there are a few things that will make your cocktailing experience a little nicer.
Now you have all the information you need to make THE best Classic Spanish Gin & Tonic! Try out the recipe below and let me know what you think!

Classic Spanish Gin & Tonic Cocktail Recipe
Makes 1 cocktail
Ingredients: 
2 ounces gin
4 ounces tonic
1 lemon slice, approx 1/4 thick
2 Juniper Berries
4 black peppercorns
1 sprig mint, I used 4 inch long spearmint
4 cubes of filtered ice
Directions:
Place ice cubes into glass, pour gin, then tonic on top.
Add lemon, juniper berries and peppercorns. Finish with mint sprig and serve immediately.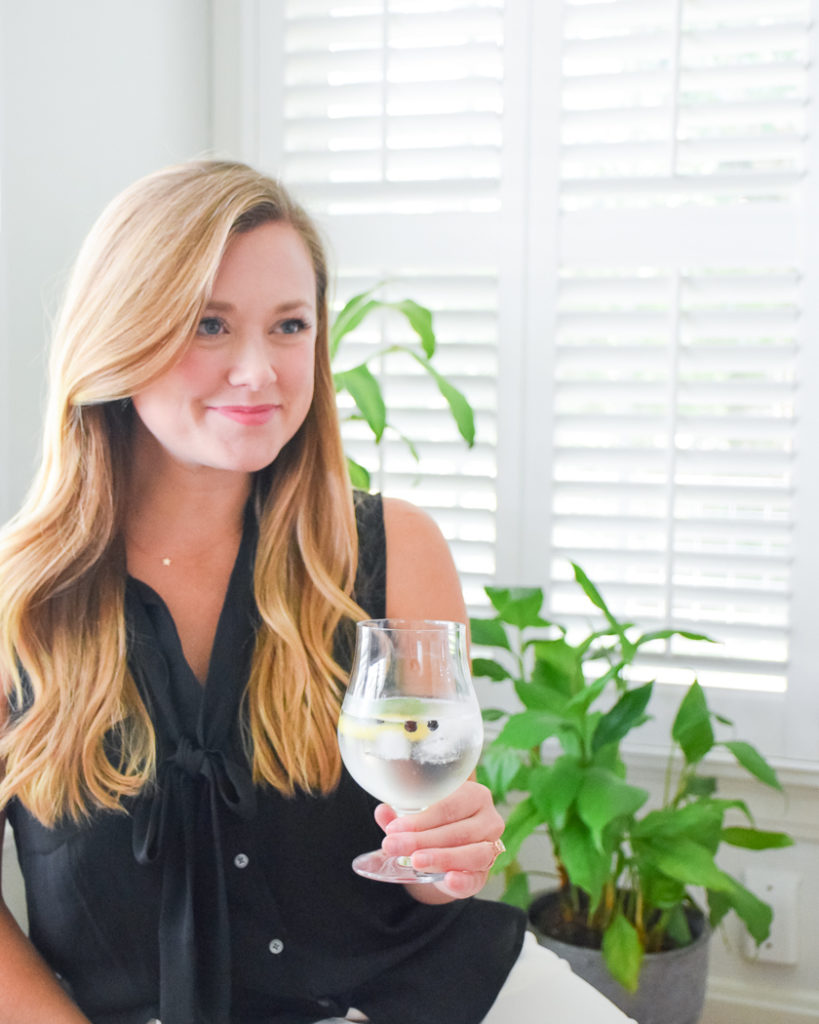 Here's me enjoying my Spanish Gin & Tonic inside because let's be honest it's been over 100 degrees in Austin for 20+ days this month and ain't no way I was going outside! Enjoy!