This Classic Oreo Cookies 'n Cream Ice Cream is thick, creamy and has a very appropriate cookie to ice cream ratio!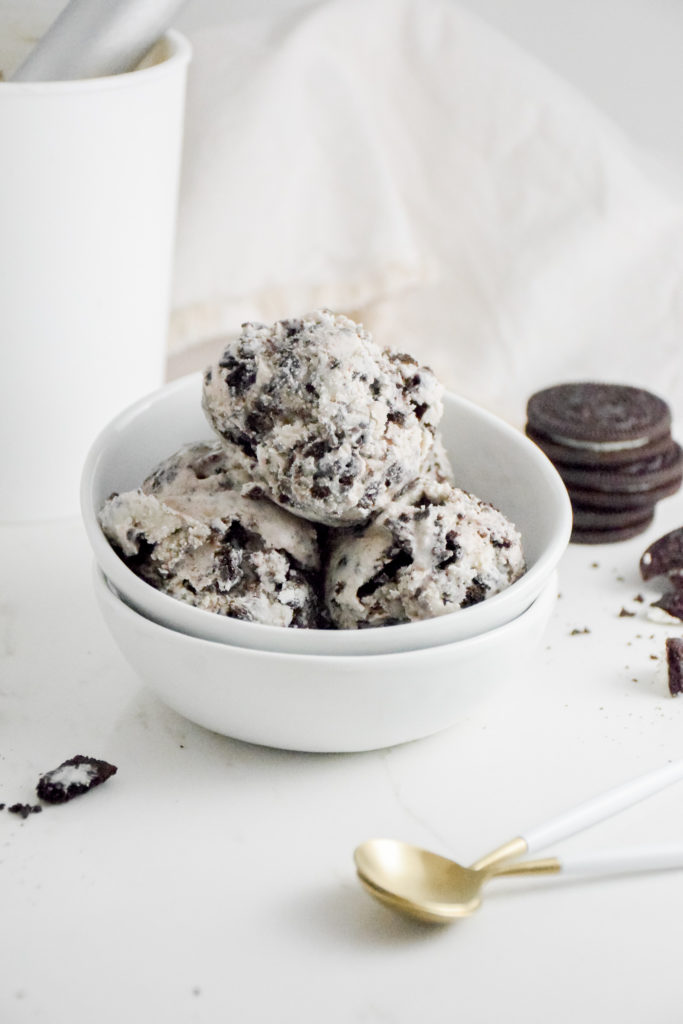 Summer is here and all I want to do is eat and drink all the cold creamy things! Who is with me? Cookies 'n Cream Ice Cream has always been my favorite ice cream since I was a little kid. I still love it of so much! Last summer my MIL gave me an ice cream machine
and I have been loving it! For some reason I always hesitated on buying but now I am wondering why I didn't get one sooner! This ice cream is soooo much better than the store bought stuff and I know you will love it as much as we do!
This post contains affiliate links. If you purchase a product through these links I may earn a few pennies. Thanks for keeping this free blog going!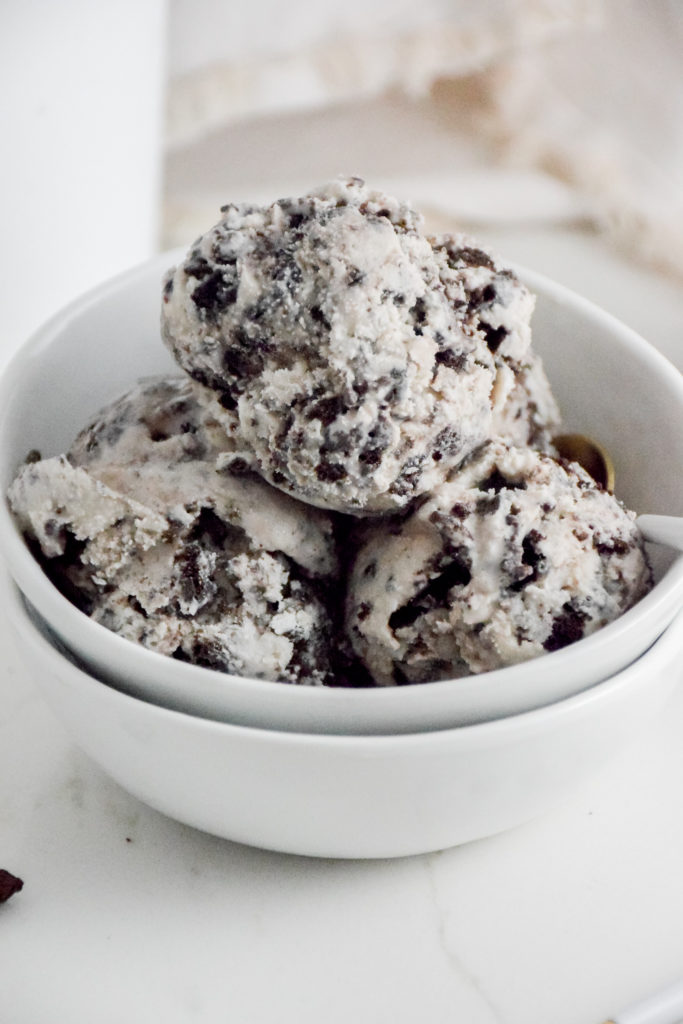 Classic Oreo Cookies 'n Cream Ice Cream
This Cookies 'n Cream recipe uses lots of Oreos so that you get a good ice cream to cookie ratio! I also incorporate two types of vanilla in the recipe for a rich base. One thing I love about making your own ice cream is that you can make it using simple quality ingredients without any fillers or stabilizers. I never knew how simple making your own ice cream at home is! Well, having an ice cream machine
helps haha. I really like that I can control the ingredients and it's ice cream I can feel good about serving!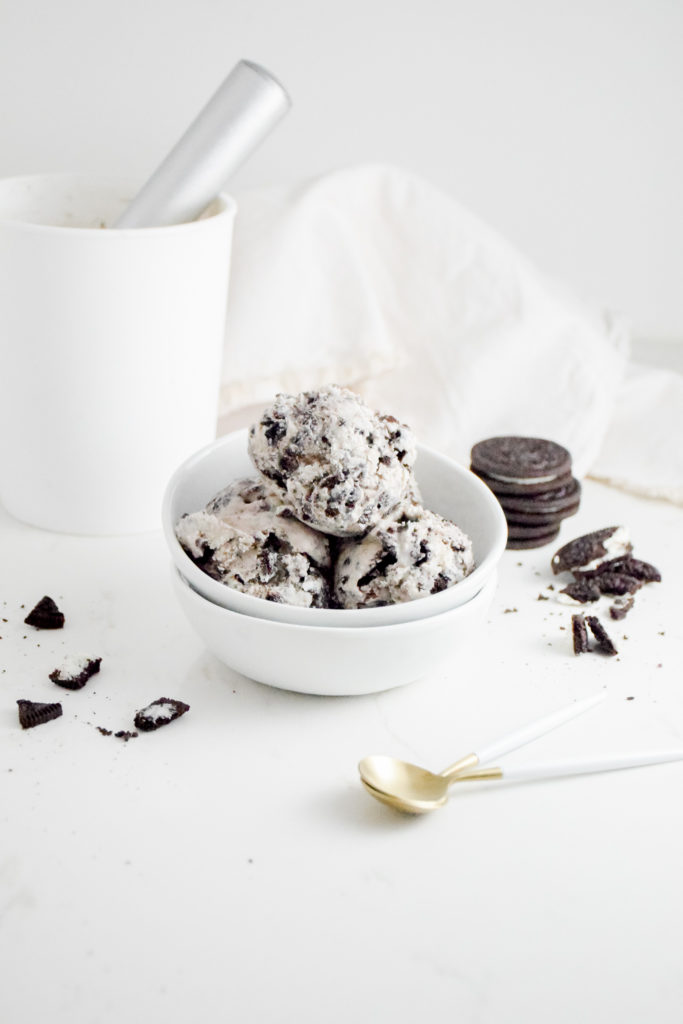 Tips For Making Your Own Ice Cream
These are some tips I've picked up over the past year of trying different recipes at home. I think you'll find these really helpful! I wish someone had given me these tips when I was starting out!
When making your base, be sure to whisk vigorously. I've never used a hand mixer but I have seen some recipes that call for it. I just simply whisk for 2-3 minutes until the sugar is dissolved.
Make sure to chill your base and freeze your container. The base should chill for 2 hours in the fridge, although one time in a pinch I chilled it for 45 minutes in the freezer! I've found it works better if you chill your ice cream container, the part that goes into the machine, over night in the freezer. When I only chilled it for two hours, it didn't work as well.
Always freeze any mix-ins. In this case the Oreo pieces. Freezing the mix-ins will help them to retain their texture and not break apart or dissolve into the ice cream too much.
If you have any tips for making ice cream at home, please leave them in the comments!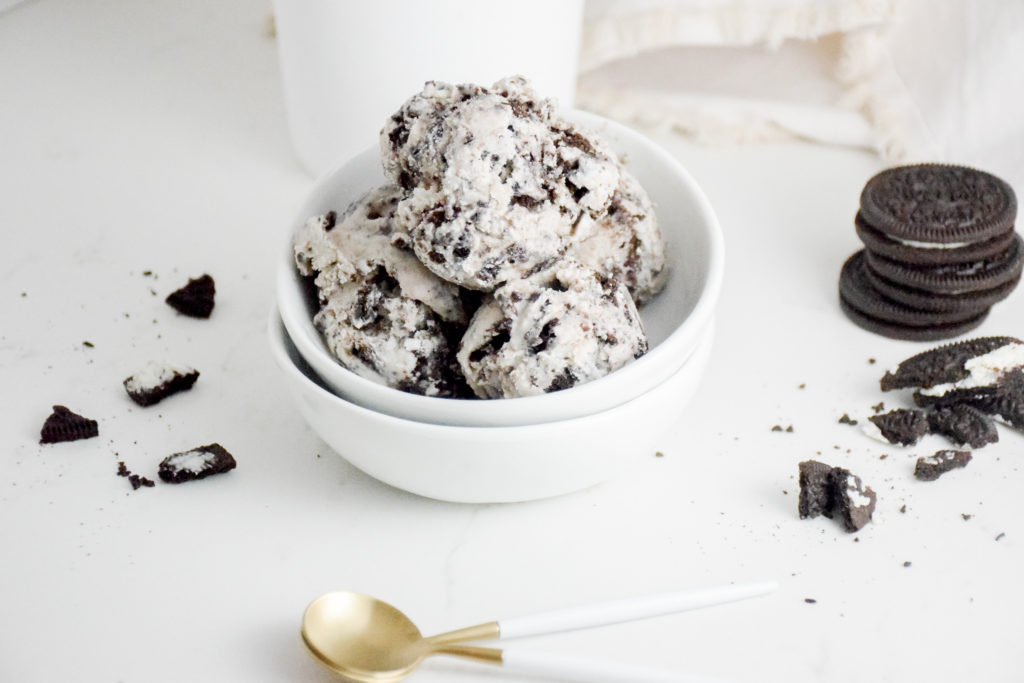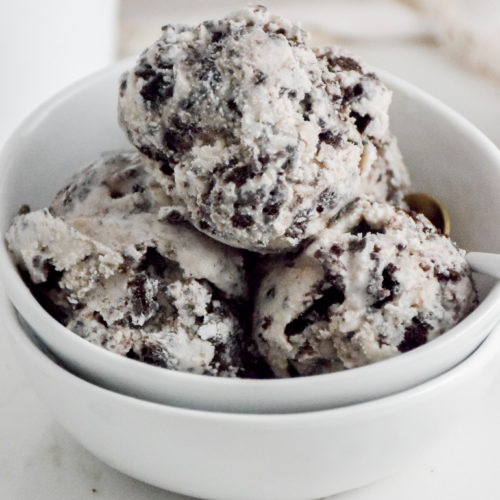 Classic Oreo Cookies 'n Cream Ice Cream
This Classic Oreo Cookies 'n Cream Ice Cream is thick, creamy and has a very appropriate cookie to ice cream ratio!
Ingredients
3

cups

heavy cream

1 1/2

cups

whole milk

1 1/4

cups

granulated sugar

1

tbsp

pure vanilla extract

1

vanilla bean pod

seeds scraped out

24

Oreos

crushed and frozen
Instructions
In a large bowl, vigorously whisk together cream, milk, sugar, vanilla extract and vanilla bean pod seeds until sugar is dissolved. Cover and chill in the fridge for two hours.

Places Oreos into a large ziploc bag and pound with a rolling pin until crushed into pieces. Place bag in freezer until ready to use.

Pour the ice cream mixture into the ice cream machine and churn for 20 minutes or use the instructions on your machine. After 20 minutes, slowly add the crushed Oreos a few tablespoons at a time. Let churn for 5 minutes more.

The ice cream will have a soft serve texture once finished. If you prefer a more dense traditional ice cream texture, transfer mixture to freezer safe container and freeze for 2 additional hours or over night. Enjoy!
Notes
Nutritional values are only an estimate and may vary. 
Nutrition
Calories:
632
kcal
Carbohydrates:
62
g
Protein:
5
g
Fat:
42
g
Saturated Fat:
24
g
Trans Fat:
1
g
Cholesterol:
127
mg
Sodium:
220
mg
Potassium:
208
mg
Fiber:
1
g
Sugar:
49
g
Vitamin A:
1387
IU
Vitamin C:
1
mg
Calcium:
118
mg
Iron:
3
mg