Doesn't this hummus just jump out and make you wanna dive in?! Ok good, glad I'm not the only one. Bright, colorful and upBEET, this bowl is just begging to be added to your spring soiree table. I love a good pop of color on any table but this is one is especially fun. It's so easy, just roast some beets and add them into your hummus. I topped it with some one my favorite extras, hello feta, and you can mix and match with your favorites too.This recipe first appeared in the Austin Woman April 2017 Issue! I write for them every other month about using fresh, seasonal ingredients to make easy, gorgeous recipes at home!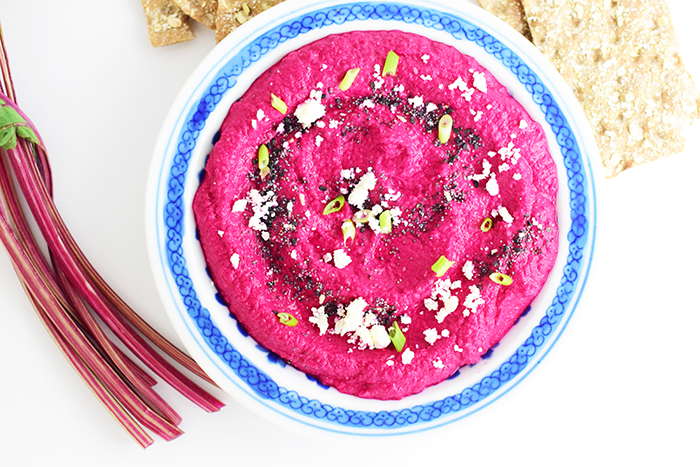 Beet Hummus
Makes 4 cups
Ingredients:
1 can chickpeas; drained
1 cup tahini
3 small beets
¼ cup fresh squeezed lemon juice
½ cup filtered water
1 tablespoon olive oil
1 teaspoon ground cumin
1 teaspoon hot paprika (optional)
Toppings:
Crumbled feta cheese
Scallions
Poppy seeds
Sesame seeds
Directions:
Wash and peel beets. Wrap in foil and roast for one hour at 425 degrees.
Once beets are cool enough to touch, dice into quarters.
In a food processor combine chickpeas, tahini, beets, water, lemon juice, cumin, and paprika (optional) for a little heat. Pulse on high for 3 minutes. While pulsing stream olive oil into food processor.
Top hummus with thinly sliced scallions, feta, poppy seeds, and sesame seeds and serve with crackers and veggies. Hummus can be stored for up to a week in an air tight container in the fridge without toppings.