This is an update on our bathroom renovation one year later! Sharing all about our experience with painted shower tile one year later!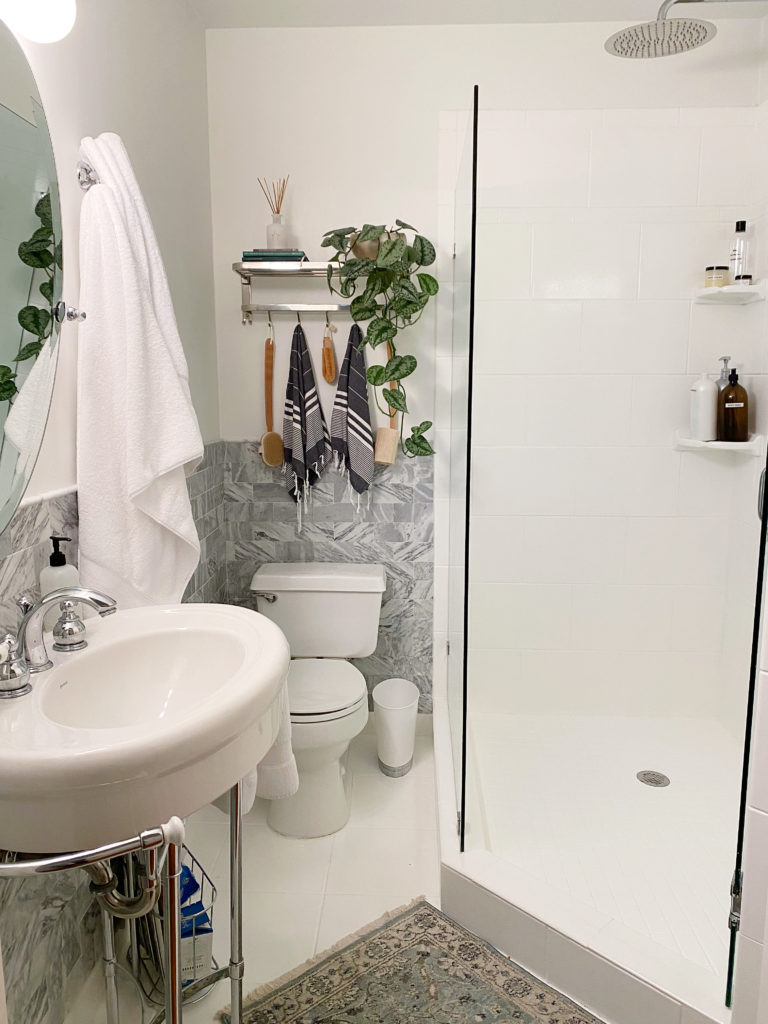 Last year we gave our bathroom a total makeover on major budget. One of the ways we saved money was by painting the shower tile instead of replacing it. Here I am recapping how it is holding up one year later!
This post contains affiliate links. If you purchase a product through these links I may earn a few pennies. Thanks for keeping this free blog going!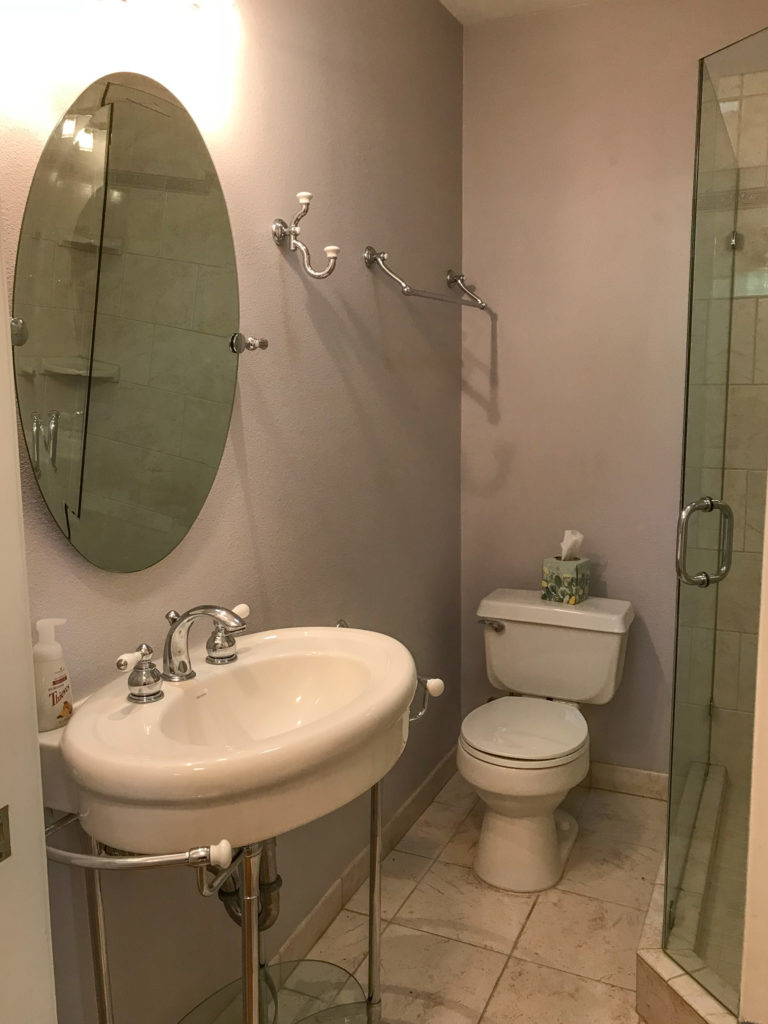 Original bathroom when we bought the house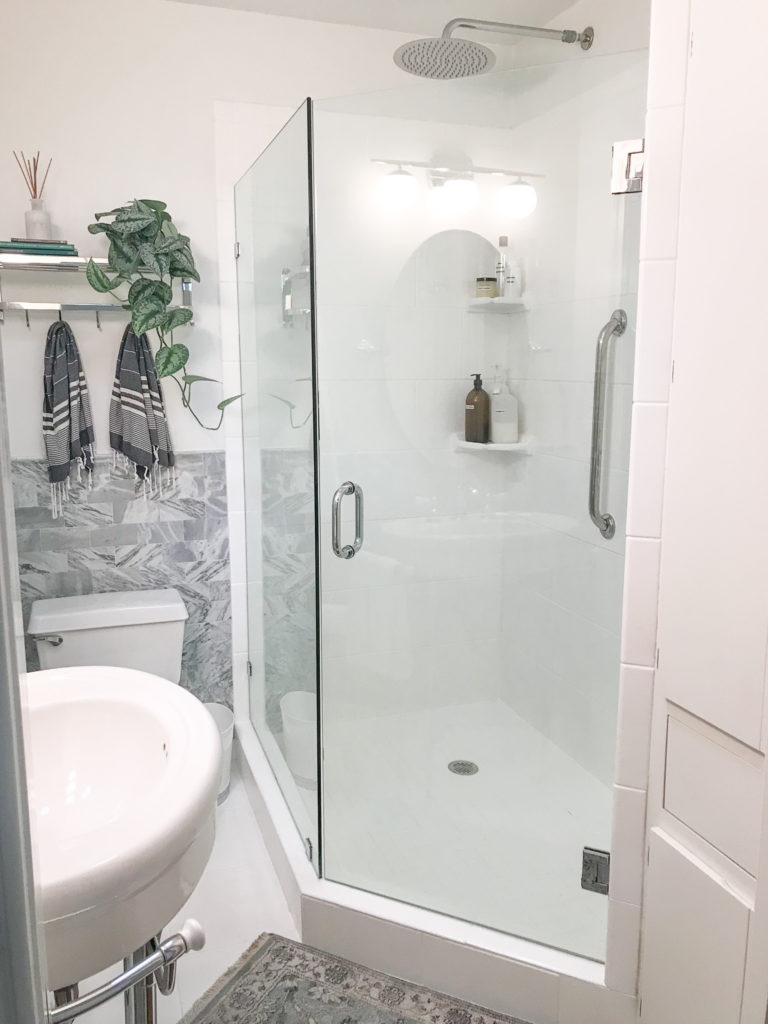 After the original renovation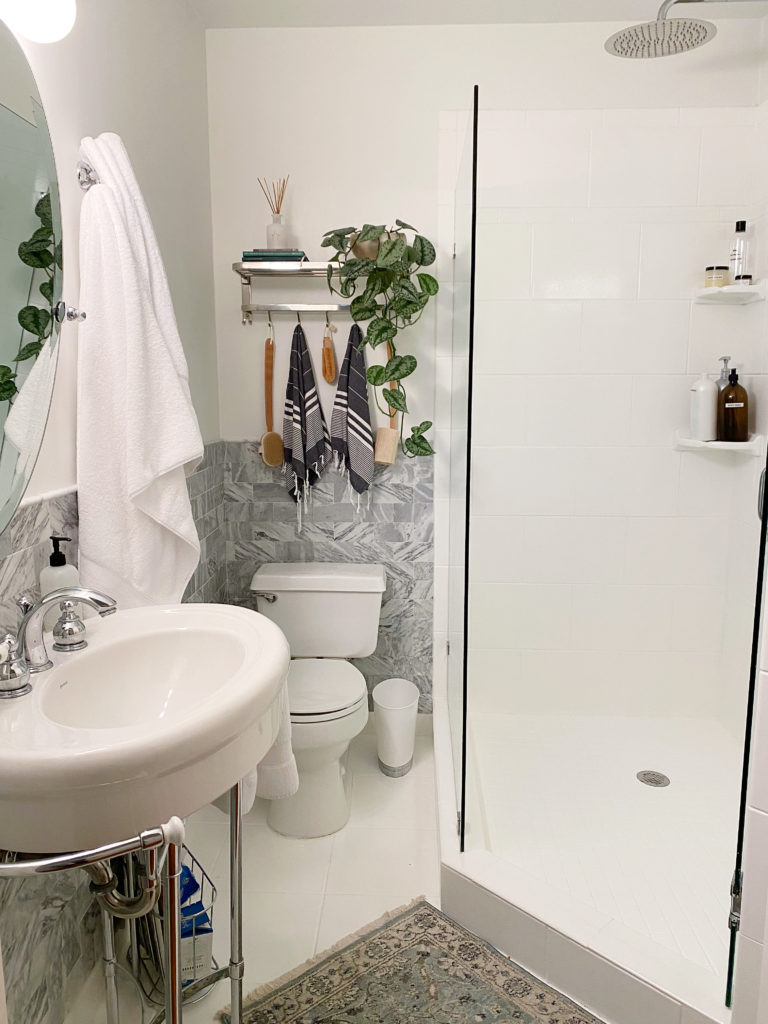 One year later
Our Bathroom Renovation One Year Later
We gave our primary bathroom a total overhaul last year. We hope to one day totally redo everything and add a fancy tub and double vanity but for the time being I just wanted something that would look better without a spending a lot of money. I go into details about how we painted the tile and where we sourced everything from in this post! I absolutely loved how everything turned out and it was totally worth all the time and effort!
Painted Shower Tile One Year Later
One of the main reasons we were able to get a major change without a huge budget was by painting the shower tile
. One year later… how is it holding up?
We did have to wind up painting the shower floor again. Knowing what I know now would I still choose to paint the shower tile? Unequivocally yes. It was 100% worth it. The paint isn't very expensive so repainting was a small price to pay to  have a gorgeous looking bathroom on a budget.
I did learn a few things about painting shower tile though. Here are tips to knowing whether painting shower tile is a good idea for you!
The smoother the surface the better – If you are painting a smooth bathtub or smooth tile, I think you will have much better success. Our tile chipped because the surface wasn't especially smooth.
This is a great option for a second bathroom – If you are thinking about painting the tile in a shower or tub that isn't used very often, then I think it will last a lot longer. This is our main shower that gets multiple uses a day. So factor that into your equation!
Check the grade of the area– Our shower floor isn't graded properly so the water takes a while to run off. If your shower or tub has the correct grade this will prevent standing water and thus improving the chances of your tile paint holding up longer. We use a squeegee to help the water get to the drain faster to alleviate this problem.
Would I do it all over again? Yes! We knew going into this project that our shower had some challenges but repainting the floor one year later took only one afternoon and one can of paint. So it was totally worth the effort to have our shower looking good again!
What questions do you have about painting shower tile?