On Mondays I am always looking for easy, sorta healthy recipes that I can whip together in no time! I like to think that I would always get eat something super healthy to start off the week but lets be honest I really just want something good. Enter this easy, meatless Monday recipe. Since it's summer there are plenty of gorgeous ripe tomatoes and they pair perfectly with some fresh greens and thick slices of mozzarella of course. Because salad on pizza should totally be a thing, don't ya think?
This recipe is one my mine that first appeared in the To Market section in the June 2017 issue of Austin Woman! I love creating fresh recipes that use seasonal produce and are easy enough for a the busy woman to put together after work. Because if it's not easy, then chances are it might not get done! You can definitely use pre-made pizza crusts but if you're wanting a little more challenge, make your own pizza crusts using this recipe. You can portion it out, wrap and freeze. Then just pull out the dough in the morning to defrost and roll it out it once you get home. The crust will bake quickly in the oven and voila! Dinner is done.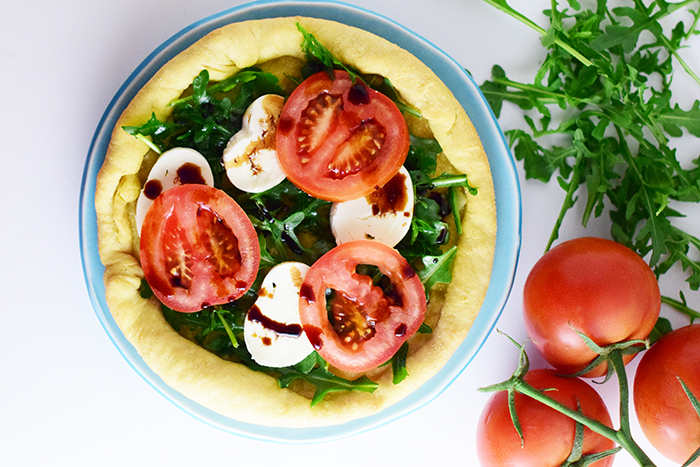 Caprese Pizza
Put the salad on the pizza and call it complete meal!
Serves 2
Ingredients:
2 ten-inch pizza crusts
3 ounces fresh mozzarella
2 small-medium fresh tomatoes
2 cups arugula
2 tablespoons balsamic vinegar, reduced
3 tablespoons olive oil, divided
1 tablespoon shaved parmesan
1 teaspoon garlic salt, divided
1 teaspoon lemon juice
Directions:
Brush pizza crusts with one tablespoon olive oil and ½ teaspoon garlic salt each. Toast in the oven according to package directions.
Meanwhile, toss arugula with lemon juice and remaining olive oil.
Reduce balsamic vinegar for 5 minutes over medium low heat in small sauce pan until thick and sticky. Let cool.
Top pizza crusts with parmesan, then add arugula and ½ inch thick slices of tomatoes and mozzarella.
Drizzle with balsamic and enjoy immediately!