I still can't get over these pictures! How gorgeous is the scenery in Antigua? I mean just look! This summer I was lucky enough to get the chance to visit Antigua courtesy of Visit Antigua and Barbuda.  Beyond the beaches, mountains and jungle, the people of Antigua were so kind and friendly, I felt right at home within minutes of deboarding the plane. I was visiting for the Mango and Pineapple Culinary Festival that takes place in Antigua every summer. Mangoes are one of the major fruits grown and sold in Antigua. Unlike the mangoes we get here in the States, Antigua is home to many different varieties! Like purple mangoes, I didn't even know those existed! Plus the mangoes in Antigua are so much sweeter and bigger! Think mangoes the size of my head, seriously, see below for photographic evidence!
I've written a lot about mangoes in the past for the National Mango Board, so I was very excited to see where the mangoes are grown and how locals use them in their daily cooking! On the trip we got to meet with lots of local chefs and mixologists, visit several restaurants and even attend a cooking class in the home of a chef! It made for such a wonderful trip! I even talked about it so much on Instagram that one of my engaged friends even booked their honeymoon there this fall! Get ready for lots of photos and my guide of what to do, where to stay and most importantly what to eat on the island!
I fell hard in love with pink vibes, delicious food and laid back lounge vibe at Ana's On The Beach! I could not recommend a day trip to this most more!
The pools, beaches and food at Coco Bay Resort were gorgeous and I would definitely go back to stay here!
We took a day trip to the local farmers market, which of course I loved! There I found mangoes and avocados bigger then my head! I had never seen anything like that before! I couldn't get over it and totally looked like a crazy tourist when I kept telling people can you believe how big these are!?! Omg I wanted to eat them all! If only I had just a few more days 🙂 I did see the locals making coconut water, coconut oil (which I totally took a bottle home!) and lots of peppers! There were all different kinds of peppers my favorite of which were the super spicy scotch bonnets. These peppers make lots of appearances in Antiguan dishes. I also tried a sugar apple for the first time! It was quite sweet but unlike anything I had ever had before. The texture was almost gritty with a big black seed in every leaf but it looked almost like a cactus flower on the outside, so interesting! I wish we could get these here!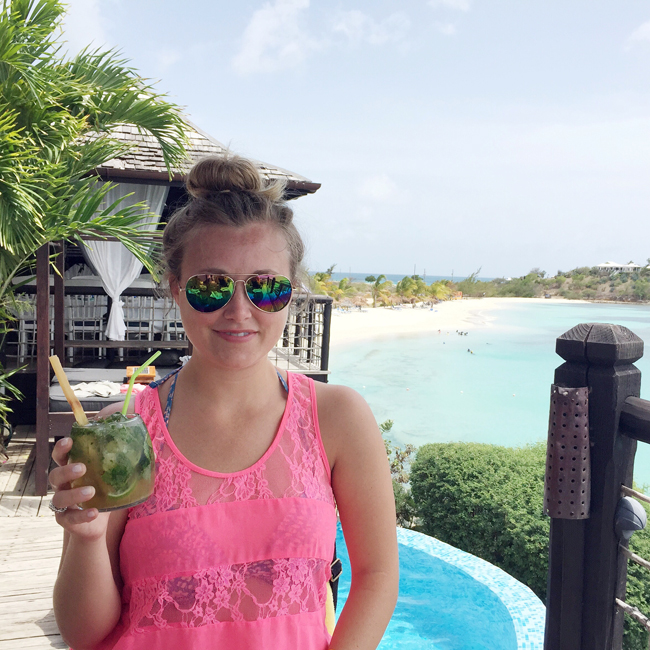 Where to stay: 
I stayed at the Sugar Ridge Resort and Hotel. Those are the pictures above! The resort is up a hill with sweeping views of Jolly Harbor. They serve breakfast, lunch and dinner as part of their all inclusive package.
I also recommend Coco Bay Resort. I didn't stay there but we visited and I can say that the hotel has a luxurious feel to it with nice pools and beach access.
Where to Eat: 
Sheer Rocks at Coco Bay Resort was excellent for cocktails and snacks during the day. I have no doubts their dinner menu is delicious as well!
Dennis's Cocktail Bar & Restaurant is located near Coco Bay on a beautiful white sand beach. They serve up traditional Antiguan meals which combine English, Indian and African influences. Think conch curry and mango bread pudding!
Ana's On The Beach make sure you plan your whole day for this one. It's the perfect beach spot to set up for the day. White sugar sand and crystal clear calm waters. The open air feel is perfect grabbing a cocktail, taking a swim, eating a little lunch, laying out then just repeat that all over again! I am still dreaming about Ana's!
Carmichael's is the perfect spot atop the Sugar Ridge Resort for a date night! Fine dining meets the beach here!
What to Do:
Taking a cooking class at Nicole's Table! She is a wonderful host and has the most gorgeous home that will have you wishing you just stay forever!
Visit the Pink Sand Beaches in Barbuda! Plan ahead because you'll need the whole day to do this, but the views will be so worth it!
Go to Shirley's Heights on a Sunday evening! The views are incredible but the party is really where its at! Think dance party meets backyard barbecue. There's a steel band that plays until the sun goes down then another local band goes on to dance the night away! Barbecue still hamburgers and hot dogs are for sale in addition to rum punch and beer.
The Sunday Chill at Carmichael's pool at Sugar Ridge Resort is truly a chance for a little R&R. Kick back with cocktails, music and light snacks to ease your way into Monday. But when you are at the beach, days don't really matter do they?
This post was sponsored by Visit Antigua and Barbuda.