9 Things You Need To Know To Grill The Perfect Burgers Every Time!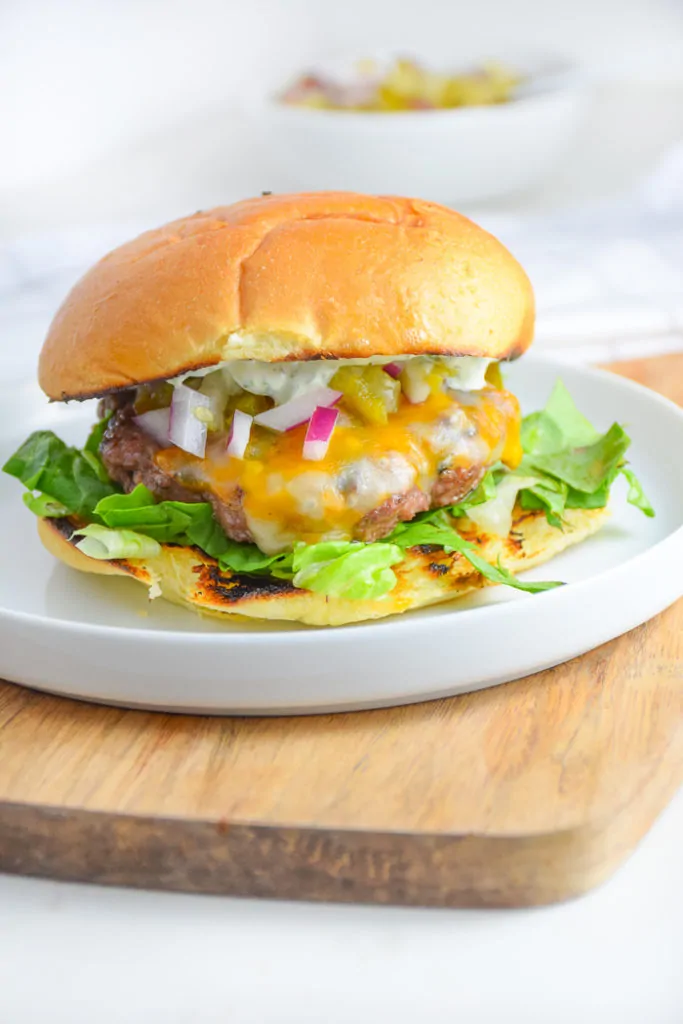 Grill baby, grill! With tailgating season on the horizon, BMW and I have honed in on our grill skills and are sharing all our secrets to get the perfect burger, every time. We've picked up a few tricks from equipment to toppings to buns, there are a few secrets every grill master should know.
This post contains affiliate links. If you purchase a product through these links I may earn a few pennies. Thanks for your support to keep this free blog going!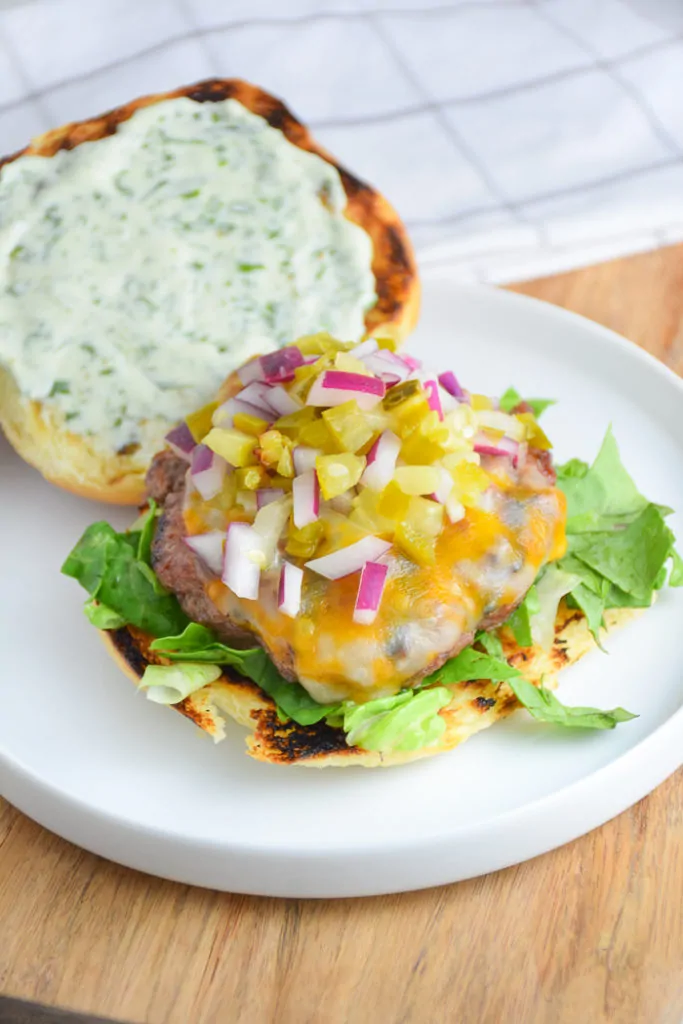 Burgers have been one of my favorites since I was kid. I appreciate all kinds of burgers from gourmet to drive-thru, I think there is something to love about all of them. Over the years, I've been working on making the perfect burger at home. And to my surprise, it wasn't nearly as straight forward as I would have thought.
Getting the perfect patty is more than just meat and seasoning, ratios really matter! Of course toppings and buns can make or break even the most perfect burger patty so don't just willy nilly those, ok? Beside prepping your actual grill, make sure to take a little extra time to prep your ingredients and you'll have perfect burgers in no time with these simple tips!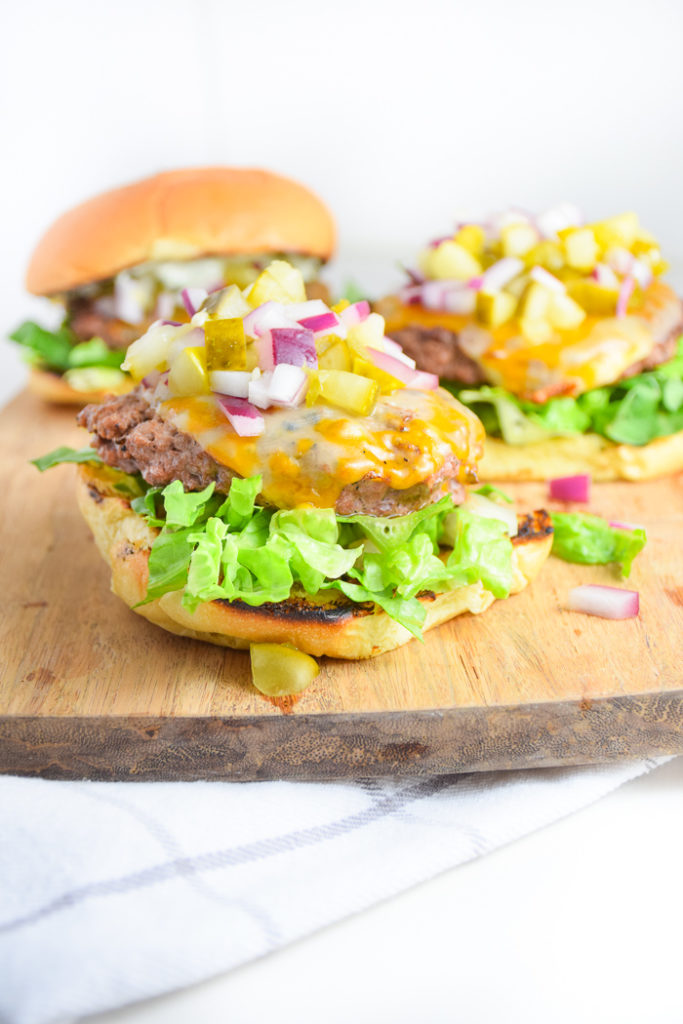 9 Things You Need To Know To Grill The Perfect Burgers Every Time
Getting the perfect burgers is more than just cooking the meat to the correct temperature (but yeah that totally matters too!) After grilling burgers for crowds for years, BMW and I have learned a few things that will make you the Grill Master of Perfect Burgers!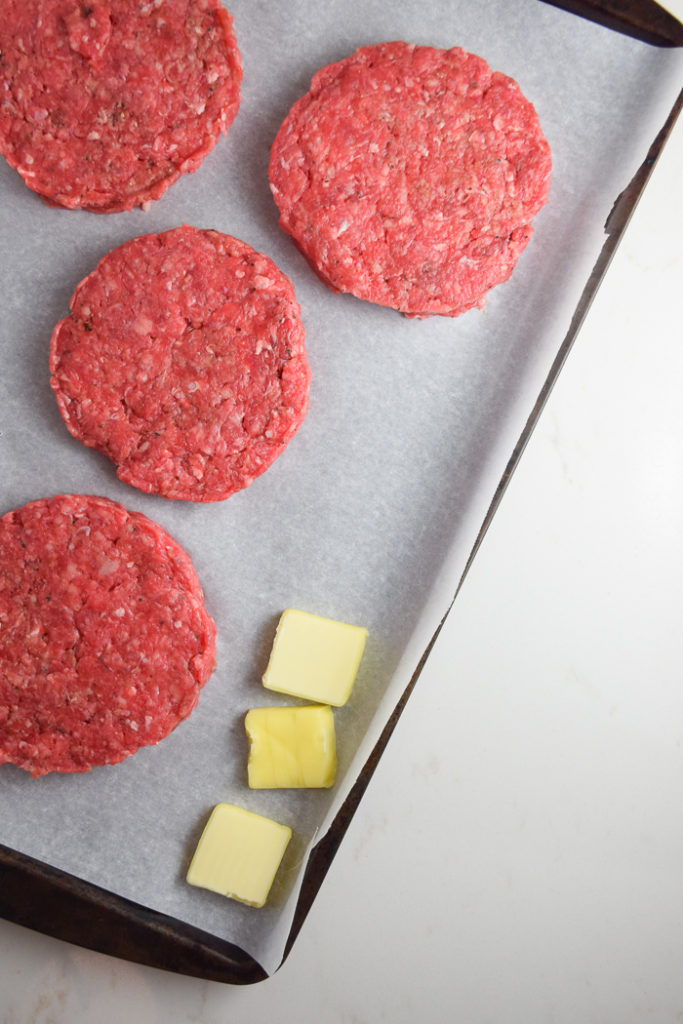 Meat to Fat Ratio: Ah yes, everyone's favorite topic. The standard burger is usually ground beef with an 80/20 ratio… and these turn out pretty darn well. However, I try to use better-for-you ingredients from small producers as often as possible. We have found that 85/15 grass-fed ground beef has an excellent earthy flavor without being too lean. And no one could taste the difference but my soul felt better about serving this meat to our guests. PS- we've tried leaner meats and turkey/chicken options and mixing them in with beef and it just isn't the same.
Kitchen Equipment: Stay with me here, there are a few things that really do make all the difference and don't cost that much. So if you are truly committed to your burger craft, I suggest investing in the following:

Meat Thermometer– Stop over cooking your meat or worse cutting into it and letting all the juices drain out while to check the color. Get a Thermopen and call it a day.
Kitchen Scale– You want all your burgers to come out at the same time? Measure. Yup. You can do this ahead of time too. Easy peasy.
Burger Press– We held off on this purchase for a while but now that we have it I don't know why we waited so long. This was a game changer. No more burgers that shrink up and get super thick and too tiny for the bun. The burger press is how you are going to get those patties uniform and thus stackable. Go for it.
Griddle– If you want that classic American burger, you're going to need a flat top, aka a griddle. We love this cast iron one, flat on one side and grill on the other. You can totally use it on the grill, Big Green Egg or stove top. It will last forever and you can get it nice and seasoned up and perfect for lots of other things like eggs, bacon and hashbrowns!
3. Thin vs Thick Patties: I alluded to this above but thin patties are preferable in our opinion. Thick patties don't cook as evenly and take a lot longer to cook. BMW and I have found that 4 ounces is the perfect patty, nice texture, not too thin but cooks evenly. You can lower that to 3 ounces if you want to double up and stack 'em.
4. Temperature: This is where your meat thermometer comes in. I know a lot of people like to have their burgers rare and I used to be this way. But after a bout of food poisoning I've changed my tune. I still like my steak on the rare side, but ground meat is a totally different game. Make sure you cook your beef patties to 165 F.
5. Season the Meat: Yes, you should season the meat. We like a mix of a teaspoon of salt and black pepper plus 2 tablespoons of Worcestershire Sauce per pound of ground beef. Mix all together then measure out your meat, see step 3.
6. Grill vs Griddle- As I said in step 2, we are griddle fans and here is why. With a griddle, you can smash down the patty, getting it just a touch crispy on the outside, keeping it moist in the middle and cooking it quickly. We use our griddle on the Big Green Egg, so you're still getting all the smoke flavor. Win-win.
7. Buns- They matter. If you spend all your time prepping the perfect patty and place it on a subpar bun, then really what is the point? We like brioche the best, they soak up all the flavor of the meat and any condiments. We pick up fresh baked ones from the bakery at grocery store. Brioche tends to be a bit pliable, so they won't fall apart when you pick up the burger. Spread a bit of butter and grill the buns for about 30 seconds.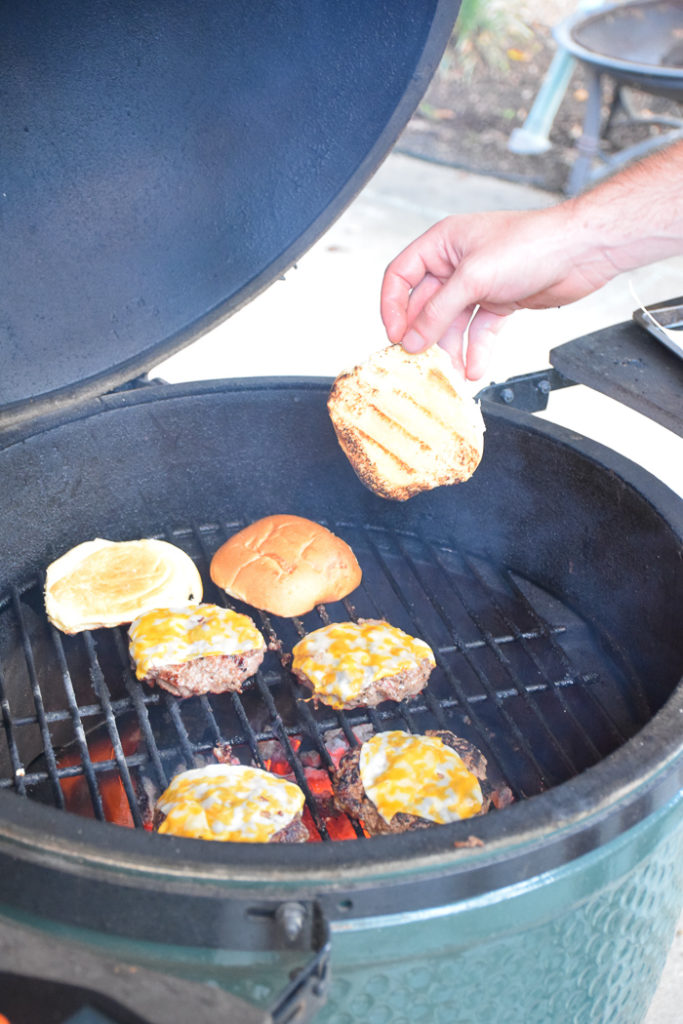 8. Toppings- Nobody wants a huge piece of iceberg lettuce sliding out from their burger causing a huge mess. We like to chop up the toppings and place them on the bun. Shredded romaine lettuce first, then patty, then chopped mix of equal parts red onion, dill pickle and pickled jalapeños. Sweet burger perfection. And don't worry, your pliable, fresh brioche bun will hug those toppings.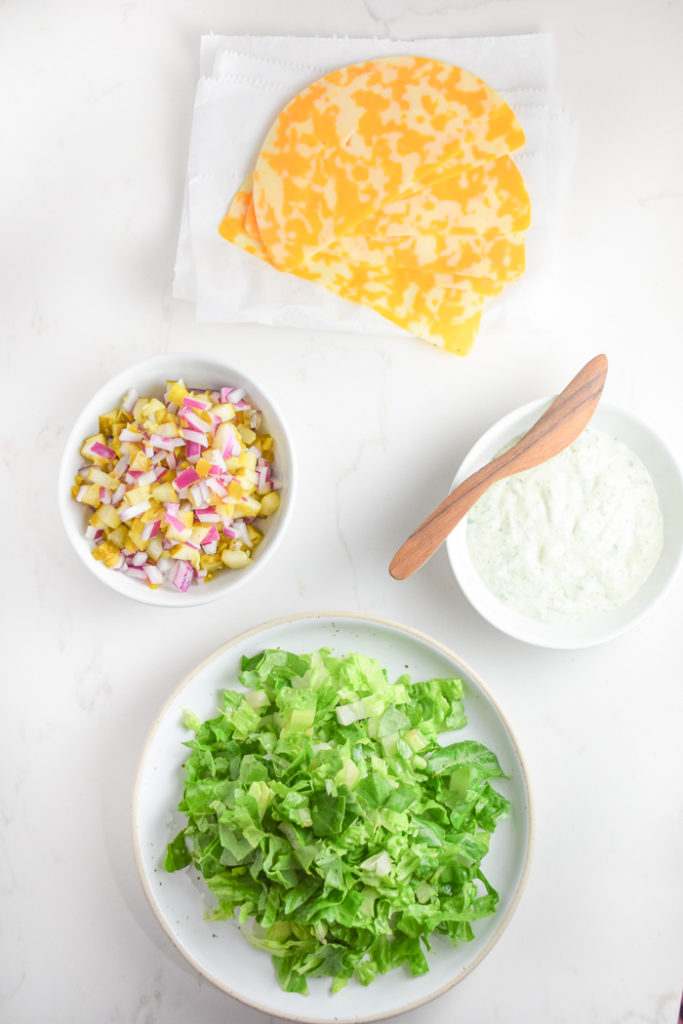 9.  Spreads and Cheeses- These can be optional due to dietary preferences and restrictions but we think burgers are better with both. Colby Jack and Cheddar sliced on #2 at the deli counter are our preferred cheeses. I make a homemade basil aioli that really makes the burger.
Basil Aioli Recipe: Combine 1/2 cup full-fat mayo with 2 ounces fresh lemon juice, 1/2 teaspoon salt, 1/2 teaspoon pepper and 1/4 cup minced basil. Whisk it all together really well and spread it all over those buns. Goes great with fries too!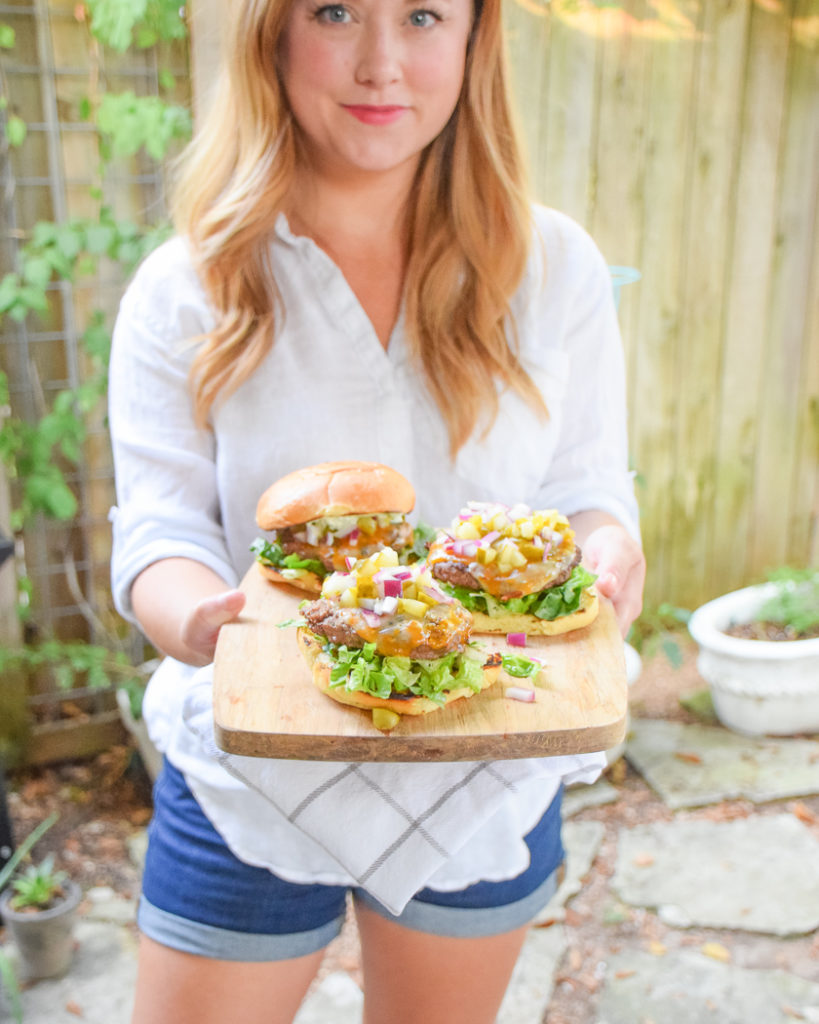 What do you think about these burger grilling tips? Where do you stand on griddle vs grill? What about buns, spreads and cheeses?! Tell me in the comments!